Microsoft to lay out its ambitious vision for AI integration in Windows 11 - here's what to expect
Microsoft to unveil bold AI vision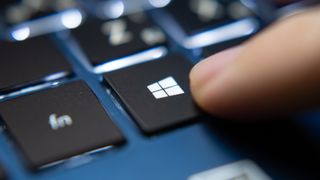 (Image credit: Shutterstock)
Microsoft is moving full steam ahead with its AI efforts, and could soon present its major plans in a special event. It's anticipated that the company may take to the stage to announce continuing AI integration into Microsoft products, such as Windows 11, Microsoft 365 services, Surface, and others.
It's expected that we could even see this announcement as soon as today, Thursday 21, as Microsoft is due to host an event in New York City, which is widely-expected to focus on new Surface devices. However, The Verge points out that this is closely following the announcement of the resignation of the now former Windows and Surface chief Panos Panay.
The Verge has also gotten hold of a memo where Microsoft's head of consumer marketing, Yusuf Mehdi, highly praises Panay. He then references today's "special event" which will expand on Microsoft's and OpenAI's existing partnership and that this will be "only the beginning" of Microsoft's AI-powered vision.
Mehdi directly references Microsoft's recent integration of OpenAI's tech into Edge and Bing, as well as Microsoft 365 and Microsoft's new AI voice assistant Windows Copilot. These improved tools will come installed on all new Windows 11 PCs, including Microsoft's own Surface lineup and those of OEM partners (OEM means Original Equipment Manufacturer - meaning Microsoft's partners that also make devices that come with Windows pre-installed, such as Dell). The memo wraps up with Mehdi saying the event "will lay out the vision for what's ahead."
All eyes on the Microsoft event
Microsoft's internal reshuffling
He went on to indicate that there will be innovations for Microsoft's Surface, silicon, and devices, headed by Pavan Davuluri. Interestingly, there have been reports that Microsoft is actively working on its own AI chips that could challenge Nvidia's chips.
We could see more information about this at today's event. The Verge speculates that Microsoft might be trying to convince OEMs to use neural processing unit (NPU) chips that can efficiently handle AI tasks and future Windows versions (such as Windows 12) in their new devices. One model that is expected to debut at the event is the Surface Laptop Studio 2 and it could have one of these new NPU components.
Mehdi has also spoken on how Microsoft is directing its leadership and organization of its workforce to increase focus on AI and Microsoft Copilot. He is seemingly being pushed by Microsoft as the public face of Windows now that Panay has left, although he doesn't directly head up any core teams that develop and deliver Windows. The wider leadership approach Microsoft is taking for Windows development and device hardware is spread among three key people: Yusuf Mehdi, Pavan Davuluri, and Mikhail Parakhin, who heads up the team combining Windows, Web, and Services.
The last of these, Pakhin, is currently Microsoft's CEO of advertising and web services, and is considered the main engineering leader when it comes to Windows. He's a less visible public figure, not even putting a profile picture on X (formerly Twitter). Mehdi will be the one to watch for updates about the larger Windows picture, whereas Davuluri and Parakhin will be tasked with making the AI vision for Windows and other devices a reality.
What Microsoft products might look like in the future
We've already seen the first steps of integrating the newly-improved Bing Search and recently added Bing AI right into Windows menus and the taskbar. It's expected that this integration of web technologies, AI, and services right into Windows will continue. The Verge suggests that Windows is being pivoted to live fully on the web, and this was seemingly backed up in the FTC v. Microsoft hearing that featured an internal Microsoft presentation. This presentation laid out Microsoft's plans to move the consumer version of Windows to fully live in the cloud.
Whatever the case is, I think we can expect to see something major, perhaps even a bold new direction, as Microsoft says goodbye to Panay. Mehdi wraps up his memo by putting out a call to action for his and other Microsoft staff, and it's clear that Microsoft very much has his head in the game, despite the high-profile loss of Panay. Today's event will certainly be an interesting one for anyone interested in the future of Windows and Windows devices.
You might also like
Get daily insight, inspiration and deals in your inbox
Get the hottest deals available in your inbox plus news, reviews, opinion, analysis and more from the TechRadar team.
Kristina is a UK-based Computing Writer, and is interested in all things computing, software, tech, mathematics and science. Previously, she has written articles about popular culture, economics, and miscellaneous other topics.
She has a personal interest in the history of mathematics, science, and technology; in particular, she closely follows AI and philosophically-motivated discussions.