One of the more captivating trends 2017 is seeing how quickly high-end features commonly seen in expensive flagship smartphones have made their way down to affordable devices. The Honor View 10 is just the latest case in point to prove that it's still in full-swing.
Billed as "your first AI phone", the View 10 borrows many premium characteristics from the Huawei Mate 10, including its 18:9 aspect ratio, the Kirin 970 processor, an embedded NPU (neural processing unit – hence the AI smarts) and will come stocked with EMUI 8.0, the company's user interface running on Android Oreo.
While similar in many ways to Huawei's 2017 flagship, it stands alone in one big way: its price. It will go on sale for £449 in the UK, which translates to $600 in the US and AU$793 in Australia. However, we expect Honor to stick to $449 or $499 in the US. This price point is roughly equivalent to the cost of the OnePlus 5T.
Honor's decision to enter the high-performance sector with a somewhat affordable asking price is a big play against OnePlus, which has seen success in recent years by undercutting the increasingly exorbitant costs of flagship smartphones, like we've seen with this year's iPhone X, Samsung Galaxy Note 8 and Google Pixel 2 XL.
How will the phone turn out? We'll only know for certain in our full review, which will go up shortly. But Honor's big bet to disrupt OnePlus' cozy playing field could very well pay off when the phone is released in the UK, US and India on January 8, 2018.
Image 1 of 5
Image 2 of 5
Image 3 of 5
Image 4 of 5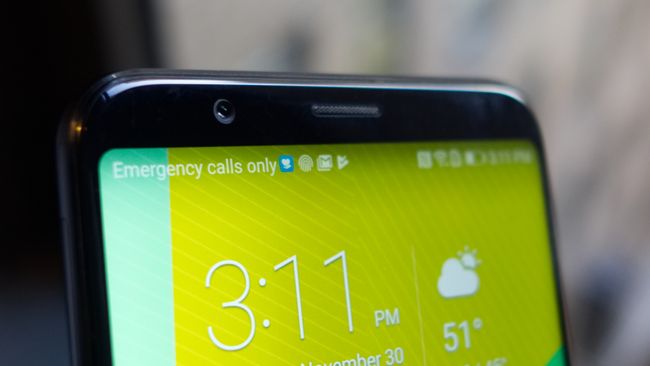 Image 5 of 5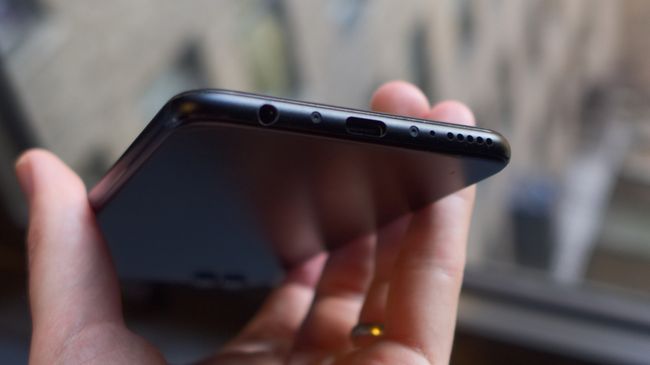 Design
Like many of 2017's best phones, the Honor View 10 dismisses thick bezels from its design formula. The thin strips surrounding the screen are only as thick as they need to be in order to squeeze in its front-facing camera, ear speaker and the ovular fingerprint sensor.
Aside from aesthetic preference, the biggest perk of small bezels lies in letting the phone's screen stick out more than usual. The Honor View 10's 5.99-inch LCD display shines bright and beautifully with a 2,160 x 1,080 resolution, delivering comparable picture quality to the LG Q6, though Honor's phone seems to edge it out during our first impressions.
Its slightly curved glass finish merges nicely into the phone's aluminum body that, aside from its OnePlus 5T-esque antenna bands, rocks a unibody look and feel. Normally, we'd say that its build quality defies its price tag. But the same is true for devices that are even more affordable, like the Honor 7X, which comes in at a more palatable $199.
The rest of its design consists of some familiar, yet welcome elements. The 3.5mm headphone jack that gets ignored too often shows up here, as does USB-C charging. Borrowed from other Huawei devices, its fingerprint sensor can be used for one-finger navigation in place of the standard Android navigation bar, if you're up for trying a new way of getting around on your smartphone.
Performance
During our brief hands-on time with the View 10, which happened to be the only model in the United States, it wasn't running final software. When the phone does ship, it will feature the latest software: EMUI 8.0, or Android Oreo with Huawei-flavored frosting in the middle.
Despite running incomplete software, the phone feels lightning quick, both in terms of its casual use roaming about through the system menus, as well as playing games and experimenting with different camera modes, of which there are many.
Those in need of performance shouldn't doubt the V10, as it will come with 6GB of RAM and 128GB of onboard storage – complete with the ability to accept microSD storage. But again, we weren't able to put it to task properly as it wasn't running final software.
Given that the View 10 aims to be "your first AI phone", you'd expect it to incorporate artificial intelligence into the experience, and it does appear to, at least on paper. Like it did with the Huawei Mate 10, Honor's latest teams up with Microsoft Translate to live translate languages up to 300% faster than other phones without an NPU. We'll see how much further Honor can take its AI, but as of right now, it doesn't seem to stand the phone apart.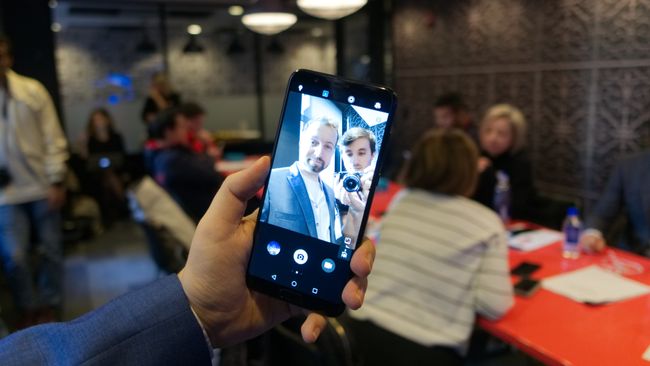 The phone's dual-lens rear camera consisting of a 20MP monochrome and 16MP RBG lenses pack in a bunch of modes, but the most tantalizing is its wide virtual aperture, which can shoot in a range of F/.9 to F/16.
You'll also see the View 10's smarts put to use in the front-facing and dual-rear cameras. It can automatically detect objects, then toggle settings to show them in the best light. Things like text, food and human faces can be recognized, taking the normal auto mode to the next level. Most tantalizing is its wide virtual aperture mode, which can shoot in a simulated range of F/.9 to F/16.
Early verdict
The Honor View 10 feels like a complete package, offering more than enough in the way of design and horsepower to make its roughly $450 price tag worth it. Of course, real-life performance is to be determined until we run our tests.
Honor is gunning to undercut the flagship competition with the View 10 and in doing so, will also undercut itself, in a way, since the Huawei Mate 10 and Huawei Mate 10 Pro offer similar specs at a considerably higher price.
Even so, we're happy to see the price fall for a seemingly premium smartphone experience and we'll see how the View 10 fares soon in our full review.