Bose QuietComfort Earbuds 2
Connectivity: Bluetooth 5.3, USB-C
Weight: 6.23 g (per earbud)
Battery life: Up to 6 hours (ANC on)
These earbuds put the master of noise-cancellation tech back on top. A great redesign brings improved noise cancellation in its flagship buds, while also making them sound even better than before. Battery life and call quality aren't anything to write home about but, if you can afford to splurge, these are arguably the best noise-cancelling true wireless earbuds you can get.
For
Small, comfortable design
Best-in-class ANC
Beautiful sound
Against
Call quality could be better
No Hi-Res support
No wireless charging
Sony WF-1000XM4 Wireless Earbuds
Connectivity: Bluetooth 5.2, USB-C
Weight: 7.3g (per earbud)
Battery life: Up to 8 hours (ANC on)
The Sony WF-1000XM4s are fantastic all-rounder true wireless earbuds with an app that's an absolute tour de force of stability, functionality and general usefulness. With these latest buds, the company has combined performance, ergonomics, and build quality more effectively than ever before. They're not perfect and ANC is good but not great. However, as an overall package, they're hard to beat.
For
Full-bodied, eloquent sound
Great app and features
Impressive call quality
Against
Average battery life
Weaker ANC than Bose
Can be fiddly to position
If you look at our guide to the best noise-cancelling earbuds you can buy today, right at the top of our list are fantastic earbuds from Sony and Bose, two of the leading audio tech brands. But which pair of true wireless earbuds is best for you? The Sony WF-1000XM4 Wireless Earbuds or the Bose QuietComfort Earbuds 2?
Both earbuds are among the best true wireless earbuds you can buy today, offering excellent active noise cancellation (ANC) and good sound, all in a (fairly) compact package. What we're saying is, you can't go wrong, whether you choose the Sony WF-1000XM4 Wireless Earbuds or the Bose QuietComfort Earbuds 2… so how do you choose?
Although these high-performing wireless buds are similar, there are some key differences to consider. In the guide below, we'll put the Sony WF-1000XM4 Wireless Earbuds and the Bose QuietComfort Earbuds 2 head-to-head, comparing their price, features, sound quality, battery life and that all-important ANC to find out which true wireless earbuds are right for you.
Bose QuietComfort Earbuds II vs Sony WF-1000XM4: Price and availability
The Sony WF-1000XM4 true wireless earbuds came out in June 2021 and cost $279 / £250 / AU$449 at launch. However, they've been permanently reduced in some markets. At the time of writing, they're priced at £199 in the UK and AU$348 in Australia. The Bose QuietComfort Earbuds II were released in September 2022 and cost $299 / £279 / AU$429. Because they're much newer, we found they're still selling for the launch price.
This makes the Bose QuietComfort Earbuds II more expensive, but considering they're newer, packed with the latest tech and bring better ANC to the table, we think that's fair. In terms of how these buds compare to their rivals, they're expensive but competitively priced. The AirPods Pro 2 are $249 / £249 / AU$399 and the 1More Evo are $170 / £220 / AU$383.
Bose QuietComfort Earbuds II vs Sony WF-1000XM4: Design
The Sony WF-1000XM4 true wireless earbuds have a rounded style. You can choose only three Small, Medium and Large ear tips made from polyurethane, which feels like silicone and foam combined.
During our testing, we found that positioning the WF-1000XM4 earbuds comfortably took longer than it should have. They were fiddly to insert, and we felt they should fit more deeply in the ear than they do. But we did get used to their fit over time. At 7.3g each, they're not exactly lightweight.
The Bose QuietComfort Earbuds II are significantly smaller than the QuietComfort Earbuds that came before them and weigh only 6.2g per bud, so have an advantage over the Sony there. They have a stem-like design that sticks out of your ear, but it doesn't drop down as far as competitors, like the AirPod Pro 2.
The buds come with three different ear tips, which fit inside the ear canal, and 'stability band' options, which fit slightly higher up to add more grip. It took us a while to find the ear tip and stability band combination that suited us. It also took some physical shakes and jumps to convince us that the buds wouldn't fall out. However, once you're used to them, they're comfortable to wear for long periods.
Ultimately both buds are perfectly comfortable, but because you need that all-important seal to get the ANC to work, they can take some getting used to.
Bose QuietComfort Earbuds II vs Sony WF-1000XM4: Features
The Bose QuietComfort Earbuds II and Sony WF-1000XM4s have easy-to-navigate apps packed with features, EQ settings and updates. We particularly rate the Sony app. Our review of the XM4s called it "an absolute tour de force of stability, functionality and general usefulness."
Features-wise there's not much else to tell you about the Bose QuietComfort Earbuds II because they're geared up towards excellent music and ANC – which we'll cover in-depth below – rather than other bells and whistles.
Wireless charging is absent here. Quite a few of the brand's rivals allow you to charge your case wirelessly, so although this isn't a deal-breaking feature, it is one we'd have liked to have included.
What's more, the only codecs supported by the Bose QuietComfort Earbuds II are SBC and AAC. In our review, we said that this is a surprising choice. We were expecting Snapdragon Sound compatibility because of Bose's involvement with Qualcomm (the QCE II use the Qualcomm S5 Audio chipset). But we did guess this might come with a future firmware update.
Similarly, the Sony WF-1000XM4s support LDAC and SBC and AAC codecs – but there's no sign of aptX here either. They also incorporate DSEE Extreme capability.
One feature of the Sony WF-1000XM4s that we think is worth mentioning as we enjoyed it during testing is 'speak to chat', which requires you to make a noise to pause your music so that you can have a brief chat without removing the earbuds.
Bose QuietComfort Earbuds II vs Sony WF-1000XM4: Noise-cancelling
When the Bose QuietComfort Earbuds II were first released, Bose boldly claimed they have "the world's best noise cancellation from any headphone". After testing them, we agreed wholeheartedly. Bose has achieved this stellar level of ANC with four mics in each bud that sense unwanted noise. A chip within the buds uses an algorithm to cancel out this sound almost instantaneously. It works remarkably well and is among the best noise-cancelling we've ever experienced.
The Bose buds offer excellent ANC, and it's customizable, too. The Bose QuietComfort Earbuds II can customize the audio response and noise cancellation to the user's ear canal – Bose calls this CustomTune. The buds use an audio signal – picked up by a mic inside each bud – to calibrate ANC and sound frequency that best suits you. They also have an 'Aware' mode, which adjusts the ANC depending on your environment.
The ANC on offer from the Sony WF-1000XM4 buds is objectively not as strong. You don't get the same level of external noise cancellation. That said, ANC here is still impressive compared to almost every competitor. The buds certainly minimize the impact of ambient noise on your listening experience, and, for most people, they're more than capable.
Like the Bose buds, the Sony WF-1000XM4's ANC is also adaptive, ascertaining what you're doing and where you're doing it to adapt to your circumstances.
Bose QuietComfort Earbuds II vs Sony WF-1000XM4: Sound quality
The Bose QuietComfort Earbuds II do ANC incredibly well, but thanks to the CustomTune feature and a couple of 9.3mm full-range dynamic drivers, they sound great, too. During our testing, we commented on the beautifully balanced soundstage, which allowed us to pick up an exceedingly high amount of detail. This was particularly evident in the low end, where bassy elements like kick drums and double bass get a lot of attention.
When listening to Miles Davis or John Coltrane, we could pick out the double bass among the piano (mids) and the saxophone or cymbals. When listening to the blues, pop or rock, bass drums didn't get drowned out either, with every instrument in an arrangement holding its own against the vocals and vice versa.
We upped the bass on the EQ to see how it would handle the change, and listening to Klergy's Caught In The Fire was glorious. With every genre of music we tested, these buds delivered. We're not sure how exactly CustomTune works, and there's no way to switch it off for a point of reference, but we didn't need to adjust the EQ. Just put these buds in and let them do their thing.
The Sony WF-1000XM4s may be weaker in the ANC department, but they sound almost as good. When we tested the Sony buds, we were impressed by the balanced, driving, poised and clear sound they delivered.
We tested a Tidal Masters file of Burner by Ross From Friends, and the buds don't give any area of the frequency range undue prominence, let any details go unnoticed, and they don't let rhythms or tempos hang around. There's vigor and enthusiasm to their presentation, but it's tempered by unarguable control.
Down at the bottom end, the buds freight bass sounds with substance, texture, and lots of detail. We noted that, although there's drive and momentum to spare here, the WF-1000XM4 never lose the run of themselves – there's an equal amount of poise. Entry into and exit from bass notes is clean and well-defined, which helps prevent the bottom end from smearing up into the midrange.
The midrange is equally information-rich, and the handover from the midrange to the top end is smooth and naturalistic. Treble sounds themselves have plenty of shine and bite without ever getting shouty about it. It's also worth mentioning that we kept the EQ settings unchanged, even though you can tweak them to your heart's content. We found that the most natural and convincing sound comes from the WF-1000XM4s when their EQ is flat.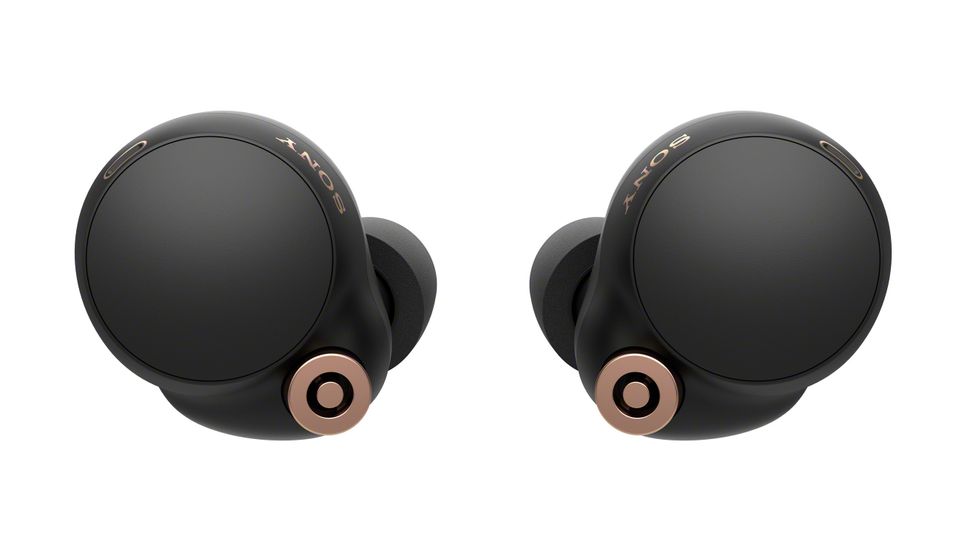 Bose QuietComfort Earbuds II vs Sony WF-1000XM4: Battery life
The Bose QuietComfort Earbuds II offer up to six hours of listening time per charge from the buds. There are then an additional three top-ups from the case.
The Sony WF-1000XM4 buds last a little longer, boasting between eight and 12 hours from the buds themselves – that's the difference between having ANC on or off – with an additional two charges from the case.
Battery life could be more outstanding from both of these buds, but that makes sense, considering how excellent the performance on offer is. They've got enough battery to see most people through a couple of days of wear without needing to juice them up again. And although you can find better battery life, like the Cambridge Audio Melomania 1 Plus buds that offer nine hours from the buds and 45 hours from the case, you'd need to take a hit on ANC and audio quality to get it.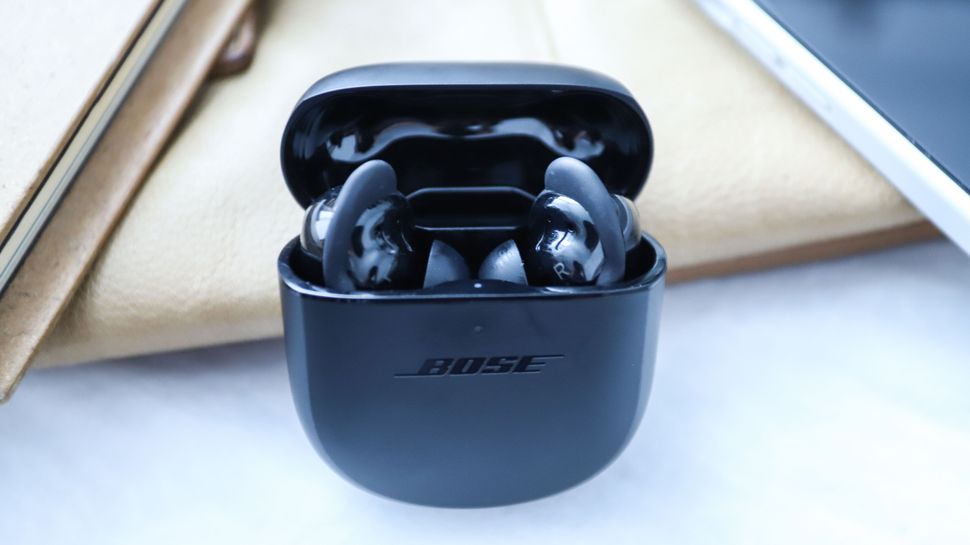 Bose QuietComfort Earbuds II vs Sony WF-1000XM4: Conclusion
Whichever pair of earbuds you choose in the battle between the Bose QuietComfort vs Sony WF-1000XM4s, you won't be disappointed.
Price needs to be your first consideration. Because the Bose QuietComfort Earbuds II are newer and offer better ANC, they are considerably more expensive than the Sony WF-1000XM4s. That means if you have money to spend on a new pair of true wireless earbuds and excellent noise-cancelling is your number one priority – maybe you travel a lot or get distracted by the office buzz at work – then it makes sense to go for the Bose QuietComfort Earbuds II. These are best-in-class ANC buds.
However, anyone looking for a reliable and highly well-rounded pair of buds who can't stretch to that premium price tag would find the Sony WF-1000XM4s a perfect choice.
Design-wise, there's a difference in the styles on offer here that's worth considering. From the more rounded Sony WF-1000XM4s to the slightly more elongated Bose QuietComfort Earbuds II. We found both comfortable after getting used to them, so the best choice is down to your personal preference.