While the iPhone 12 Pro Max is no longer Apple's newest or most powerful device, it remains a fantastic choice for those after a large iPhone with prices falling both for SIM-free and contract iPhone 12 Pro Max deals.
iPhone 13 Pro Max deals are now readily available, offering an incremental improvement over the 12 Pro Max but as you would expect, they come at a much higher cost currently.
The iPhone 12 Pro Max is a great alternative to the latest, offering one of the largest smartphones from Apple standing tall with its 6.7-inch Super Retina XDR display. This is well needed on this particular phone as you'll want to see every detail on the camera which is, to be honest, remains one of the best the company has ever produced.
The A14 Bionic chip, while not as powerful as the newer A15, is still one of the best around. This not only makes it the fastest but also the only phone that offers Dolby Vision recording. LiDAR for depth mapping is also included for next-level augmented reality possibilities, and six times faster autofocus on the triple lens camera.
The Pro Max will also have Apple ProRAW photo shooting capabilities when Apple rolls out the update. The f/1.6 aperture lets in 27 percent more light too, making this by far the best camera of the iPhone 12 models.
Below we've laid out all of the best iPhone 12 Pro Max deals currently available in the UK. There's also everything you need to know about the handset.
iPhone 12 Pro Max deals comparison:
Phone
Back to Mobile Cell Phones
Network
Show all Options
Monthly Cost
Upfront Cost
Data
Minutes
Texts
Contract Length
Storage Size
Colour
Condition
iPhone 12 Pro Max deals: trade in your old phone to save cash
Looking to sneak the above costs down on the iPhone 12 Pro Max, luckily this is easy to do. If you've still got your previous phone and its in good nick you can sell it on platforms like Sellmymobile.
It compares different recycling sites, listing their TrustPilot scores, how long it will take for you to get paid, how you send your phone and of course, how much you'll get.
In terms of what you can earn, taking the iPhone 8 as an example, you can get up to £183 for a working device or £98 for a completely broken device. Or if you have an iPhone 8, you could earn up to £116.

Want to know more? Check out our how to sell my phone guide
Head to Sellmymobile.com to see how much you can get for your old phone
iPhone 12 Pro Max review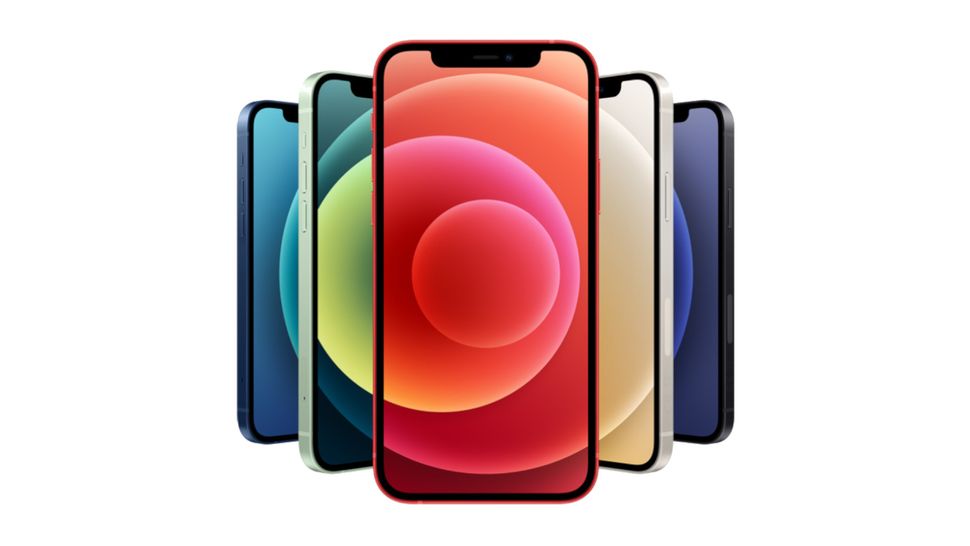 The Apple iPhone 12 Pro Max is a huge evolution for Apple. Not only does this offer that massive 6.7-inch Super Retina XDR display but it's also backed by 5G connectivity and the next-gen five nanometer A14 Bionic chip. All that means you can capture video in Dolby Vision quality.
But the camera story continues as those three lenses, all 12MP, offer ultra wide, wide and telephoto. That means optical zoom, way more light for Night Mode shots and a new level or focus thanks to a LiDAR sensor backing it all up. Once the Apple ProRAW feature goes live, this is going to be a real competitor for pro DSLR cameras, or at least that's what Apple hopes and is working towards.
The Ceramic Shield makes this tougher and keeps the phone looking great. But all these advances mean a price that's seriously high-end too. So it's important you find the best deal if you want to save a bit for a MagSafe case and MagSafe charger too.
Read our full iPhone 12 Pro Max review to find out more
iPhone 12 Pro Max deals: FAQ
iPhone 12 Pro or Pro Max?
Obviously with four devices in the iPhone 12 range, there is a lot of choice made available to you. However, if you're considering the Pro Max, it is unlikely the 12 or 12 Mini is on your radar.
Instead, the focus will come down to the 12 Pro and Pro Max. These two devices are incredibly similar and most of the differences are small, mostly coming down to size and battery capacity.
The 12 Pro has the same number of camera lenses, the 5G capability, the same processor and almost all other features. However, it lags behind in size at 6.1-inches compared to the 12 Pro Max's 6.7-inches.
On top of that, the Pro has a battery capacity of 2815mAh compared to the Pro Max's 3687mAh. With that in mind, if you're already worried about the money you're spending, the Pro could be the better value option for you.
What makes the iPhone 12 Pro Max stand out?
As Apple's most powerful device yet, there is a lot to love with the iPhone 12 Pro Max. Like the other iPhone 12 handsets, it is 5G-enabled, comes with Apple's MagSafe technology, the super-powered A14 Bionic chip and more.
However, where the iPhone 12 Pro Max gets its advantage over the other iPhone 12 handsets is in a couple of areas. Firstly, it has by far the largest battery capacity at 3687mAh, the largest screen at 6.7-inches and like the Pro, it has a third camera lens - something that is missing on the Mini and 12.
However, the iPhone 12 Pro Max has an optical zoom range of up to 5x whereas the iPhone 12 Pro goes up to 4x. It also has the largest pixel density of all of the phones.
Do I get any accessories with the iPhone 12 Pro Max?
Unfortunately, Apple's boxes are a lot lighter these days than they used to be. With the entire iPhone 12 range, Apple has stripped out the charging block and the headphones that normally come in the box.
This means all you are now getting is the phone, the charging cable and the instructions. Apple has stated that this was due to environmental concerns, trying to reduce its footprint.
However, this does now mean if this is your first phone or you don't have any charging blocks lying around, you'll have to invest in one. The same goes for headphones, if you need a new pair they'll have to be bought separately.
Is the iPhone 12 Pro Max worth its price tag?
This completely depends on what you want from a phone. Yes...it is very expensive but if you want the best that Apple has, that price tag will be worth paying.
It gets you the biggest battery, best screen, most powerful processor, best camera set-up and, well...pretty much the best everything Apple has ever made!
With all of that in mind, the price tag is going to be good value if that's what you want - Apple's best. If it sounds like way more than you'd like to pay, the iPhone 12 Pro or even iPhone 12 could be much better options.
Realistically, we would imagine the iPhone 12 Pro Max is going to be pretty much the same price all the way up to the release of Apple's next collection of phones.
Is the iPhone 12 Pro Max going to come down in price?
While the iPhone 12 Pro Max will likely fall in price eventually, it is going to be a while until we see it happen.
As both Apple's most powerful phone and a device that has pretty much just launched, it is most likely going to take some time for Apple to bring its price down and we can't even rely on the next launch to bring the costs down!
The iPhone 11 came down in price when the iPhone 12 launched...but the iPhone 11 Pro Max didn't. We would simply expect contracts to become slightly more affordable over the next year.
iPhone 12 Pro Max deals or the Samsung Galaxy S21 Ultra?
Now that Samsung has released a new and more affordable model in its Ultra series, how does the iPhone 12 Pro Max weigh up against it? While the S21 Ultra is cheaper, it is only just, cutting £50 off the price.
In other words, both handsets are extremely expensive but they are the best handsets on the market right now. However, which wins out when it comes to specs?
Both have incredible displays but Samsung's wins out...just. Because of its lack of a notch, it features a larger amount of screen real estate, it also has the higher resolution and the use of 120Hz refresh rates (which can be used alongside QHD resolution).
Both handsets use the most powerful processors around - the A14 Bionic chip and Exynos 2100. Both are so powerful that you really won't notice any issue with either.
And then both feature some impeccable camera performances and while Apple has the lead on video quality, the S21 Ultra is loaded with additional features.
What this really comes down to is software preference - Android or iOS? Both phones are extremely expensive but so impressive spec wise, you can't go wrong with either.