Final verdict
It's hard not to recommend the S10e to anyone who prefers a smaller phone. Size queens, look elsewhere - this smartphone is for folks who want to text and browse apps one-handed.
Considering also the handful of top-shelf perks cut to save costs, the S10e isn't the trophy flagship you flaunt to make the fellas jealous. Instead, think of it as the best flagship you could get from 2016 phone possibilities that still costs a 2016 flagship price.
That could leave the S10e open to late-year competition from phones that trim features even closer to the bone to save costs, like OnePlus tends to do. We'll have to see if the upcoming OnePlus 7 puts up a strong fight – but even if it does, the S10e still might come out on top thanks to sheer availability. Nothing's worse than knowing there's a slightly better phone out there that you just can't buy.
Competition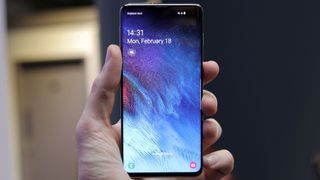 Samsung Galaxy S10
As we said before, the biggest competition the S10 phones face is...each other. The S10 Plus has something of a defined niche with its large TK screen and higher spec ceiling. But what of the standard S10?
For $150 more, you get a third camera, in-screen fingerprint sensor and a bit higher specs. That's not much. Arguably, consumers have gotten so used to the 6-inch-ish size screen that this model is the new normal, but we doubt folks would be upset with a cheaper phone that's easier to handle.
Much like what we saw with Apple's iPhone XS line, where iPhone XR sales almost certainly cannibalized sales of the iPhone XS, we think people will agree with us about the Galaxy S10e: people are paying too much already, and a few trimmed features is worth getting a solid device that will last years.
iPhone XR
It stands to reason that both budget flagships would be serious competitors, but the choice still comes down to whether you're an iOS or Android person. Because, in a fair fight, the S10e blows the iPhone XR out of the water. In almost every category.
The S10e is slimmer, with noticeably less bezel and a burnished chrome on its metal frame that makes the iPhone XR's aluminum look cheap. The iPhone XR's LCD display is impressive, but it's not the S10e's AMOLED. The S10e's extra ultra-wide lens is a significant advantage over the iPhone XR's lone rear shooter.
Heck, even the fingerprint sensor on the S10e is a convenient bonus. Samsung's phone looks, feels, and shoots better than Apple's. Next question.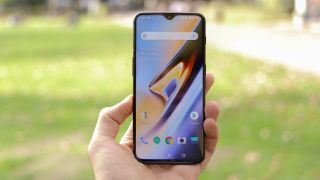 OnePlus 6T
This comparison may change when the rumored OnePlus 7 hits the market later this year with specs and features more competitive in 2019. Even so, the 6T is a late-2018 powerhouse that's significantly cheaper than even the S10e while still boasting flagship cred.
Sure, the S10e has the latest Snapdragon 855 processor, but the OnePlus 6T's Snapdragon 845 is no slouch. The phones are otherwise even on specs, both starting at 6GB of RAM and 128GB of storage.
The big advantage? The OnePlus 6T starts at $549, which is a huge drop compared to the $749 starting price of the S10e. If you don't absolutely need the Samsung name and early 2019 specs, OnePlus' phone might be a better value. And you'd still have bragging rights: the 6T has an in-screen fingerprint scanner.