Interface and reliability
Android 8.1 with EMUI 8.1
Customisable via themes
Great day-to-day performance
The Huawei P20 Pro runs Android 8.1 with the Huawei EMUI 8.1 interface on top. If you've used a higher-end Huawei phone in the last year or so, you'll know what to expect.
When first turned on, the Huawei P20 Pro does not have an apps menu. It uses an iOS-like arrangement where all your apps end up on the home screens, for you to organise into folders.
Some like this, many don't. However, you can bring back the more conventional vertical-scrolling apps menu following a trip to the Settings menu. This is how we use the Huawei P20 Pro, with the apps menu in place.
Find out more about the P20 Pro's UI and multimedia chops in the video above
A slim alphabet nav bar to the far right of the screen lets you quick-flick through an epic app collection. And there's a row of frequently, or recently, used apps right at the top of this app screen.
The odd Huawei quirk remains. A lock screen that cycles through a library of stock style images is in place as standard and the settings menu is different to that of standard Android.
This phone also supports themes. A Themes app offers scores of the things made by Huawei fans, and the Huawei P20 Pro has 12 pre-installed ones made by Huawei.
The quality and tastefulness of these themes, even Huawei's ones, varies hugely. But it does let you alter the phone's look much more than a Pixel 2.
EMUI's performance in the Huawei P20 Pro is excellent. It feels extremely fast and responsive, and app load times are much shorter than those of a mid-range phone.
There are quite a few pre-installed apps, though. These aren't the slightly offensive third-party bundle-ins you see in some phones, just basic utilities Huawei thinks will prove useful.
There's a weather app, a torch, a translator, a phone manager, a file manager and Mirror, which lets you zoom into the selfie camera's view. You could use it to check your makeup or see how terrible your eye bags look on the way to work.
The Huawei P20 Pro also has a Smart Controller app that uses the IR transmitter on the phone's top edge. This mimics the signals sent by old school home entertainment remotes, letting it function as a universal remote.
Unlike a Logitech Harmony remote, you can't programme in macros that fire off a chain of commands with a single press. But it is a neat extra that may go unnoticed. The other big names stopped using IR blasters years ago.
Movies, music and gaming
Good speaker with dual drivers
Doesn't support Netflix HD streaming
Screen is great for games and movies
You might imagine the Huawei P20 Pro's notch would be an annoyance for games, but it isn't. When the phone recognises a game or app that won't play well with the notch, it automatically blacks out the notch area, removing it from play.
It's not as simple as doing this for all third-party apps, though. Spotify keeps the notch in place, but Candy Crush Saga and Asphalt 8 do not. This is pretty clever, although we have seen some reports of it causing interface issues with the odd app.
As you'd hope, high-end games run very well on the phone, with no obvious performance dips in the titles we tried. The Huawei P20 Pro may not have the most powerful GPU in the phone world, but it has a lot of pep for one with a display only a little more pixel-packed than 1080p.
The Huawei P20 Pro has its own video and music apps. These are basic players that let you watch, or listen to, content on your phone.
Unfortunately, the phone does not currently support Full HD streaming through Netflix, though. It's limited to 540p. While this still looks good, could pass for 720p, and will save your data allowance a further beating, this is likely to disappoint many.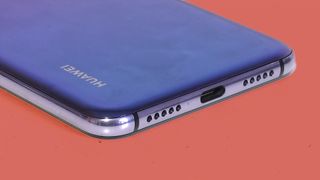 The Huawei P20 Pro does have good speakers, though. A driver on the bottom edge of the phone delivers the bulk of the sound, and a front earpiece speaker is used to play additional higher-frequency sound to stop it sounding lopsided when held in front of your face.
This is a meaty-sounding speaker array with good bass for a phone and unusually solid separation of the parts of a mix. It's not at the level of the Razer Phone, but does make podcasts and YouTube videos enjoyable.
At maximum volume the treble becomes a little brittle and harsh with certain content, though, showing how hard Huawei pushes the phone's micro drivers.
Performance and benchmarks
Less power than other flagships
Uses the same chipset as the Mate 10 Pro
The Huawei P20 Pro does not have a brand new chipset. It uses the same Kirin 970 CPU as the Huawei Mate 10 Pro, released in late 2017.
This chipset has eight cores. Four are Cortex-A73s, designed for high-performance tasks, the other four are Cortex-A53s, for everyday use.
This puts it behind the Snapdragon 845 used in some variants of the Samsung Galaxy S9 Plus, which has semi-custom 'Kryo' cores based on the Cortex-A75 and Cortex-A55 designs. These newer rival cores are more efficient, offering greater power at the same clock speed.
The Huawei P20 Pro also has a lesser graphics chipset than the Galaxy S9 Plus. It's a 12-core Mali G72 here, where the Exynos and Snapdragon versions of the Samsung use either an 18-core Mali G72 or the excellent Adreno 630.
But does that play out in benchmarks?
In Geekbench 4 the Huawei P20 Pro scores 6,775 points (1,918 per core). This is a lot lower than the roughly 9,000 points of the Galaxy S9 (Snapdragon 845) or the 10,000-ish points of the iPhone X.
However, we also need to consider screen resolution in this. The Huawei P20 Pro doesn't have as many pixels to render as either of those phones, reducing CPU and GPU strain in many situations.
Another interesting point for the real tech nerds is that the P20 Pro does not appear to use dual-channel RAM. Its copy speeds are those of 'conventional' DDR4.
Its internal storage is pretty quick, though. Read speeds of 501MB/s match some lower-mid-range SSDs and write speeds of 190MB/s aren't bad either.