Verdict
The View 20 is one of the best Honor phones to date. We get the pricing that so often propels Honor mobiles onto our recommended lists, along with some tech you might expect from a more expensive handset.
An ultra-high-resolution camera and punch hole screen are the highlights, and they set a standard this year's more expensive phones will need to match. At a minimum.
There's no official water resistance, no wide-angle camera and no wireless charging. But at the price Honor seems to have made all the right choices. That includes adding a good old headphone jack.
Who's this for?
The Honor View 20 is for people who want a high-end phone but aren't keen on paying the kind of prices the top-end models go for these days.
Should you buy it?
This phone's arrival marks a sensational start for Honor in 2019. It's a great buy, the tech inside is dynamic and it was first out of the gate with a punch hole screen. The only reasons not to buy are largely about the look. Bright and shiny chevrons may not be to all tastes.
If you need further convincing, the Honor View 20 has earned a place in our best smartphone rundown as well - which is high praise indeed.
First reviewed: January 2019
Competition
The Honor View 20 is a seriously impressive phone, but it's not alone in impressing us at this end of the market, so you may want to consider one of the following alternatives.
OnePlus 6T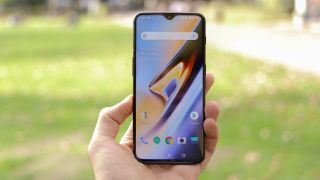 The OnePlus 6T is one of the few genuine alternatives to the View 20, in that it offers high-end hardware for a price that, these days, can seem mid-range.
OnePlus benefits include a much lower-key design and a chipset from the biggest name around, Qualcomm, with a slightly punchier GPU. In some senses, though, the Honor is at least a half-generation ahead. Its camera is more dynamic, and so is the display design.
Read our full OnePlus 6T review
Nokia 7.1
Spend a little less and you'll get something like the Nokia 7.1, an Android One phone. This has a cleaner-looking interface. However, almost every other part of the phone is a significant step down. The screen, the chipset, the cameras: all of them aren't nearly as good as the Honor View 20's.
Read our full Nokia 7.1 review
Samsung Galaxy A7 (2018)
Samsung's current mid-range pick is the Galaxy A7. Its tri-camera rear setup offers the extra field of view options missing from the Honor. And its OLED screen is a nice draw.
However, the perceived sharpness of the display is worse, and the cameras — despite their compositional versatility — aren't on the same level. Gaming power isn't even close to the Honor's either.
Read our full Samsung Galaxy A7 (2018) review