Two minute review
The Garmin Instinct Crossover is a Garmin Instinct 2 with an upgraded chipset and analog hands, and I love it. It's one of my favorite activity watches of 2022 based on the novelty factor alone, although the fact it uses the excellent Garmin Instinct 2 as a base means it's a very capable adventure watch, not just a one-and-done gimmick. It's definitely one of the best Garmin watches out there and the best hybrid outdoor watch I've tried, although it falls slightly short of perfect as it's overpriced for what you get.
The hands are based on a technology Garmin calls 'RevoDrive technology'. Revodrive ensures that if the watch takes a big knock, moves into a different timezone, or undergoes any other event which would cause an ordinary analog watch to display inaccurate time, RevoDrive will automatically calibrate the watch using its satellite technology.
This technology is also what allows users to actually make the most of the Garmin Instinct 2's smarts. A simple press of any of the function buttons (other than the light) will stop the watch's analog timekeeping and swivel the analog hands to form a horizontal line between the 9 o'clock and 3 o'clock positions.
Information and workout statistics are generally presented in list form, so you can scroll through the info and see it clearly, even though the analog hands are in the way. When you're done, return to the home screen, and RevoDrive will return the analog hands back to the correct time.
Overall, there are a few improvements in the Instinct 2's hardware, which we'll cover later, and all the usual Garmin stuff is as good as ever, including Body Battery functionality, route tracking with TracBack, excellent running metrics, and all the usual health-tracking features, such as heart rate variability.
The only issues preventing the watch from earning an elusive five stars is the increase in price as a result of the analog hands, which pushes it into the same territory as Garmin watches with more functionality, such as the Forerunner 955.
Swipe to scroll horizontally
Garmin Instinct Crossover specs:

| Component | Garmin Instinct Crossover |
| --- | --- |
| Price | $499.99 / £479.99 / AU$999.99 |
| Dimensions | 45 x 45 x 16.2 mm |
| Case/bezel | Fiber-reinforced polymer/stainless steel |
| Display | 176 x 176 px, MIP, chemically-strengthened glass |
| GPS? | GPS, GLONASS, GALILEO |
| Battery life | 28 days (25 hours GPS) |
| Connection | Bluetooth, ANT+ |
| Water resistant? | Yes, 10ATM (100 meters) |
Garmin Instinct Crossover: Price and availability
The Garmin Instinct Crossover is available pretty much everywhere you can get Garmin watches, including at Amazon and direct from the Garmin website. It's priced at US$499.99 / £479.99 / AU$999.99 for the base version, although the solar-charging model costs $549.99 / £529.99 / AU$1,049.99. A tactical version of the Solar, with stealth mode and a kill switch to clear all user data instantly, is also available at an additional premium, although the extra features are unlikely to appeal to anyone outside of the military or those with a love of 'tacticool' gear.
Garmin Instinct Crossover: Design
Great integration of analog elements
Rugged exterior
Very thick – maybe too thick?
The Instinct 2 was already one of the best-designed rugged watches available at its price point. It's cheap enough to feel like you can throw it around without worrying about spoiling a four-figure watch, yet expensive enough to carry lots of Garmin's best features and use premium materials in its construction. Garmin hasn't reinvented the wheel here, with chemically strengthened glass on the non-solar version (the solar version gets Garmin's Power Glass), and the fiber-reinforced polymer/stainless steel case and bezel that are also present on the Instinct 2. Garmin has also swapped chipsets, from the Instinct 2's Sony to an Airoha, which expands the watch's GPS options.
It's still a 45mm watch, but slightly deeper at 16mm compared to the 14mm Instinct. This adds additional wrist protrusion to an already very chunky watch, but it's easy to see why: Garmin has added the analog hands, which have a super-Luminova glow-in-the-dark coating, inside the case of the Instinct. This requires that extra 2mm of space, although we imagine future iterations will be able to streamline the tech somewhat, and bring it down to 14mm or even 12mm. As is, thanks to the rugged bezel, thick silicone strap and analog hands, the whole thing gives off real Casio G-Shock vibes.
Until, that is, you press one of those function buttons and the watch bursts into life. Considering that it's built like a tank, the way the hands are designed to interact with the smart elements of the watch – rotating with the touch of a button to be as unobtrusive as possible when reading the information on the screen – is surprisingly elegant. In the words of Futurama's Zapp Brannigan, it's built like a steakhouse but handles like a bistro.
The satisfying whirr of the motor as the hands buzz around to form a straight line doesn't really get old. I've been using the Instinct Crossover for around a month, and I'm still not tired of showing people. It's like I said when reviewing the blood-pressure strap on the Huawei Watch D: I love that innovations in smartwatches are getting physical again. Tech should be fun as well as functional, and it needs to look good. Despite the depth of this watch, face-on it's a really attractive beast, as good-looking as any other analog adventure watch I've come across. It's like a Garmin had a baby with a G-Shock Mudmaster, and I wholeheartedly love the design.
I'm a longtime Garmin user, so I already love the design of the Garmin Connect companion app. It's easy on the eye, and intuitive to navigate for the most part, although I'm still using my thumb to hit the wrong portion of the screen occasionally after a workout, slamming my thumb directly below the stat I want to expand rather than switching tabs. I love the heat map the app generates after a run, with different colors depending on my speed and exertion during particular parts of the course – it's one of Garmin's most useful features, and an example of beautifully-presented data.
Garmin Instinct Crossover: Features
Great health and fitness tracking
Good adventure credentials
Lack of screen space means certain features are missing
There are tons of functions and features here, pretty much all of which have already featured on the Instinct 2. Activity tracking features abound, providing notifications on floors climbed, distance traveled and steps taken, as well as other health metrics, such as a sleep score and Garmin's very useful Body Battery score, which monitors your recovery and tells you how prepared you are for your next adventure. There's no Training Readiness though, which is essentially a more advanced version.
The Instinct Crossover measures your heart rate 24/7. It also offers a heart rate variability measurement (which watches for irregularities while you sleep), and an estimated respiration rate to help monitor your exertion during exercise. It's a really terrific watch for the outdoors in particular, offering environmental information such as sunrise and sunset from the watch face, as well as GPS coordinates, elevation information, and your distance from a designated destination, which you can set up in the app.
The sports profile I use the most often is running, and I've given that an extensive go with the Crossover up to around 14 miles. There's great GPS integration, on-wrist running power, and TracBack, which can help you return to the start of a route. The autolap feature works well whenever I pass the kilometer marker, as Garmin Connect provides an update in my earbuds with a few stats such as time and average pace, just like most conventional running apps.
The cycling and swimming profiles offer similar functionality, with speed, cadence, lengths and stroke counts replacing granular running information like stride length. Like the Instinct 2, this is a perfectly good triathlon watch, and if you're looking for something a bit stylish and quirky that'll still give you all the info you need, the Crossover might be an ideal fit.
There's no onboard music on the watch, just music control, which is disappointing at this price point. In fact, there are a few features here that are missing. The Garmin Forerunner 955, which you can get for around the same price, offers onboard music storage, a Training Readiness score, a daily Morning Report push-notification digest, Pace Pro advanced pacing tools, and topographical maps. I can appreciate that it's hard to include maps with the analog hands, but it's a feature that's really missed here, especially as so many of the Instinct Crossover's features are geared towards the great outdoors.
In its haste to raise prices, Garmin has done the Crossover a disservice by placing it above the Instinct. It's now in the ballpark of the premium Forerunner and Fenix ranges, all of which specialize with topographical map functionality and dedicated sporting features. The Instinct 2 is a phenomenal watch at its current price, and the Crossover is a wonderful alternative to it, but it can't compete with Garmin's other watches in the $500 / £500 / AU$1,000 space.
Garmin Instinct Crossover: Performance
Accurate GPS and health tracking
RevoDrive works a treat
Quite bulky for everyday wear
During my tests, the GPS was highly accurate, and comparable to the Garmin Forerunner 955 Solar, as well as the Apple Watch Ultra, when it came to measuring my overall speed in time per kilometers covered, and comparable heart rate measurements. I'm completely satisfied with its accuracy, having tested it alongside other high-standard watches, and I'd have no qualms about using it as an everyday running watch.
As mentioned above, I love the heat-map design of the routes shown in the app, and as usual, the watch fed my data into Strava and uploaded my runs automatically. LiveTrack, the feature which allows friends and family to monitor your runs remotely, works a treat.
I personally don't need onboard music and maps, as I generally use Spotify, stick to the roads, and keep my phone on me, but habitual trail runners might like to make use of both features, in which case they'd be better off with a Forerunner. I can see why people might need these features, but I'll be keeping my phone on me as a matter of course – as a runner with asthma, I may one day need to stop and call my wife to pick me up, although that's not happened yet.
The watch was big and bulky, and took a little getting used to. As good as it looked, its extra thickness was very noticeable, bulging under my sleeve when I wore it during the day, and it's big enough to feel obtrusive when worn at night. However, it wasn't an uncomfortable wear; Garmin's silicone straps are generally very good, and this watch was no exception. It's just big.
It provided me with a good selection of Garmin's baseline health metrics, with all the detail I've come to expect, from daily stress scores broken down into minutes of rest, low, medium and high energy, to continuous heart rate monitoring and an HRV score.
You can pick your watch face configuration to show the information you want, and although the 176 x 176px monochrome display is quite basic, that's part of the charm: the idea of having an analog watch is to make sure you're not as connected as you would be with a full smartwatch, and the hybrid offers you the best of both worlds by limiting your interactions with yet another screen. The Crossover's display reminds me of a Casio LCD screen, which is just another part of its retro charm – I really did fall in love with it, and the RevoDrive technology never showed me an inaccurate time despite my constant flitting between modes.
Garmin Instinct Crossover: Battery Life
28 days in smartwatch mode
25 hours in GPS mode
70 days for solar-extended unit
Garmin claims the battery life for the standard Instinct Crossover is up to 28 days in smartwatch mode, or up to 25 hours in GPS mode. On average, with moderate GPS usage, that will take you down to a hair under three weeks, which is pretty much exactly what I found – I used my Instinct Crossover for around 18 days before the battery depleted, and charged it up in a little under an hour.
The Solar version offers a longer battery life, with 70 days of solar-extended use provided that you spend around three hours a day outside to make the most of its Power Glass technology. Unfortunately, I didn't have the Solar version (or 70 days) to test it.
Battery life score: 4.5/5
Garmin Instinct Crossover: Buy it if…
You want a hybrid watch
Love the idea of G-Shock aesthetics with analog elements, but Garmin smarts? This is the watch for you. It's great.
You're an outdoorsy person
The distinct lack of screen space, and the associated distractions, means you've got more time to soak up your environment, and Garmin's tools do all the hard work for you.
You love endurance exercise
The Garmin Instinct Crossover provides plenty of useful running, swimming and cycling tools.
Garmin Instinct Crossover: Don't buy it if…
You're on a budget
If you're counting the pennies and want substance over style, the Instinct 2 does it all for a lot less.
You want maximum bang for your buck
If you're looking to spend this sort of money and want a fitness watch with space for music, opt for the Forerunner 955.
You want topographical maps
This is by far the Instinct Crossover's biggest omission. It would be tough to make it work with the hands, but at this price point it's hard to argue against its inclusion.
Also consider
Swipe to scroll horizontally
Also consider

| Component | Garmin Instinct Crossover | Coros Apex 2 Pro | Suunto 9 Peak Pro |
| --- | --- | --- | --- |
| Price | $499.99 / £479.99 / AU$999.99 | $499 / £499 / AU$850 | $549 / £419 / AU$759 |
| Dimensions | 45 x 45 x 16.2 mm | 46.1 x 46.5 x 14mm | 43 x 43 x 10.8mm |
| Case/bezel | Fiber-reinforced polymer/stainless steel | Grade 5 titanium alloy | Reinforced polyamide/Stainless steel |
| Display | 176 x 176 px, MIP, chemically-strengthened glass | 260 x 260 px LCD, sapphire glass | 240 x 240 px, sapphire crystal |
| GPS? | GPS, GLONASS, Galileo | GPS, GLONASS, Galileo, Beidou, QZSS | GPS, GLONASS, Galileo, QZSS, Beidou |
| Battery life | 28 days (25 hours GPS) | 30 days (45 hours GPS) | 300 hours (30 hours GPS) |
| Connection | Bluetooth, ANT+ | Bluetooth | Bluetooth |
| Water resistant? | Yes, 100m | Yes, 50m | Yes, 100m |
| Maps? | No | Yes, topo | No |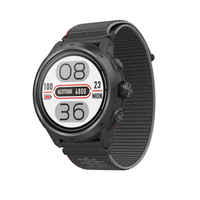 (opens in new tab)
Coros Apex 2 Pro
Competitively priced with good GPS functionality, outstanding battery and topo maps, the Apex 2 Pro is a good alternative adventuring companion to the Crossover.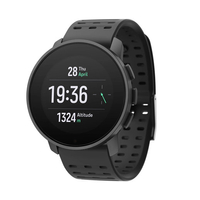 (opens in new tab)
Suunto 9 Peak Pro
Suunto's offering is feature-rich, comfortable and offers really good GPS trackng and battery life comparable to the Crossover. If you don't mind a relatively naff display, it's a sturdy, reliable watch.
First reviewed: January 2023