Verdict
There's no question that the X-H1 is Fujifilm's most advanced X Series camera to date, thanks to a range of new and refined features. These include the arrival of IBIS, a brilliant high-resolution EVF, advanced 4K video capture, touchscreen control, and an all-round tougher build.
It's perhaps that last point, however, which prevents X-H1 from capturing our imagination in quite the same way as many previous X Series cameras, particularly the X-T2. The X-H1's considerably bulkier build will certainly appeal to some, while it should help it to balance better with larger and longer lenses, but its size means it loses some of that X Series DNA that's made cameras like the X-T2 a firm favorite.
Also, with this camera aimed at serious enthusiasts and professionals it would have been nice to see Fujifilm make more of an effort to put clear blue water between the X-H1 and the X-T2 in terms of performance. As it is, apart from some tweaks to the AF you're not gaining much, if anything with the X-H1.
And then there's the price: at £1,699 / $1,899 / AU$3,399 (you'll only be able to get the X-H1 with the VPB-XH1 grip in Australia), Fujifilm is pitting the X-H1 against some very tough competition, including the likes of the Nikon D500 and full-frame Sony Alpha A7 III.
In short, then, the X-H1 is sure to appeal to X Series shooters who've been crying out for in-body image stabilization, but it doesn't have quite the same broad appeal as the X-T2. The Fujifilm X-H1 is a very good camera, but not quite a great one.
Competition
Image 1 of 3
Nikon D500
Perhaps the best APS-C DSLR out there, the 20.1MP Nikon D500 is an incredibly capable piece of kit. Featuring a highly sophisticated 153-point AF system, 10fps shooting, a 200-shot buffer and great ergonomics, it's a great choice for photographers who shoot a range of subjects.
Read our in-depth Nikon D500 review
Image 2 of 3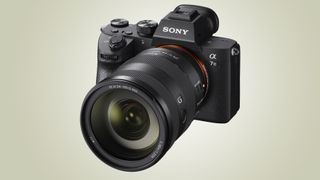 Sony Alpha A7 III
Pushing the budget a little further north is Sony's full-frame Alpha A7 III. While it may be Sony's entry-level full-frame camera it doesn't skimped on features, which include a back-illuminated 24.2MP sensor and the same 693-point AF system as the flagship Alpha A9.
Read our in-depth Sony Alpha A7 III review
Image 3 of 3
Panasonic Lumix G9
While its 20.3MP Micro Four Thirds format sensor means it can't quite match the X-H1 for image quality, the Lumix G9 sports a brilliant 6.5-stop image stabilization system, a 3.6 million-dot EVF, up to 60fps shooting and a decent 4K video mode.
Read our in-depth Panasonic Lumix G9 review