You can leave your dolly at the door: the arrival of the DJI RSC 2 means Hollywood-worthy tracking shots are more accessible than ever. Like the DJI Ronin-SC before it, the DJI RSC 2 is a three-axis camera gimbal which helps vloggers and videographers shoot super-steady footage single-handedly.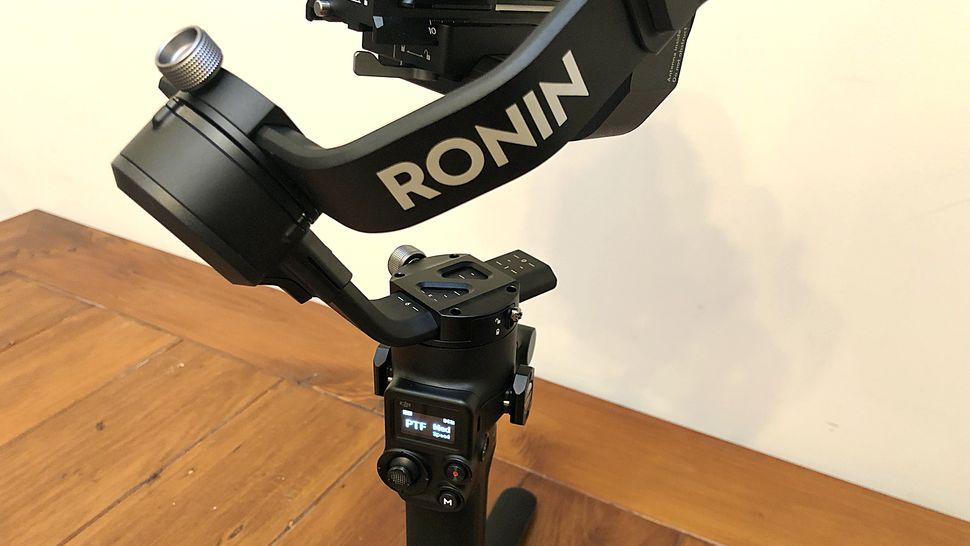 But while the RSC 2 retains the same core features as the Ronin-SC – including advanced smartphone connectivity – it also promises a range of upgrades, including a bigger battery, an OLED info screen, and a new folding design for enhanced portability. It's stronger, too, which means it can support mid-range DSLR cameras, as well as mirrorless models.
So how does the RSC 2 perform in practice? Provided you're happy to pay extra for the Pro Combo, it's pretty much the complete package, and if you're looking for a versatile yet backpack-friendly solution to smart, stabilized footage, it could well be the gimbal for you.
DJI RSC 2 release date and price
DJI RSC 2 release date is October 31
$499 / £389 for the base model, or $739 / £569 for the Pro Combo pack
Pro Combo will include phone holder, RavenEye module and more
The DJI RSC 2 will be available to order from October 31. Released alongside the more powerful DJI RS 2, the base variant of the RSC 2 will cost $499 / £389 (approximately AU$700). That's $60 more than the Ronin-SC cost at launch in 2018, but its pricing still puts the RSC 2 broadly in line with other mirrorless gimbals in the market.
An RSC 2 Pro Combo bundle will also be available. This pack adds all of the accessories you'll need to take your gimbal game to the next level, including a smartphone holder, Focus Motor, RavenEye Image Transmitter, carry case and more. Pricing for the kit is confirmed at $739 / £569 (approximately AU$1,000).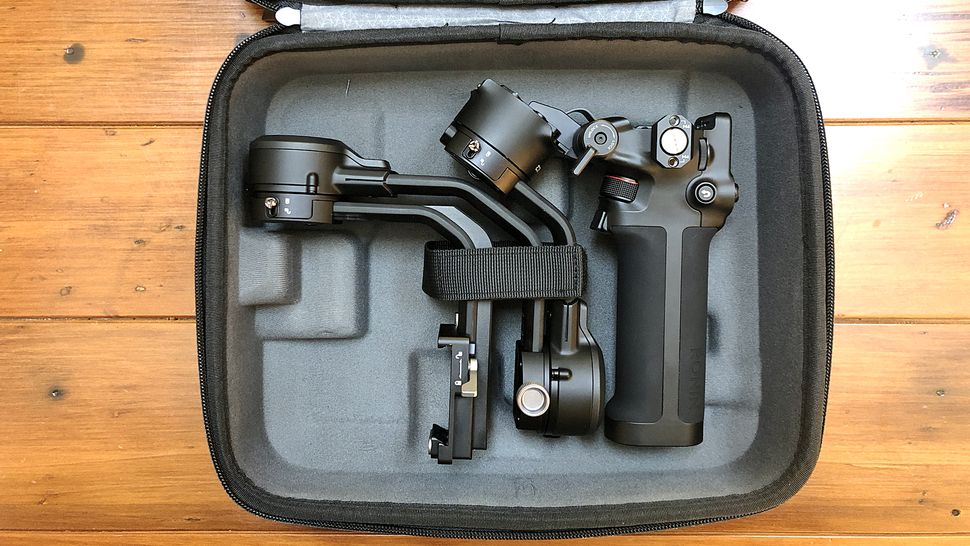 You'll also be able to pick up several new accessories for the RSC 2 in the near future, including a Twist Grip Dual Handle and 3D Focus System, though pricing for those is yet to be confirmed.
DJI RSC 2 design and specs
New folding design means more convenient portability
Supports increased payload of up to 3kg
Redesigned axis knobs make rebalancing easier
The DJI RSC 2 doesn't reinvent the gimbal. Broadly speaking, it's a sculpted grip topped by a three-axis array of motorized arms. But look more closely and you'll spot several significant changes compared to the Ronin-SC.
Folded to its smallest form, the gimbal occupies the same area as a sheet of A5 paper. That's properly compact, but it does require you to release all of the axes, which means you'll need to rebalance the gimbal again before use. Redesigned axis knobs work with the existing locks to make the balancing process slicker, but in practice it's still quicker to collapse the gimbal without resetting the axis positioning. While its footprint won't be quite as small, the folded RSC 2 will still fit in the splash-proof carry case.
As the hinge is used for the new 'Sling' shooting mode, it's necessarily sturdy, firmly locking in place without any play. That goes for the rest of the RSC 2, too: the whole gimbal feels reassuringly well-built, with materials such as aluminum contributing to a solid, premium finish.
The rubber elements on the handle are also subtler than those found on the Ronin-SC, with a smoother texture that's neatly integrated yet offers a good amount of grip.
At 1.2kg, the RSC 2 is essentially the same weight as the Ronin-SC, yet the new model can support cameras which hit the scales at up to 3kg. Backed up by stronger axis motors, the RSC 2 is therefore compatible with a whole range of DSLR cameras. But it's worth noting that with a DSLR camera and lens attached, you'll need strong wrists to use the RSC 2 single-handedly for extended periods – especially if you have other accessories attached.
Other physical changes include a trio of USB-C ports beneath the camera mounting plate, which allow for easy, albeit cluttered, connections between camera, gimbal and the optional RavenEye Image Transmitter. You'll also find a re-shaped trigger on the front, below a new focus wheel, while the joystick, mode and camera control button have all been repositioned to make space for a 1-inch OLED info display.
DJI RSC 2 performance and interface
Hinged neck unlocks new 'Sling' mode
Portrait mode is perfect for capturing social content
Bigger battery now lasts for 14 hours
Quick Charge delivers a 2-hour boost in 15 minutes
The DJI RSC 2 is both effective and accessible as a standalone gimbal. Once you've mounted your camera and balanced the axes, controlling pan and tilt with the joystick feels fluid and intuitive. The front focus wheel and trigger are well placed for your index finger, while the back buttons and scroll wheel sit within easy reach of your thumb.
You're now even more likely to find a physical setup that suits your creative requirements: in addition to the upright, underslung and flashlight options, the new 'Sling' mode uses the hinged neck to mimic a handheld rig with the camera slung forward.
The result of this additional versatility is, unsurprisingly, that the RSC 2 is even more capable when it comes to delivering a stable platform for your camera. According to DJI, there's a newly optimized Titan algorithm which 'smooths out the fine details' – and that certainly bears out in practice.
Whether static or on the move, handheld footage is impressively shake-free. Only when walking at pace while tracking a subject is any hint of user movement detectable. Even more impressive is the buttery smooth panning and tilting, which creates seamless shots that would be simply impossible by hand.
Double-tapping the mode button switches the gimbal to portrait mode. There's no active axis control in this setting; instead, the camera is held dead steady and pointing straight ahead, allowing you to shoot smooth content in the ideal orientation for social media.
And you can do so for longer, courtesy of a beefed-up battery. On paper, the RSC 2 can last a full 14 hours on a single charge, one hour longer than the Ronin-SC. That figure naturally varies depending on how hard the axis motors are working to smooth and track motion – and whether you have the RavenEye transmitter connected – but the RSC 2 can comfortably make it through a full day's filming. And if it does need a boost, USB-C quick charging is a boon: just 15 minutes at the plug adds around two hours of battery life – ideal if you need some extra juice to finish a shoot.
As for the new OLED screen, it's a simple but transformative addition. Where the Ronin-SC's trio of LED indicators required you to remember how you'd programmed each mode, the RSC 2 uses its 1-inch OLED to display which mode you're in, what that mode does, the panning speed and the available battery life. The readout strikes an ideal balance, serving up just enough info to add clarity, without cluttering the interface. And it doesn't try to be too smart: if you want to adjust settings, you'll need to dive into the Ronin app.
DJI RSC 2 smart connectivity and presets
Force Mobile sees gimbal copy smartphone orientation
RavenEye wireless transmitter enables Active Track 3.0
New 'Time Tunnel' creative preset due after launch
As with the Ronin-SC, the Ronin app is a comprehensive partner to the RSC 2. It allows you to configure the function of the three available mode slots on the RSC 2, enabling or disabling individual axis motors and customizing parameters such as follow speed.
It's also where you can access the various creative presets, including timelapse and panorama.
With the RSC 2 connected to a compatible camera, the gimbal will control both the panning and the shutter release, resulting in effortless yet remarkable results. Fans of these presets will also welcome news that a new one is due shortly after launch: Time Tunnel will see the gimbal perform a 360-degree roll while capturing a hyperlapse.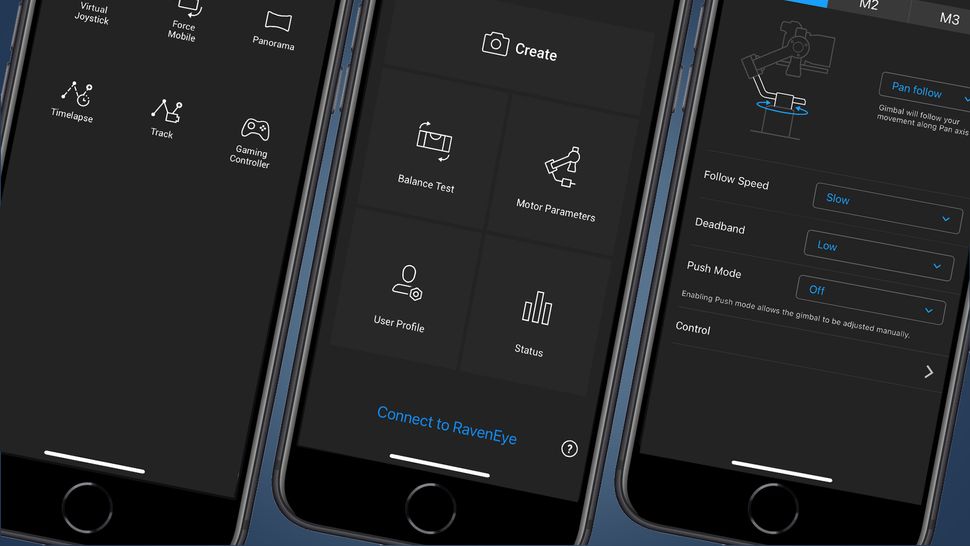 Besides offering the Virtual Joystick and the option to control the RSC 2 with a PS4 or Xbox controller, the app is also where you can connect to the RavenEye Image Transmission System. Included as part of the Pro Combo, this Wi-Fi module allows you to stream a 1080/30p low-latency live feed from your camera to your phone, as well as remotely controlling both gimbal and camera via the app.
Setup is straightforward, if unwieldy: the transmitter mounts to your camera's hot shoe or beneath the mounting plate, then connects to your camera's HDMI port and to the gimbal via USB-C. The resulting web of cables unlocks some of the RSC 2's coolest features: via the RavenEye's Wi-Fi network, you'll be able to tweak a host of camera and gimbal settings, enable enhanced shooting tools and control it all with a virtual joystick.
RavenEye also unlocks the updated ActiveTrack 3.0 functionality. While viewing the live feed, draw a box around something on screen and, with the help of deep-learning algorithms from DJI's drones, the app will detect the subject and automatically track it. It's a smart trick, pairing digital tracking with mechanical movements. And while it isn't flawless – it seems to struggle with backlit and low-contrast scenes – it's an outstanding tool for vloggers: set the RSC 2 on its tripod base and it'll pan and tilt to keep your face in the frame as you deliver a piece to camera.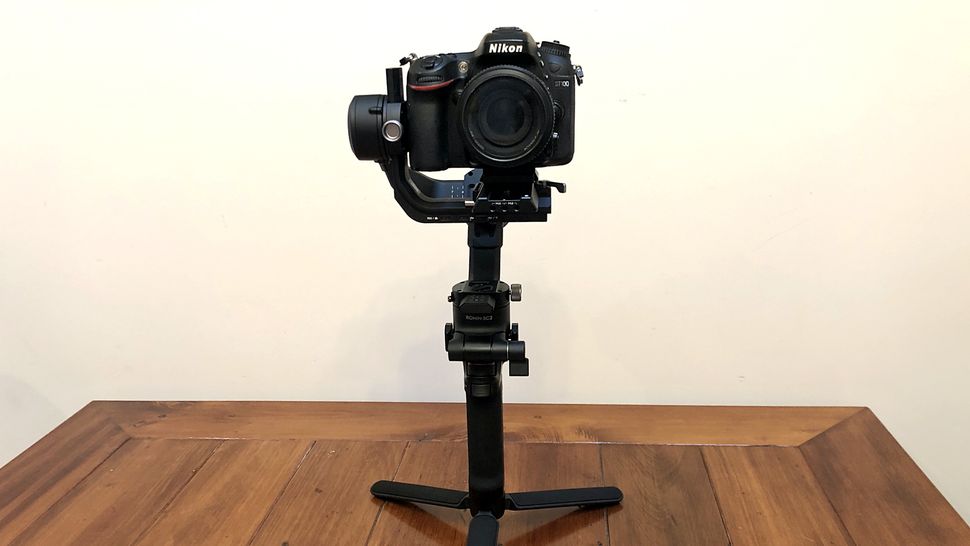 Equally remarkable is the returning Force Mobile mode. When enabled, the RSC 2 mirrors the orientation of your wirelessly connected smartphone, panning and tilting in sync with your handset. With the addition of the live feed, it puts your camera's point of view in the palm of your hand, allowing you to immersively pilot the gimbal simply by moving your phone.
Two antennae on the RavenEye module deliver a strong range, and it's theoretically possible to stream video from up to 100m away. However, lag can become a issue as you get further from the transmitter. Stay relatively close – and with a clear line of sight to the gimbal – and the feed should be fluid and responsive. That said, it's best to disable Bluetooth and close other apps before connecting to the transmitter, to avoid any juddering due to bandwidth or interference issues.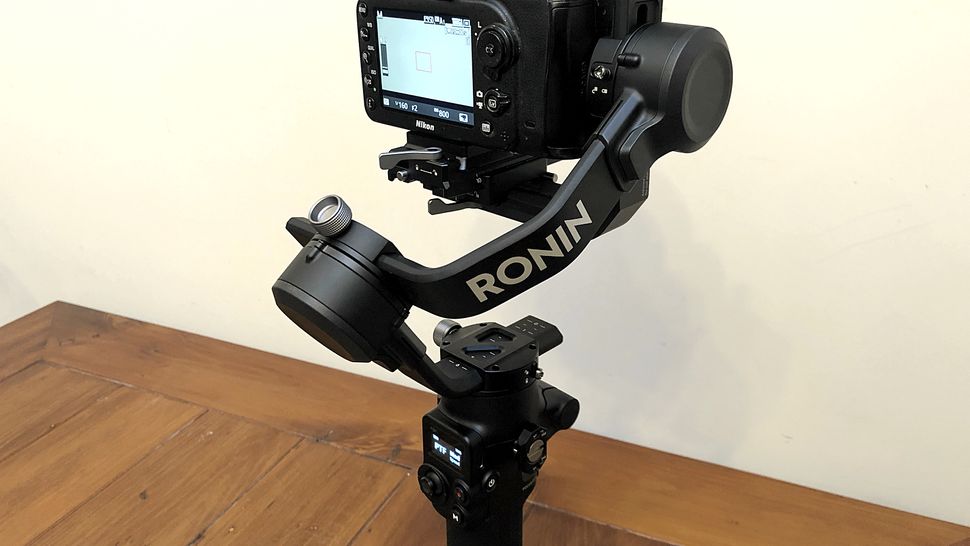 DJI RSC 2 accessories and compatibility
Accessories required to unlock gimbal's full functionality
Phone Holder is useful for on-tap access to the Ronin app
Supported controls vary according to camera model
For all its perks, the RavenEye Image Transmission System does highlight an important point about the RSC 2: many of its best features require sold-separately accessories.
The standard model comes bundled with the folding tripod base and a full compliment of mounting bits, and it's the more expensive Pro Combo that features the must-have add-ons, including the carry case, RavenEye transmitter and Focus Motor. It also ships with the Phone Holder, which lets you side-mount your smartphone for easy access to the app and live feed.
For this reason, the Pro Combo will be the more appealing option for most videographers. It's worth checking that your camera has a USB port which is compatible with the RSC 2. The gimbal is shipped with several control cables, including Micro and Mini USB, as well as USB-C, but if your camera doesn't have one of those, you'll need a different RSS cable (available separately), or you simply won't be able to connect to the RSC 2.
Even if your camera is compatible, the degree of control supported varies from model to model. If you're using a recent mirrorless camera such as the Fujifilm X-T4, you'll be able to control everything from shutter release to aperture to focus via the gimbal. But if you're shooting with an older camera, options are likely to be much more limited – and you'll probably need the focus motor for pull-focus functionality.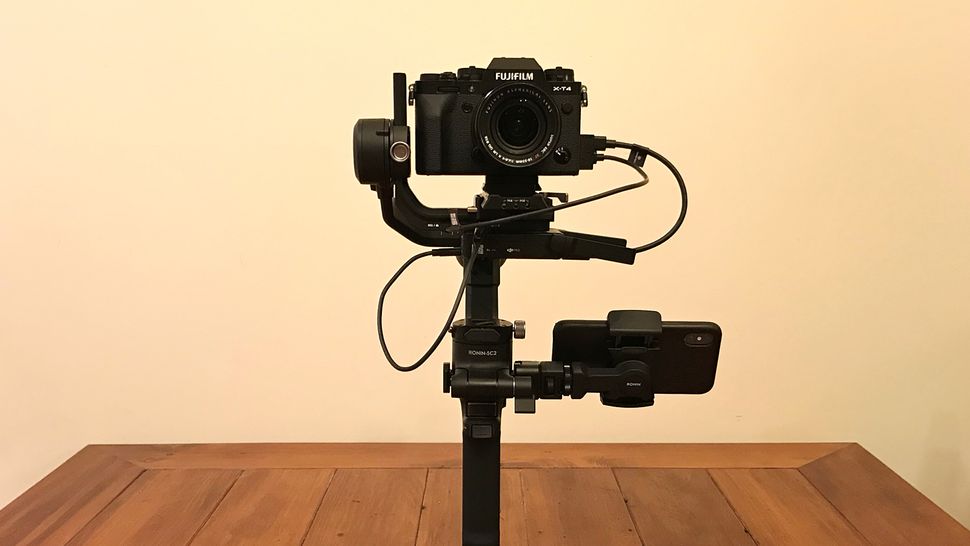 DJI RSC 2 verdict
The DJI RSC 2 builds on the Ronin-SC in all the right ways. Steady shots and smooth controls were pretty much a given, but it's the subtle design changes that make the RSC 2 a much improved stabilizing option for vloggers and videographers.
The folding neck makes it more portable, and unlocks novel shooting possibilities, while the increased payload means it now works with a range of DSLR cameras. Battery life is strong, and quick charging introduces a useful dose of convenience. Add a new OLED info display, a redesigned control layout – including a front focus wheel at finger's reach – and a sturdy, premium finish, and the RSC 2 shapes up as an appealing package.
In fact, the only signification limitations come from the RSC 2's accessories. The Pro Combo is a must if you want to unlock the gimbal's full potential, which means shelling out significantly more for the add-on bundle. And though the RavenEye module adds all manner of smart functionality, the way it's mounted and connected makes the gimbal more cumbersome.
Still, provided your camera is fully compatible, you won't find a gimbal as clever and capable as the DJI RSC 2 – apart from the RS 2.