The Apple Watch 4 stole the show at the launch of three new iPhones, and for good reason: where those were all just copying the iPhone X from last year, the Watch 4 feels materially different. This is Apple's best smartwatch - not just because it's the newest, but by a long way.
Not just for the upgrade in display and size, without adding that much heft, but in the way Apple is pushing it: the Watch 4 is now a health-focused device, something to help you get fitter or stay healthier if you've got a serious condition - or even just safeguard the more infirm for their loved ones.
Is it going to change the way we use a smartwatch? Not really, but there's very little way to do that. The fact that Apple is now throwing out new smartwatches at a faster cadence and constantly adding new features shows it doesn't believe wearables are dying - they just need a new focus.
Against the backdrop of a spec-filled smartwatch industry, it would be easy to dismiss the Apple Watch, perhaps even for the lower battery life and lack of sleep tracking alone - but that would miss the key point that the Watch 4 feels slick, fast and integrated with your smart life.
There's something so cool about just raising your watch to your mouth, asking it to turn on some lights and it doing so without an issue (although we did have to ask it do that very thing three times before it would work).
It's also awesome to just get running and know the Watch 4 is going to give you good information on how you're getting on and add that to the digital picture of your daily health progress.
At the same time, there are still a few rough edges in the device - it can be tricky to pair if you're dealing with multiple devices. Siri can sometimes hang and feel like it's ignoring you. A 'sensed' workout isn't as accurate as it could be.
There's nothing in here that's terrible, but it's worth noting the slight bumps if you're going to spend so much on a timepiece like this.
Who's it for?
This is an easy one: anyone with an iPhone who wants to improve the experience. A loved one who's thought about an Apple Watch before? Give them the upgrade - they'll definitely feel it's a big improvement.
We wouldn't say that the LTE element is really that necessary, because you'll be paying something of a premium to have that data sent to the Watch every month, and sometimes it's just nice to switch off, rather than being contactable all the time.
It's also going to be a good device for those with heart complaints - the ECG capability is truly game-changing for those people - or those who might be susceptible to a fall.
That said, the shorter battery life and the need to charge all the time might be an issue for that group - it's worth thinking about whether this expensive, multi-faceted technology will really be of benefit.
It's also an excellent gift (whether for others or yourself) for those who are determined to get fit and are just starting out on their journey - the smart prompts and additional information on how to get there really help.
Should I buy it?
If you don't have an Apple Music subscription or loads of downloaded MP3s, we'd suggest you think long and hard about buying this Watch if you're considering using it as an exercise tool.
If you're just going to be streaming Spotify off your phone, then it's fine, but the Apple Watch series is working better and better without a phone connection, and Apple Music is a big bonus in that, as it syncs across so well.
As a gift for a loved one though, it's excellent - and the larger size, snappier performance and health pushes are nice upgrades to an already decent smartwatch - just remember the Apple Watch 5 is fast approaching.
Over and out.
First reviewed: September 2018
The competition
Worried that the Apple Watch 4 may be too big, or not feature-rich enough and want to know what other options you have?
Well have no fear, as we've pulled together some of the best alternatives to Apple's best smartwatch:
Samsung Galaxy Watch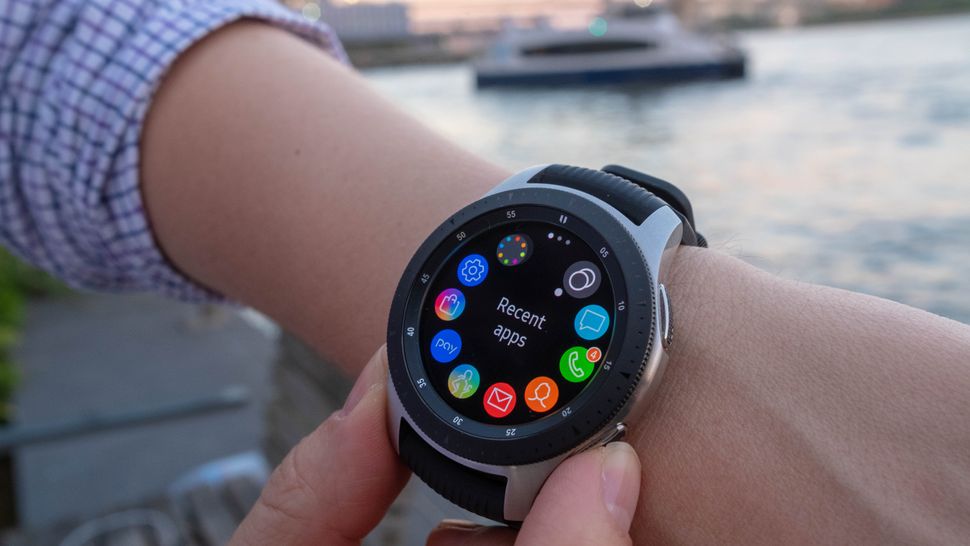 The Samsung Galaxy Watch has a few key advantages over Apple's fare in that it can match many elements, but improve on some too. A longer battery life is the key difference here, and it can run off an iPhone or Android phone with ease.
It's an equally good fitness tracker, has Spotify offline streaming on board and offers a round face which, although not as functional, some do find more aesthetically pleasing.
Apple Watch 3
Still on sale even though its successor is out, the previous model is a lot cheaper and will be able to handle the upgraded WatchOS 5 features with ease.
There's very similar exercise tracking on offer, a vibrant (if smaller) screen and the same Apple Music and podcast playback capabilities - it just depends whether you want any old Apple Watch, or the latest and more impressive.
Garmin Forerunner 735XT
For the fitness enthusiast out there, we'd recommend not going for the Apple Watch 4 and plump for something more dedicated instead - and we'd pick this as a good option.
Capable of triathlon monitoring, it's got the key exercises tracked. It's got smartwatch capabilities for displaying your messages and calls, has a mega battery life of around seven or so days and syncs easily with Strava. It's a more targeted device, but our pick of the bunch for them.