iPad Black Friday deals in the US are always the incredibly popular during the holiday gift-giving season, and 2016 is no different than any other year.
That's why we were excited to discover a $199 iPad on sale at Target today. Although it's the older iPad mini 2, it's a great tablet that runs iOS 10 and works just fine. Normally, the iPad mini 2 costs $269.99, but Black Friday is your lucky unofficial holiday.
Even more shocking, this deal applies to both the Wi-Fi and more expensive Wi-Fi + Cellular iPad for $199.79, too, as long as you're with AT&T.
Both iPads are oddly the same price. But you'll have to find the Wi-Fi + Cellular edition – it's sold out in some US cities, so grab this deal if it's back in stock in your local area. And always order online and pick up in store. Never go to the retailer without an online reservation. Not during Black Friday.
More iPad Black Friday deals
Want a bigger iPad? Right now, the and that's only a last-generation Apple tablet. Very recent for such a temporary price drop.
These are new low prices for normally expensive Apple gadgets, and they're hardly the only iPads on sale for Black Friday. Target is also selling the brand new iPad Pro 9.7 for $150 off.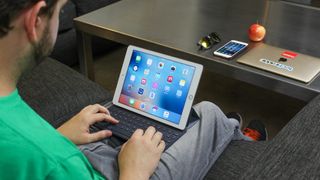 It's $449 as part of the retailer's Black Friday deals, instead of the normal $599. That's the best price we've seen for the iPad Pro today. And, as reviewers, we can tell you that Apple by far and away makes the best tablet around.
You can find more iPad deals at Target, which once again is the primary place to find really good deals on Apple electronics during Black Friday 2016.