TechRadar Deals: Gadgets, games, gizmos and more at great prices!
Pick up a hot deal today!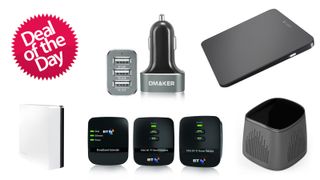 It's nearly the weekend, and to kickstart that Friday feeling we've put together another list of the day's best deals on tech and games from around the web.
TODAY'S HOT DEALS
Powerline: If your house does a good job of blocking wifi signals and knocking the walls down isn't an option, you might consider buying a powerline kit which routs your internet signal through the power wires in your house. This kit from BT comes with one master socket and two adapters and is now just £79.99 at Amazon.co.uk.
Hard drive: Need some hefty external storage? Pick up this 3TB drive from Toshiba and you will save £100 off the original price which has now been reduced to £75 at Amazon.co.uk
Wireless speaker: Need a portable Bluetooth speaker but don't want to pay much for it? Check out this one from Inateck - was £29.99 and now just £10.99 at Amazon.co.uk
Wireless touchpad: Want to use Windows 8 or Windows 10 touch gestures but don't have a touchscreen monitor or laptop. No worries, get a wireless touchpad! This one from Logitech is now drastically reduced to just £19.99 at Amazon.co.uk.
Car charger: And if you go on lots of car journeys with the family, it helps for everyone to be able to charge their gadgets while on the go. This car adapter will charge three USB devices at once and now costs just £11.99.
MORE DEALS
Novatech Radeon R9 285 OC Twin Fan 2GB GDDR5 - Reduced down to £119.99 at novatech
PS4 Official Sony PlayStation Silver Wired Stereo Headset - Black - Only £34.99 at Zavvi
LG 50LB561V 50" LED Full HD TV - For only £399.99 at ebuyer
Kingston 64GB USB 3.0 DataTraveler Mini Flash Drive - Grey - For only £15.99 at Amazon
Plantronics Marque 2 M165 Bluetooth Mono Headset - White - Only £30 at Amazon
Samsung Memory 32GB Evo MicroSDHC UHS-I Grade 1 Class 10 Memory Card with USB Adapter - Reduced to 317.46 at Amazon
Audioengine A5+W Powered Desktop Speakers (Pair) in Gloss White - Reduced down to £229.99 at Amazon
Native Union Swtich Portable Bluetooth Speaker, Charger and Speakerphone - High Gloss White - Down to £69.01 at Amazon
Inateck 2.5 Inch USB 3.0 Hard Drive External Enclosure Case for 9.5mm 7mm 2.5" SATA HDD and SSD - Only £15.99 at Amazon
Seagate Backup Plus 8TB USB 3.0 Desktop 3.5 inch External Hard Drive - For only £199.99 at Amazon
GARMIN VIRB 16MP ACTION CAMERA BUNDLE, WITH EXTRA LONG BATTERY POWER - £89.99 at the hut
NETGEAR GS308-100UKS 8 Port Gigabit Ethernet 10/100/1000 Mbps Switch - Only £13.89 at Amazon
Orbitsound SB60LX 200W Soundbar with Integrated Subwoofer Powered by airSOUND Technology - Down to £119.99 at Amazon
Toshiba Mini 3D Sound Bar II with Wireless Sub Woofer - For as little as £129 at Amazon
Y-cam HomeMonitor Indoor - Wi-Fi Wireless Security Camera with Free Cloud Recording - Reduced down to £99.99 at Amazon
Beacon Phoenix Bluetooth Portable Speaker - Reduced from £89.99 down to £40.07 at Amazon
Kindle Fire HDX 8.9" Tablet - Reduced down to £230.30 at Amazon
SanDisk Extreme 64 GB USB 3.0 Flash Drive - For only £24.98 at Amazon
Lenco ipt-6 Tower Speaker Featuring 3D Sonic Sound Emotion and 30 Pin Ipod/Iphone - Reduced from £199.99 down to £65.98
Dualshock 4 Wireless Controller Glacier White - For as little as £36.47 at gamestop
Skullcandy Aviator 2.0 Over-Ear Headphones - Down to £80.40 at Amazon
Olympus Stylus SZ-15 Digital Super Zoom Camera - Red - For as little as £91.95 at Amazon
Klipsch KMC 3 Music Center - White - Now only £139.11 at Amazon
Anker® 40W 5-Port USB Car Charger with PowerIQ - Reduced down to £11.99 at Amazon
Philips O'Neill SHO9567GB/10 STRETCH Scratch Headphones - For only £36.79 at Amazon
Xbox One Solus Console with 7 inch Connect Tablet and £10 Xbox Live Currency - For as little as £329 at Tesco
Razer Deathadder Ergonomic Gaming Mouse - For as little as £44.97 at Amazon
Logitech T650 Wireless Rechargeable Touchpad - Reduced down to £19.99 at Amazon
Amazon Kindle eReader, 6" Touch Screen, Wi-Fi - For only £49 at John Lewis
GAMES
Alien: Isolation (PC) - Only £10.87 at greenmangaming
Pokémon Y - For as little as £18.70 at Amazon
Ori And The Blind Forest Xbox One - Game Code - Only £14.99 at cdkeys
Wolfenstein: The Old Blood (Playstation 4) - Down to £11.99 at wowhd
Destiny (Xbox One) - Only £18.99 at base
Injustice: Gods Among Us - Down to £13.98 at Amazon
New Super Mario Brothers (Wii) - Only £29.62 at Amazon
The Evil Within (360) - Down to £15.91 at Amazon
Football Manager 2015 PC/Mac - Down to £13.65 at cdkeys
Murdered: Soul Suspect - For as little as £11.86 at Amazon
LEGO Star Wars: The Complete Saga (Wii) - Now only £14.41 at Amazon
Thief - Down to £18 at Amazon
Dragon Age Inquisition - For only £34.85 at Amazon
Need for Speed: Rivals - For as little as £14.86 at shopto
White Night [Online Game Code] PS4 - For only £11.99 at Amazon
Call of Duty: Ghosts (Xbox 360 & Xbox One) - Down to £9.99 at Amazon
Call of Duty Ghosts - For only £9.85 at shopto
Mario Party 10 Wii U - Down to £24.99 at Zavvi
Sign up to receive daily breaking news, reviews, opinion, analysis, deals and more from the world of tech.