AT&T: Digital Life home system is only the beginning
The seeds of this venture are starting to sprout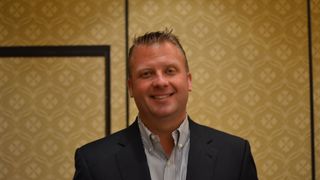 It's becoming typical tech conference fodder: our increasingly mobile life and the need for our tablets to connect to our dishwasher, or why apps that turn on our ovens are a must.
The "mobile integrated home" can seem a bit buzzy, but according to Kevin Petersen, president of Digital Life, the secret to getting consumers on board with the AT&T's version of a home automation and security solution is simple.
"You've got to make it real," he said during a sit down at CTIA 2013. "You've got to solve everyday problems.
"When you're extending security beyond the home, you've got to make it real and interactive, and bring value by virtue of solving a problem."
Goin' home
There were three main tenants Digital Life wanted to address in the home security and automation space: interactivity, simplicity and choice.
"Digital Life is really focused on a new experience," Petersen said. "In terms of the set of capabilities, in terms of what you can do with it, but if you step back, it's really about the overall experience. How you buy it, how it gets installed, how you use it, how you get support and ultimately how you add to it.
"Our goal with Digital Life is about changing the mindset and delivering something that, from what consumers told us, just isn't available today."
Consumers, he said, were miffed at the one-way street between themselves and their security systems. The lack of real-time information and inability to manage from afar were other issues.
Starting at $30 a month, Digital Life aims to tie customers into the conversation. All revolves around a controller – developed in partnership with Cisco – that operates the security and automation devices.
There are five wireless protocols within the controller, each focused on a particular function.
Digital Life has two IP activity centers – stations where employees monitor homes when they are in an armed state. Habitants, however, are also tied into the process via their smartphone, tablet and PCs.
"The platform also connects back to the app," Petersen said. "You have your monitoring side, as well as on the back end there's a UI integrated with the platform. We've developed a UI for PC, and we've opted for iOS, Android and Microsoft."
Digital Life extended
Digital Life launched in its first 15 markets in April, and on Monday AT&T announced its expansion into 7 more. By the end of 2013, the carrier wants Digital Life available in 50 U.S. markets.
"It's aggressive but achievable," Petersen said of the 50-market goal. "It's important to get out as quickly as possible. You've got a window to raise this awareness. Our goal is to roll out as quickly as possible."
Petersen worked on the service for over two years, hitting on it as he ran a strategy group for the company to flush out new growth areas.
"This one popped on the radar screen, and it popped really from the nature of the market," he said. "This is really a classic, disruptable growth opportunity in terms of being a fragmented, underpenetrated market largely utilizing old technology, but yet financially stable. So it made a lot of sense."
Ultimately, it made sense not only because of the opportunity to disrupt the current set of players, but because it fits in with the services AT&T, as a wireless provider, already has.
"We're integrated – we bought a platform, we integrated with our networks. We felt, as we got into the market, that it was a natural extension. There's a lot of synergies of who we are and what we do."
AT&T isn't alone in offering some form of interactive home monitoring system – Verizon has its take and ADT offers Pulse.
While AT&T is clearly aware of these as well as the crowded nature of the security space to begin with, Petersen doesn't seem phased, especially as he noted Digital Life will continue its U.S. expansion beyond 2013, branch out into sectors like health care and enter licensing agreements with international carriers.
"A lot of other providers are simply reselling somebody else's solution and putting their name on it," he said. "We chose to vertically integrate and build our own way, not only for the benefit of having our own ecosystem in terms of controlling the experience – obviously there's economics involved – but it's part of a roadmap.
"We feel the solution we have on the market today is just scratching the surface. There's a lot more we'll continue to do."
Sign up for Black Friday email alerts!
Get the hottest deals available in your inbox plus news, reviews, opinion, analysis and more from the TechRadar team.
Michelle was previously a news editor at TechRadar, leading consumer tech news and reviews. Michelle is now a Content Strategist at Facebook. A versatile, highly effective content writer and skilled editor with a keen eye for detail, Michelle is a collaborative problem solver and covered everything from smartwatches and microprocessors to VR and self-driving cars.