Look, I know I don't need a TV. So the idea of pulling the trigger and buying one this seems a bit of an irresponsible one.
But then again, by that logic I could still make do with the 21-inch TV set that I had 14 years ago at university, which I'm pretty sure would still be going nowadays if I hadn't given it to the nice people at the rubbish dump.
I've got a 37-inch Philips Ambilight set at the moment, and the speakers are broken on it. It's perfectly fine visually (and I've got a surround sound system so this isn't too much of a problem) but… 4K is just awesome.
Black Friday Quick Links:
If I needed to prove that point, my partner is usually a bit nonplussed by my tech-filled adventures, not really caring when I want to upgrade my console to let me play the latest game. But a couple of years ago she came back from the shops, enthused about a new TV that, in her words, 'was like looking at real life'.
Because that's what's so brilliant about 4K. If you have the right content on it, it looks more real than life. The fact that the whole thing is in focus confuses your mind, as it looks as sharp as looking out of a window, but your eye doesn't need to interpret distance.
But that was it. We were sold, and it was a question of when, not if, we upgrade to the next generation of TV… but that notion of 'when' suddenly became tricky.
So many options
There are so many variables to consider. I definitely jumped too early into the HD world; my first flatscreen (while amazing at the time) was chunky and suffered badly from ghosting. My next, sleeker model was much better but I could have saved money by waiting a year or so.
Initially, it was all too expensive, the most basic of 4K TV costing thousands. This year I'd be able to pick up a TV to replace my current set for around £600 / $700 - which is immense.
However, it's not just resolution that matters. I want a massive model (well, if you're going to upgrade, why not make it DOUBLE THE SIZE, eh?) and there's new technology coming through that keeps giving me pause.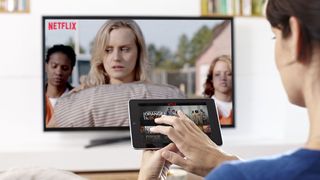 Should my new TV have Google TV built in, or will an external plugged in suffice? Should I get one with decent speakers? Should I pay double the price to get the new TV? Is worth the money?
After dribbling all over the AV catalogue that comes through my door, I took a moment and answered the questions serenely - keeping my bank balance within easy eyeshot. A Chromecast is fine and cheap. I have speakers. That Philips Ambilight is amazing but too expensive. I can't afford OLED yet.
HD-ja!
But there is one thing that I really can't live without if I'm going to upgrade: . I've recently commissioned a couple of articles on this technology, and it's too impressive and going to have too much of an effect in the coming years to miss out on.
Netflix, Amazon and more are all getting on board with adding HDR to their TV shows, and more will be coming soon, and I'd hate not to be able to get the full effect of whatever I've sat down to start watching.
HDR just makes the images look better on the screen. Dark elements are clearer, the bright sections more vibrant - overall, it just gives a more impressive effect.
There are competing standards in this area, which gives me more confusion to mull over, but it only looks like getting compatibility will keep me truly safe, and not enough models have this, nor for a decent price.
Ah, price. The thing that matters most. But that's the reason that I've waited so long to upgrade my TV, waiting to for it to be palatable and my cash levels to rise to a place where I can, you know, eat food while watching my new TV.
I think we're there now. Where I would have had to spend £5,000 on a 4K TV four years ago, that same model is five times cheaper now.
A slightly better-spec'd model will cost me much less and encourages the upgrade… which is dangerous, but at least I know what I want.
Okay, so now it's deep breath time. I'll have to wait for the deals to come out, remember what I want, hold my nerve and jump when I see the deal I need.
Or suddenly see a TV that's three times the price that's offered for a deal that's 'too good to miss'... and they'll find me in a month, my starved skeleton hugging my precious window to the outside world.
Black Friday 2016 to be the biggest day of spending of all time