The Umbrella Academy season 3: everything you need to know
News
Contributions from
published
It's Brellies vs Sparrows in The Umbrella Academy season 3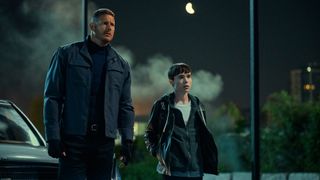 (Image credit: Netflix)
The Umbrella Academy season 3: key info
- Lands on Netflix in June 2022
- All key cast members set to return
- Elliot Page's Vanya gets a name change after gender transition
- Introduces The Sparrow Academy from the comics
- Official trailer reveals new plot details
- TV adaptation said to be "finding its own way" away from its source material
- Two more seasons planned
Get ready, Brellies: The Umbrella Academy season 3 is less than a week away from landing on Netflix. So you better dust off your dancing shoes and prepare to shimmy along to whatever iconic dance number is coming our way in the very near future.
With the hit Netflix show's latest installment set to arrive imminently, you may want to know what we thought of The Umbrella Academy season 3. Yes, we've seen it in its entirety – lucky us, eh? Our spoiler-free review reveals what we liked (and didn't like) about the series' latest batch if episodes, so give it a read to prime yourself for what to expect. We promise you there's nothing in there that ruins any part of its plot, so you're safe to check it out.
Once you're done reading our review, we expect that you'll want even more information on The Umbrella Academy season 3. Below, then, we've compiled everything worth knowing about the Netflix series' next season. That includes its release date, cast, trailers, plot threads it needs to resolve from previous entries, the show's future, and much more. It's a downpour (see what we did there?) of information that'll prepare you for The Umbrella Academy'x next adventure.
It goes without saying, but we'll mention it anyway: full spoilers follow for The Umbrella Academy seasons 1 and 2, as well as elements from Gerard Way and Gabriel Bá's comic series. If you're not caught up on the show, or don't want potential storylines spoiled, we suggest that you skip the plot section of this guide. Otherwise, you're safe to peruse everything else.
Here's everything we know about The Umbrella Academy season 3.
The Umbrella Academy season 3 release date
The Umbrella Academy season 3 release date: June 22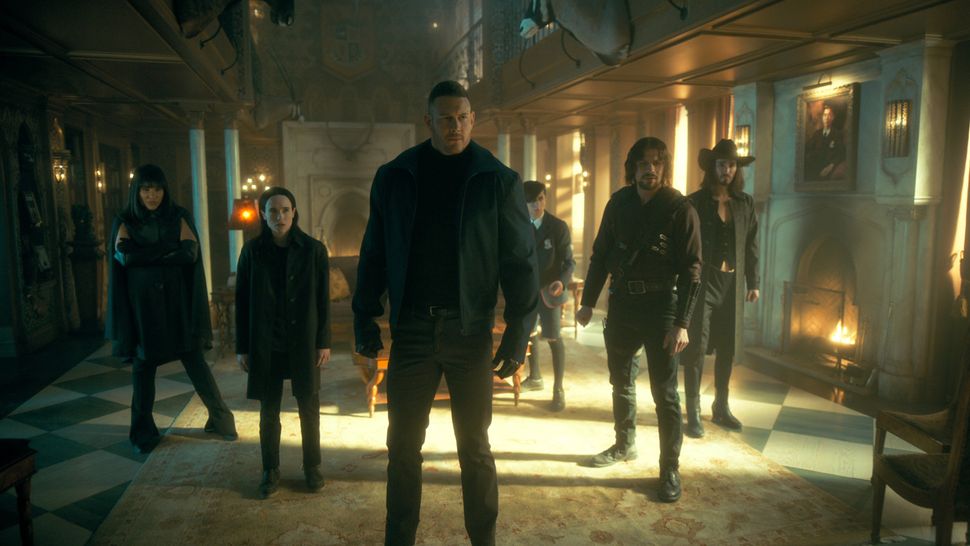 The Umbrella Academy season 3 will launch exclusively on Netflix on Wednesday, June 22, meaning Netflix is foregoing its traditional Friday launch schedule for the show's return.
Announced during SXSW 2022, the launch date unveiling was accompanied by a brief teaser, which suggests that the Umbrella and Sparrow academies will fight it out during the season 3 premiere. Place your bets on who'll win (though we suspect it'll be the Sparrows. Sorry, Brellies):
On the surface, it seems odd that Netflix is releasing The Umbrella Academy season 3 on a Wednesday. As we mentioned, the streaming giant usually releases new content on Fridays, so what's the reason for the change?
In short, Stranger Things season 4. Netflix's wildly popular series is being released in two parts this year, with the first batch available to stream now. Meanwhile, the second half (or, rather, episodes 8 and 9, which are feature film in length) arrive on July 1 – just nine days before The Umbrella Academy's return.
It seems, then, that Netflix doesn't want two of its heavy hitters to compete for viewers' attention. Which would be fine, other than the fact that there's only a nine-day gap between The Umbrella Academy's third season and Stranger Things season 4 part 2.
Still, we're glad that The Umbrella Academy is returning soon. It's high time we were reunited with the Hargreeves family, and we'll take getting it on June 22 if it would've meant not getting it until later in the year instead.
The Umbrella Academy season 3 trailer
The Umbrella Academy season 3 trailer: check out the official teaser
After months of waiting, The Umbrella Academy season 3's official trailer was released online on May 19. Set to the tune Ballroom Blitz by Sweet, the teaser is packed full of action and also reveals some new plot details about the series' next instalment.
We see The Umbrella and Sparrow academies duking it out (they even stop for one of those dance numbers at some point) and being at odds with one another. We suspect it won't be long before they team up, though, given events that may transpire if The Umbrella Academy doesn't return to its own timeline.
Yes, as you've likely guessed, Viktor, Luther, and company will have to avert another apocalypse. This time, it's something referred to as a kugelblitz – the name of one of season 3's episode titles, funnily enough – which is essentially a black hole that'll destroy all matter in the universe. That is, unless the two academies band together, reverse the time paradox that The Umbrella Academy created, and send them back to their own reality. They've only got five days to do so, too, so time's a tickin'. There's plenty of other stand-out moments in the trailer, but we'll let you find those out for yourself.
During an Umbrella Academy panel at Netflix Geeked Week 2022, the streaming company released another sneak peek at season 3. This time, it shows the gang checking into the Hotel Obsidian, a key location in this batch of episodes:
This Umbrella Academy Season 3 sneak peek reminds me just how much I've missed The Hargreeves. #GeekedWeek pic.twitter.com/cYYhofivnWJune 6, 2022
Meanwhile, ahead of the trailer's debut, Netflix released a bunch of new character posters for The Umbrella and Sparrow Academy team members. Well, unless your The Umbrella Academy's version of Ben, that is (if you know, you know):
Finally, the streaming giant also provided a bunch of official season 3 images for you to peruse, which you can do so in the gallery below:
Image 1 of 13
The Umbrella Academy season 3 plot
The Umbrella Academy season 3 plot: what can we expect?
Disclaimer: we've seen The Umbrella Academy season 3 in its entirety, but you won't find any story-based spoilers in this section. Full spoilers follow for seasons 1 and 2, plus the graphic novels, though.
Here's the official plot synopsis, courtesy of Netflix's Tudum website: "The last time we saw the Umbrella Academy, they had just stopped 1963's doomsday. Convinced they prevented the initial apocalypse and fixed this timeline for good, they return home to the present day. However, the celebration is short-lived when the crew realizes things aren't exactly (okay, not at all) how they left them.
"Enter the Sparrow Academy. About as warm as a sea of icebergs, the Sparrows immediately clash with the Umbrellas in a violent face-off that turns out to be the least of everyone's concerns. Navigating challenges, losses and surprises of their own — and dealing with an unidentified destructive entity wreaking havoc in the universe — the Umbrellas need to convince Dad's new family to help them put right what their arrival made wrong.
"Will they find a way back to their pre-apocalyptic lives in the upcoming season? Or is this new world about to reveal more than just a hiccup in the timeline?"
So yes, a world-ending event is the order of the day again. It sounds like the Umbrella and Sparrow academies will initially clash with each other, which isn't surprising to hear. The groups will be vying for their fathers' attention (and affection) throughout, but we suspect they'll their differences aside and team up to save the world as the season progresses.
Woah, back up a moment – who exactly are The Sparrow Academy? They were introduced in the final pages of The Umbrella Academy's most recent graphic novel volume – i.e. Hotel Oblivion. They aren't an original, exclusively-developed superhero group for the show, but it'll be great to see them make their live-action debut nonetheless.
Interestingly, a Netflix Tudum article has revealed that The Sparrow Academy were formed by Sir Reginald Hargreeves – the group's distant father-cum-resident alien – instead of The Umbrella Academy following the events of season 2, which took place in the 1960s. It seems, then, that this is an alternate/parallel timeline, rather than a wholly different universe or dimension, which certainly ties into the time paradox elements of the plot synopsis.
We'll dive into how The Sparrow Academy could factor into season 3 in another section but, for now, let's briefly recap season 2's ending.
Having spent the first season in their native 2019 before time traveling to the 1960s in season 2, the Hargreeves family now find themselves back in their own timeline – but things have changed. Surprisingly, Sir Reginald Hargreeves – the surrogate dad whose death begrudgingly brought the siblings back together in season 1 – is alive. It doesn't take long for his famously cold style of parenting to re-emerge, as he reveals that the familiar-looking house "isn't your home". It is, in fact, the headquarters of The Sparrow Academy.
Super. Sibling. Rivalry. The Umbrella Academy returns June 22 pic.twitter.com/4LOnaCsONWMay 19, 2022
Speaking out the Sparrows' introduction, showrunner Steve Blackman told IGN: "There are 43 kids in this universe, special kids like our Umbrella Academy. Eventually, I wanted to meet more of them, and he [Gerard Way] also was planning to do something in the comic books. Our sort of minds melded and hence the Sparrow Academy. They're an exciting group of seven other very special siblings that are very different from their own. I think the audience will get a real kick at seeing how they all interact with each other."
Elaborating on the core theme at play in season 3, Blackman told Entertainment Weekly (EW): "The way I thought about about season 3 is, the Umbrellas are a family that didn't know how to be superheroes. The Sparrows are superheroes who never knew how to be a family. That is the fundamental difference in how they go about being superheroes."
During an extensive panel at Netflix Geeked Week 2022, the cast opened up on what fans can expect to see from a character development perspective, too.
"I think Luther lets go of a lot of his hang ups, so he's more fun to play this year," Tom Hopper said. "I feel like, this year, he gets to play out his missed teenage years a little bit."
"Diego feels a bit lost, so he's only interested in trying to get The Sparrow Academy out [of the Hargreeves family home]," David Castañeda explained. "Surprises happen that lead him in a different direction, though, and give him a new purpose."
Meanwhile, Emma Raver-Lampman said of Allison's season 3 journey: "She's got some trauma that she needs to move through. A lot of her arc is coming back from the 60s and dealing with what she witnessed and survived, and that affects her emotionally, mentally, and physically."
"Five's looking for a break," Aidan Gallagher teases. "He's been at it non-stop for two weeks [the two timelines and apocalypses]."
Normally, The Sparrow Academy's floating cube would grab Luther and company's attention (more on this in a bit). However, to the group's surprise, Ben Hargreeves – the family's deceased brother who gave his life (again) to save Diego, Allison, Klaus, and Vanya in season 2 – is revealed to be The Sparrows' vice-captain.
It isn't the lovable Ben that fans are used to either; rather an impertinent narcissist who only looks out for himself. Justin H. Min, who portrays Ben, has revealed that he didn't expect to return after season 2. Given that Ben isn't part of the Sparrows in the comics, it was an equally surprising turn of events for Min and viewers:
The Umbrella Academy star @justinhmin initially thought "Can you hug me as I go?" was the last scene he would ever film for the show... pic.twitter.com/G9I1CA1ZPIJune 23, 2021
Speaking to EW, Min opened up on what we can expect from this new, merciless version of Ben, including the fact that he likes to flaunt his monstrous tentacles at any given opportunity.
"I think Ben, in his essence, is a very impressionable person, so I think nurture is a huge striving force behind whoever Ben is and whoever Ben becomes," Min suggested. "So in this alternate reality where they're being trained as these assassins and mighty superheroes who are famous and well-known, these are all things that we talked about leaving a great impression on Ben.
"Since the Sparrows have been trained since such a young age to utilize their powers during combat, it's something the new Ben feels much more control over. It's a casual way for him to assert his superiority. In the very first montage where we introduce the Sparrows, you even see him using his tentacles to smoke a cigar and drink. It's something he whips out as a party trick and will do very casually. He has control over it and he's very proud of it."
We could get some flashbacks to when The Umbrella Academy's members (or maybe the Sparrows?) were children in season 3, too. Ethan Hwang, who has portrayed a young Ben Hargreeves in the past two seasons, posted on Instagram showing him reuniting with Min, which implies he's returned in some capacity for the show's next instalment:
Sure, the duo could just be hanging out, but it's too much of a coincidence that they met up while season 3 was being filmed. If young Ben is returning, it presents us with two possible explanations.
The first is that we're getting flashbacks to Ben's childhood as an Umbrella Academy member, either on an individual basis or as part of the group. Could we find out how he died? It's something that would answer some longstanding questions we have about the fan favorite character.
If that isn't the case, we could see a young Ben as part of the Sparrow Academy. This would allow us to see how the Sparrows' version of Ben grew up and why he's the antithesis of the Ben we knew from seasons 1 and 2.
As for what the Hotel Oblivion is, we'll be checking into it sometime in season 3. For the uninitiated, this is a hotel-style space prison where the galaxy's worst supervillains have been incarcerated (in the comics) by The Umbrella Academy and other superheroes. Although, based on the trailer, it's had a name change: we'll be visiting the Hotel Obsidian in The Umbrella Academy season 3, rather than Oblivion. Here's hoping the name change doesn't alter its positioning as a supervillain prison.
If it does, though, it'll only be in keeping with how The Umbrella Academy TV show is stepping away from its source material and forging its own narrative path. Speaking to Collider, Emmy Raver-Lampman, who plays Allison, said: "We're running adjacent to the graphic novels, but I don't think Steve is beholden at all to the graphic novels, by needing it to be something that's verbatim, it needing to reflect exactly what's happening in the graphic novels and what's happening on screen.
"But I do know that Gerard and Steve are in constant communication. So, I don't doubt that they both know what the other has ideas in what the other is thinking. I think there will always be a connection there, but the further we get into The Umbrella Academy, the TV show, I think it's finding its own way. It's finding its own route, which is exciting. I feel like we start every season and I never really have any idea where it's going... This third season, we're really, really doing our own thing, and I think the show has found some really cool plots to follow and explore."
It seems that The Umbrella Academy season 3 will retain some elements from the comic series. Namely, its more mature content. According to the TUA Fan Updates Twitter account (thanks to Digital Spy for the spot), the show's third season has had its age rating bumped up from TV-14 to TV-MA in the US (12 to 15 in the UK). Having seen the whole of season 3, we can confirm this is the case.
Finally, TechRadar chanced its hand and asked Robert Sheehan, who plays the fan favorite Klaus, about what he could say about season 3. Speaking exclusively to us as part of his latest Netflix project The Last Bus, Sheehan said: "Netflix have a little red light trained between my eyes as I talk, and if I told you what Klaus is up to in season 3 they're authorised to go ahead and take the shot... [but there'll be] more Hargreaves' family dysfunction on an apocalyptic scale."
The Umbrella Academy season 3 episode titles
The Umbrella Academy season 3 episode titles: what are they?
The titles for each of season 3's episodes were revealed by showrunner Steve Blackman during Day 2 of Netflix Geeked Week 2021:
301: Meet the Family
302: World's Biggest Ball of Twine
303: Pocket Full of Lightning
304: Kugelblitz
305: Kindest Cut
306: Marigold
307: Auf Wiedersehen
308: Wedding at the End of the World
309: Six Bells
310: Oblivion
Fans of the comics (ourselves included) know what some of those titles are referencing. As for us, we took a deep dive into the comics to see what they could tease about season 3's titles, and you can read that article here.
The Umbrella Academy season 3 cast
The Umbrella Academy season 3 cast: who is returning?
The series' eight main cast members, plus two supporting characters, are back for season 3:
Elliot Page as Viktor Hargreeves/Number Seven
Tom Hopper as Luther Hargreeves/Number One
David Castenada as Diego Hargreeves/Number Two
Emmy Raver-Lampman as Allison Hargreeves/Number Three
Robert Sheehan as Klaus Hargreeves/Number Four
Aidan Gallagher as Five/Number Five
Justin H. Min as Ben Hargreeves/Number Six, but he'll be Number Two in The Sparrow Academy this time around
Rita Aryu as Lila Pitts
Colm Feore as Sir Reginald Hargreeves
Adam Godley as Pogo
The biggest news concerning the show's returning cast is that Elliot Page will no longer be playing Vanya Hargreeves, who fans will recognize from seasons 1 and 2. Instead, Page will now portray a revised iteration of the character called Viktor.
The move comes after Page came out as transgender in December 2020. And, per IGN, Page's character will similarly come out as transgender in season 3. Given the inclusivity that Netflix, The Umbrella Academy's cast and crew, and the show promotes, it's a welcome and heart warming move to see that Page will portray a male character moving forward.
Meet Viktor Hargreeves ☂️@UmbrellaAcad pic.twitter.com/ZraQNBhfTbMarch 29, 2022
Meanwhile, Jordan Claire Robbins (Grace Hargreeves/Mom) may also return as a different iteration of her Umbrella Academy counterpart. Speaking to Movieweb, Robbins implied that she was returning, saying: "All the seasons are quite different because of the time travel and all the other elements in the world that make it quite limitless. But season three, I think is going to be my personal favorite so far, with this new family as you see from the previews and where Season 2 ended up." Netflix is yet to confirm that Robbins will be back, however.
I heard a rumor… that @onwardwanna is joining the cast of Umbrella Academy Season 3 (and I'm happy to confirm that it is true) pic.twitter.com/we01MZBZAvMarch 1, 2022
Finally, Euphoria star Javon Walton's hiring has been confirmed by Netflix. The young actor had suggested he'd be part of season 3's cast earlier in 2022, but the streaming giant has since confirmed he'll feature in the show. We know who he'll portray, but we're obviously not going to spoil that here.
The Umbrella Academy season 3: Sparrow Academy explained
The Umbrella Academy season 3: who has been cast as The Sparrow Academy?
Spoilers for The Umbrella Academy comic book volume 3: Hotel Oblivion.
Hotel Oblivion's ending only gives us one real name and one moniker, with the latter being the group's leader, aka Number One. In the comics, the only other Sparrow Academy name we learn about is Carla, who takes Vanya to meet the group before they rescue The Umbrella Academy from being defeated by numerous supervillains.
Unfortunately, Carla doesn't feature in season 3, but Netflix has confirmed which actors will appear as The Sparrow Academy's members:
Justin Cornwell as Marcus Hargreeves/Number One
Britne Oldford as Fei Hargreeves/Number Three
Jake Epstein as Alphonso Hargreeves/Number Four
Genesis Rodriguez as Sloane Hargreeves/Number Five
Cazzie David as Jayme Hargreeves/Number Six
According to Netflix (as reported by IGN), The Sparrow Academy members will differ from some from their Umbrella Academy counterparts.
Marcus is said to be a born leader who is "as smart as he is strong", while Ben is a "Machiavellian tactician" who is focused on usurping Marcus as leader. Fei is a misanthrope who, despite her tough exterior, longs for friends. Meanwhile, Alphonso is a pizza-loving, beer-swilling humorous individual who bears physical and mental scars from years of fighting crime.
Sloane is a "romantic" who "feels a higher cosmic being" calling to her, while Jayme is a lone-wolf who enjoys giving out "fear-inducing snarls" at anyone she deems below her. We'll also be getting Christopher/Number Seven, who is the group's existential dread-inducing psykronium cube, but there's no word yet on who will be voicing him.
It seems that some Sparrows have been injured or scarred throughout their various crimefighting escapades, too, judging by Fei and Alphonso's posters. That may speak to how the Sparrows are more powerful, vicious or dedicated to keeping the world safe.
In her interview with Collider, Raver-Lampman teased how the two superhero groups would react to another stepping onto their turf.
"It feels like there's some epic rivalry that's about to happen," she said. "And I think The Umbrella Academy, they've never truly been matched before. They struggle and they have their moments, but that's all exciting, and you never know if they're going to rise to the top. But then they always do, and I don't know that they've ever been matched in this kind of way where they're staring at a different version of themselves. So, that is really, really exciting. I'm excited for everybody to see what happens there."
The Umbrella Academy season 3: biggest questions
The Umbrella Academy season 3: what questions need answering?
Spoilers for The Umbrella Academy comic books, as well as seasons 1 and 2.
The Umbrella Academy has built up an intriguingly complex mythology, and that means there are plenty of questions that viewers need answering.
Fans of the TV series still don't know why 43 children were unexpectedly born on October 1, 1989, to mothers who weren't pregnant when the day began. Or even what happened to most of those kids. Gerard Way and Gabriel Bá's comics reveal how this came to be in the opening pages of volume one – Apocalypse Suite – but, in case this revelation comes to light in the show, we won't divulge it just yet.
In the comics, 13 of that number are known as The Umbrella and Sparrow Academy members. However, the show also introduced Lila as a potential 14th who we haven't seen in the graphic novels yet.
That means that there are still 29 or 30 – depending on the medium of your choice – who are yet to be revealed. The problem now, of course, is that the TV series could move ahead of the comics (like Game of Thrones did) and unveil those individuals, or plot points that may come to the comics in the future. Given that Blackman is taking the show in its own creative direction, though, that potential issue may be sidestepped entirely.
Can't wait to kick some brelly butt. See you in June 🐦💥 https://t.co/ImNaacJ3FyMarch 13, 2022
Then there's questions over season 2's other big reveal. Since he removed his human mask, we now know that Sir Reginald Hargreeves is an alien. Again, the comics reveal his true identity in Apocalypse Suite's first few pages, and this one we can spoil due to the finale's revelation.
In the comics, Sir Reginald is a world-renowned scientist, entrepreneur, inventor, and Olympic gold medalist. Oh, and a space alien. His true form hasn't been revealed in the graphic novels yet, but it's nailed on that the TV series will show that at this point.
Harlan, Missy's kid who is shown to have telekinetic powers at the end of season 2, is also a major mystery. If – and it's a big if – he has an alternate version in The Sparrow Academy's universe, he could end up being a friend or foe to them and The Umbrella Academy.
There's also the fact that we don't know who the villain is. With The Commission under new, friendlier leadership following The Handler's supposed death in season 2, they shouldn't be the primary antagonists again.
How about, then, if season 3 starts introducing the comics' supervillains into its TV adaptation? Sure, the kugelblitz will be the main 'villain', so to speak, but there'll have to be another threat (or three) for the Sparrows and Umbrellas to deal with.
Who could that be? Well, any number of the superpowered bad guys in the comics. Doctor Terminal, The Perseus Corporation or even a fellow superhero like The Scientific Man would be major adversaries for the teams. Someone of that ilk that would require them to eventually set their differences aside and team up, especially if they have ambitions on using the kugelblitz for their own nefarious means.
The Umbrella Academy season 3: the show's future
The Umbrella Academy season 3: is this the final instalment?
No, but it may not run for much longer. In his chat with IGN, Blackman confirmed that the show wouldn't run for 10 seasons, which is the number of graphic novel volumes that Way and collaborator Gabriel Ba have in mind.
"I know where I'm going," Blackman said. "I'd like another season for sure. From the very early start of this, I had an idea where I wanted the TV show to end and I would love to have another season to get close to that ending. I already know what I want the endgame to be. That is obviously going to be different than where Gerard is going, because he has much more stuff he wants to do with these amazing characters that he created."
Our hope is that The Umbrella Academy season 3 acts as the midway point for the series, and that we'll get at least two more seasons out of it. There's plenty of material in the comics that could make the jump from the page to the small screen, but it remains to be seen if Blackman will use any of that, given that the show is diverging from the source material.
Either way, this isn't the end of The Umbrella Academy on Netflix. It'll be a sad day when it's over but, for now, at least we've got a third season to enjoy.
Get daily insight, inspiration and deals in your inbox
Get the hottest deals available in your inbox plus news, reviews, opinion, analysis and more from the TechRadar team.
Senior Entertainment Reporter
As TechRadar's senior entertainment reporter, Tom covers all of the latest movies, TV shows, and streaming service news that you need to know about. You'll regularly find him writing about the Marvel Cinematic Universe, Star Wars, Netflix, Prime Video, Disney Plus, and many other topics of interest.
An NCTJ-accredited journalist, Tom also writes reviews, analytical articles, opinion pieces, and interview-led features on the biggest franchises, actors, directors and other industry leaders. You may see his quotes pop up in the odd official Marvel Studios video, too, such as this Moon Knight TV spot.
Away from work, Tom can be found checking out the latest video games, immersing himself in his favorite sporting pastime of football, reading the many unread books on his shelf, staying fit at the gym, and petting every dog he comes across.

Got a scoop, interesting story, or an intriguing angle on the latest news in entertainment? Feel free to drop him a line.