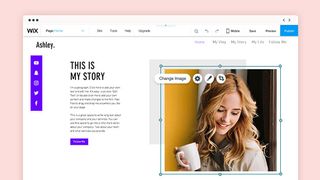 The right web design tools can streamline your workflow, helping you work smarter – rather than harder – and more efficiently. After all, you want to invest your energy in solving problems, delighting users and creating beautiful designs. You don't want to waste it on dull, repetitive and soul-sapping tasks.
Thankfully, new web design and development tools are being released all the time to help you simplify processes, and reduce time and effort.
Here, we look at 39 brilliant web tools for 2019 that will help you become more productive. Some are brand spanking new; others are very well established and highly used and trusted.
But all have the potential to save you time, energy and budget in your web design projects.
How to create a website is a question almost everybody has to tackle these days. Whether you're about to create a website for the first time or you're a long time pro, WIX will have you covered. There is no need to have any coding skills or previous experience.
You have two ways to start: get a free website designed for you with WIX Artificial Design Intelligence or get total design freedom with the WIX Editor. You can always add advanced functionality to your website with Wix Code.
In four easy and enjoyable steps, your new website will be ready in minutes and you can make it look stunning. You start by choosing the right template from over a dozen categories and hundreds of fully customizable themes.
The second step is when you drag and drop to fully customize the template. You can add another logo, images, videos, edit everything that is already included or add your own content. It is super simple to transform any template into your own. Make a jaw-dropping website using the latest industry features: 3D parallax effects, beautiful slideshows, full-width video strips, and professional galleries.
Next, you can add professional tools to your website. WIX offers complete business management solutions you can easily add to your website. Whether your website is a blog or an online store, you'll be able to add the right tools. There are over 200 apps that will help you grow your business.
Once your website is ready, and you love how it looks - publish it. And that's it. Now you know how to build a website with WIX - congratulations!
Whether you're a designer, developer, marketer or digital agency, you'll get all the resources you need: tutorials, training programs, webinars, professional forum, the Wix Experts Blog and more. Build the exact website your client needs with advanced design features and professional business solutions. With Wix, your clients can manage their entire brand or business online.
WIX is by far the best website builder on the market that you will use for all your projects. Give it a try.
Eversign is an electronic signature system that enables you to sign and approve digital documents, streamlining business processes with legally binding validation, whether at the office, at home, or in the field. The software is an ideal solution for all business types and sizes, including startups, expanding enterprises, and huge corporations that are looking to graduate from traditional practices and transition to electronic and paperless way to close deals and certify approvals and more.
With Eversign, your efficiency is remarkably boosted as you automate internal and client-facing signatures and approvals. Documents signed with Eversign are encrypted using 256-bit SSL and handled by a closely monitored infrastructure. Integration with popular business apps is seamless too.
On top of all that, you can use any device to place your electronic signature on any document without compromising security.
There's an AI-driven brand generator in town, and it's giving businesses a chance to take branding into their own hands. Tailor Brands uses tech to help users create a complete brand identity from start to finish; from an intuitive logo maker to a brand book that's formed based on your unique design preferences, the platform learns about your business and uses the information to automatically design a concept that will carry you through the branding process.
After you've created your logo, you can access and download any branding material from business cards to presentations to social posts. And, you can use its automated post scheduler to ensure your social media pages are constantly updated without actually having to sit in front of the computer. Automation is clearly steering the ship of brand design, and Tailor Brands is sitting at the helm.
Total is one of the best themes you can choose for your website. Why? Easy styling options with a useful front-end page builder and over 100 page building elements.
There are also premium sliders, a custom header and footer builder as well as over 40 quick start demos. Total WordPress Theme is also WooCommerce ready (plus there's full styling for the plugin and widgets).
It also features WPML, translation press and Polylang compatibility alongside RTL support. Need we say more? The theme has also been optimized for top website speeds. Plus Total is one of the few developer friendly themes on the market. With nearly 500 custom snippets and flexible theme filters, it's easy to customize sites for clients.
Landingi is a landing page builder designed for people who try to push boundaries further than anyone. For people who want to get sky-high.
They make it possible with unlimited traffic, unlimited landing pages, and unlimited leads. Solve your problems with landing pages by creating them independently without any programming skills.
Use Landingi to save time and skip a few stages of the web development process. Select one of over 200 landing page templates, adjust it to your needs, fill the page with content, set all the form fields and hit publish. It's not rocket science, but it can skyrocket your business!
Darwin Pricing is your Swiss-quality expert partner for Dynamic Pricing software development. The consulting and SaaS solutions are trusted worldwide by over 700 clients and handle over $3 billion of annual revenue.
Otto Group, a huge corporation with an annual turnover of over $13bn worked extremely well with Darwin Pricing to develop internally the next-generation sales forecasting and dynamic pricing solution, to work on software requirement specifications with the stakeholders using an agile methodology (SCRUM) and to train a new team of eight data scientists and data engineers on dynamic pricing topics.
As a result, the sales volume increased by 52%, the sales revenue with 31% and the net profits increased by 20%. Get in contact with Darwin Pricing.
Codester is a huge marketplace for web designers and developers where they can buy and sell thousands of scripts, codes, app templates, themes, plugins, and graphics. The website is very well structured and the quality of the products is excellent.
NameQL helps you find a great name for your business. It considers thousands of potential names in milliseconds and shows you the best, and only the ones where [name].com is available.
Bad links (broken or malicious) destroy your website's image and conversion rates. Most people that find such links are not returning to that particular websites. A powerful and automated way to check and receive detailed reports for this issue is Dr. Link Checker.
It is loaded with great features and a friendly interface. Use Dr. Link Checker to scan your website and get rid of broken and malicious links. Register for the free plan and you can upgrade when you need it.
Rank Math is one of the most powerful, complete, and simple to use WordPress SEO plugins on the market. It's like the swiss army knife of this field. This on-page SEO plugin has everything you need to improve your website traffic, including built-in content analytics for writing SEO friendly content. It loads super-fast and it is extremely easy to use.
Since 2011, Opinion Stage has been helping individuals and organizations of all sizes to make engaging quizzes that drive engagement, generate traffic, gather leads, boost revenue and extract valuable insights.
Create stunning quizzes with a top-notch online quiz maker. Make quizzes that people love to complete and share. It has hundreds of optimized templates with full customization options and you can add it to your site or use Opinion Stage landing pages. It's used by over 100,000 brands and publishers, plus it only takes minutes to get started.
WP Hacks is one of the best WordPress resource websites where you can find awesome tutorials, plugins, themes, and deals. The website is updated monthly with great stuff, check it and pick what you need for your projects.
Meridian Themes is a powerful WordPress developer which is focused on building professional, pixel-perfect themes that work great on any device, are easy to install and setup, and are loaded with the latest technologies and features.
Whether you are reviewing products, services, or anything else – WP Review is a WordPress review plugin that allows you to create powerful reviews using an easy-to-use interface. It does so without affecting the speed of your website because of its small footprint.
It has 14 types of rich snippets included, multi types of designs, can be integrated with WooCommerce, it has a Pros and Cons section and much more. It's a complete solution that you should use.
Grace HTML Template is a truly stunning multi-purpose template with tasteful design and great features that provide you with all you need to make your next project stand out. There are both fixed navigation and side navigation variants.
Landing is a free Bootstrap 4 website template suitable for any type of landing pages. It is a one page template with features such as smooth scroll, slick slider, slant sections, table pricing, smooth accordion for frequently ask questions, and much more.
It's also built with the latest technology such as HTML5, CSS3, jQuery and Sass.
Are you planning to present your app interface designs on iPhone Xs phone? If yes, then now you can do this easily. Try this photorealistic iPhone Xs PSD mockup.
NextGEN Gallery is the most powerful WordPress gallery plugin ever made, but also the most used and preferred solution with over a million users. It is the best way to display stunning galleries and fully customizing them for your needs.
If you want, you can easily make it even more powerful with dozens of Pro extensions. Start using it to improve your website design.
Photocrati is an epic WordPress theme for photographers, made by photographers. Dedicated themes are much better than general ones, being focused on solving issues for the specific niches they cover. With this theme, you will get over 60 starting designs, built-in galleries, e-commerce, and limitless design possibilities. Join 18,000 fellow photographers that are having great success with Photocrati.
Tesla Themes is one of the most important WordPress theme developers on the market. They create and sell beautiful, modern and fully responsive WordPress themes with clean designs, powerful features and premium support. Get 67 stunning WordPress themes for just $99 in the US. It an excellent deal that you should check out.
Premium Event WordPress Themes give you an all in one solution for a sparkling event. Awesome events around the world use the Event WordPress Themes. This theme was made by event professionals for this specific niche and from the start, you will see and feel how this theme is much better than others in this domain.
uKit is a well-established website builder that helps users of all kinds to create a website for their needs just in a couple of clicks. It doesn't matter whether you're a non-techie or a pro and 'coding' sounds like rocket science, the system is user-friendly for everybody and it's powerful enough to get your business online in the blink of an eye.
uLanding is a new and fast-developing landing page builder which makes the building process super easy with its intuitive drag-drop technology. The service is perfect for non-techies — all you need to do is to pick an element and place it where you want on the page. SEO-compliant and mobile-friendly, uLanding is a powerful tool to get your landing page live in minutes.
uSocial is a modern and fast-evolving service that allows you to install both like and share buttons on your website with a single code snippet. The buttons come with more than a hundred design options and it takes only a few minutes to connect them to a site.
Don't wait, add buttons now to enrich your site with new traffic, boost engagement and analyze the outcome on the stats panel.
Logaster is an online service for creating logos and corporate identity elements. Logaster offers a fast, simple way to create design items in a matter of minutes. Six million users have already experienced the advantages of working with this service. Logos which they designed have appeared in 167 countries, on everything from business cards and letterheads to billboards and websites.
Get content from your clients without the hassle. Content Snare helps digital agencies get website & marketing content from their clients on time, in the right format, without sending follow-up emails. It is a content collection tool that automates the content gathering process to save you hours of your precious time on every project.
The company is also dedicated to helping digital agencies grow through the accompanying podcast, Agency Highway. Start your free 14 day trial today.
Work Examiner is a powerful internet monitoring software that you can use for website tracking, screenshot capture, key logging, web filtering, PC activity and even more. Use it to improve your business and stay secure. You can try it for free.
Using MailMunch, the fastest growing landing page platform, anybody can create high-converting landing pages within minutes using the powerful drag-and-drop builder. It is super easy to create any layout in minutes for a highly converting landing page or squeeze page. Design your next landing page with Mail Munch.
Invoice Berry is a powerful, complex, yet super-simple to use invoicing platform that is a great fit for freelancers, small and medium companies. Use it to create and send fully customized invoices in less than 60 seconds, to track expenses, create detailed reports and much more. Start using Invoice Berry.
With over 100,000 happy users, Bonsai represents the most powerful, convenient and simple way to easily create and e-sign free contracts from vetted templates. Using Bonsai you can hugely increase productivity. It is loaded with tons of features and options that will help you every moment. Try Bonsai now and love it forever. Get started for free.
SuperbWebsiteBuilders.com is a website, which provides useful information about the most popular and credible website builders and hosting providers, their major characteristics, pros and cons as well as implications. This is also the resource that publishes the unbiased comparisons of the web building and hosting platforms users may need, when selecting the best tool to launch a decent website. The website will be of great help both for newbies and web design professionals.
For more than 10 years, Xfive have been helping creatives bring their visions to life in the digital world. Xfive is the ideal partner for design and web agencies looking to expand their capacity in web applications development where care is the foundation of everything they do.
Discuss with Xfive professional and friendly team about your next project and get a quote.
actiTIME is a solution that provides a convenient way to manage project scope, track time and analyze your business performance based on the collected data. It is a perfect fit for regular users so you can improve your personal productivity, for team members to understand how the workload is distributed across project and for accounting managers to make sure that no billable hours slip through the cracks. It's also good for business owners tohave a complete picture of the past and current business activities.
Try actiTIME with a free 30-day trial.
uCalc is a modern tool that makes it very easy to create calculators and forms for everyone. The creating part is a piece of cake due to the intuitive drag-n-drop technology — you just choose an element and set it to the desired place. No coding skills are required for that. Choose your field settings and add values to get a customized professional form.
This is by far the best font identifier software on the market, using a catalog of over 450,000 fonts (commercial and free) and a powerful font AI that will identify the font you are looking for. You simply upload a picture or enter the picture URL - the rest is then made by the software. It is super simple to use and lightning fast.
What font are you looking for? Try www.whatfontis.com to get the answer.
WOKIEE Shopify Theme is more than your usual theme, it is a powerful design tool. It will be perfect solution for your current or future web shop. It has all required tools and modules to create a super-fast responsive website with an amazing UX.
There's a great variety of layouts and styles allowing you to create different structures for your specific requirements. Everything you need is in Shopify CMS. You can avoid expensive web development and minimize your design costs using Premium Shopify theme WOKIEE.
Pixpa is an all-in-one platform to create beautiful, professional portfolio websites, client galleries and online stores without any coding knowledge. Made for photographers, artists, designers, and small businesses - Pixpa's website builder makes it easy to showcase, sell and share your work online.
Getting a great logo design is simpler than ever in 2019. With Instant Logo Design, anybody can get a gorgeous logo in minutes, without spending a fortune. You start by writing your business name and if needed you can add a slogan and symbols. After that, the software will show you many options that you can choose from. It is easy to use and the results are excellent.
Are you in need of experienced developers to extend and back up your tech team? Or are you launching a startup, and need experts to take care of the development? TMS is a team of Java, Node.JS, PHP, Symfony, Laravel, Vue.JS, React, Angular developers, Agile project managers, and quality assurance engineers.
They apply Agile SCRUM workflow in projects. Let them know and they will get in touch to explain further how TMS team can take the technical challenges off your shoulders.
Get daily insight, inspiration and deals in your inbox
Get the hottest deals available in your inbox plus news, reviews, opinion, analysis and more from the TechRadar team.