Fuji: customers satisfied by 'white orbs' solution
Complaints 'almost dried up' already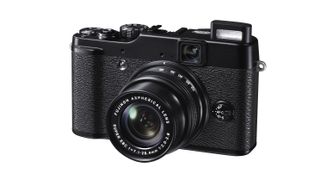 Fuji has said that customers who had experienced the so-called 'white orbs' problem have been satisfied with the solution it has come up with.
Several users of the Fuji X10 high-end compact camera had found incidents of "white blooms" appearing where highlights occurred in the picture.
Earlier this month, Fuji announced that it had developed a new sensor that will be fitted free of charge for any user who had discovered this problem.
Speaking to TechRadar, Adrian Clarke, senior vice president for Fujifilm Imaging said, "We had sold a huge number of X10s across the world and we discovered a very small proportion of those people weren't very happy and we were determined to take action."
Cause
The phenomenon was also said to affect the X-S1 bridge camera. Fuji explained in a statement that the "blooming" effect can occur with all digital cameras which use CMOS sensors, but also admitted that certain shooting conditions meant that the cameras were more prone to it.
"It took some time to come up with a definitive answer," Clarke said, "and that answer was a modified sensor.
"We've monitored the calls every day and by and large everybody's been really satisfied. We had quite a number of calls in the first few days, but they have more or less dried up now, there are almost no calls.
Customers will be able to get the modified sensor from May.
Get daily insight, inspiration and deals in your inbox
Get the hottest deals available in your inbox plus news, reviews, opinion, analysis and more from the TechRadar team.
Amy has been writing about cameras, photography and associated tech since 2009. Amy was once part of the photography testing team for Future Publishing working across TechRadar, Digital Camera, PhotoPlus, N Photo and Photography Week. For her photography, she has won awards and has been exhibited. She often partakes in unusual projects - including one intense year where she used a different camera every single day. Amy is currently the Features Editor at Amateur Photographer magazine, and in her increasingly little spare time works across a number of high-profile publications including Wired, Stuff, Digital Camera World, Expert Reviews, and just a little off-tangent, PetsRadar.