Why WhatsApp's new voice call feature is bad news for networks
Unlimited calls and texts just became worthless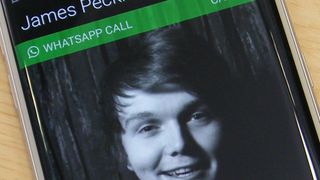 Did you hear the news? You can now make phone calls over 3G, 4G and Wi-Fi from within WhatsApp, completely bypassing your minutes allowances and eliminating the need for a 2G network.
I've tried it. Calls are robust and the sound quality is genuinely fantastic – better even than the HD audio you get on an intra-network phone call.
But while this is great news for us, it's surely bad news for the mobile networks and will likely be the first step in a cosmic shift in the way they structure our tariffs.
Until they do so, they will be vulnerable to an Apple or a Samsung potentially sneaking in and launching virtual networks to steal away their customers, to triple-play giants like BT and Sky in the UK who can offer phone tariffs alongside TV and broadband subscriptions.
And with no need for minutes or texts, a city-wide wi-fi network, for example, could make mobile networks obsolete overnight.
Why networks will have to change
Once you've chosen a handset and a network, there are three factors to consider before deciding how much you're willing to pay for them: minutes, texts and data. And the networks charge us monthly fees based on these three metrics (or at least, based on our best guess as to how much of each we'll use).
But by eliminating the need for 2G networks and making call and text allowances completely redundant, WhatsApp and its rivals are leaving that holy trinity in tatters.
That bit in your bill that says "unlimited minutes, unlimited texts"? The part that makes you happy to pay £40/$40 per month instead of 20? It will shortly become completely valueless to you.
And so in a world where networks are doing all they can to charge us more rather than less, how will this all shake down? How will networks justify their prices if they're unable to keep us happy with "unlimited this" and "unlimited that"?
The future of phone tariffs
WhatsApp is a big deal and its influence should not be underestimated. It now has well over 700 million active users. That's 100 million more than Facebook Messenger, and that number is growing rapidly in developing nations as well as developed ones.
This is why Facebook paid almost $20 billion to buy it back in 2014 while at the same time was only willing to offer $3billion for Snapchat – a bid that was rejected.
Yes, Facebook Messenger and Skype et al already offer voice calls. But WhatsApp is different in that it pairs you with your contacts using your phone number and thus integrates with your smartphone far more smoothly. Plus, it's already fast replacing SMS as the world's de facto text message app and is thus well placed to make similar gains in phone calls.
Things aren't going to change overnight, of course, but it's clear that tariffs have to change at some point if the networks want to keep our bills up (they do) and if they want to still exist in 10 years time (they definitely do).
So what do phone tariffs of the future look like? I'll bet that the networks have been thinking about this for years and they've probably got some pretty good ideas for how they're going to keep themselves alive.
The networks' infrastructure is still their trump card – there's little chance of them being pushed out of the market completely. So I think the future is likely to be in service bundles.
Maybe in the future a Vodafone tariff of £40/$40 per month will include unlimited data and a free phone, tablet and smartwatch in the same bundle?
Perhaps 24 month contracts will go extinct and we'll all end up on rolling deals where we pay a set monthly fee in return for a phone + tablet + smartwatch upgrade every year or two?
Or maybe the future is in triple-play services that offer data connections for your phone alongside home TV subscriptions and broadband services all in one bill? And if that's the case, some of the networks out there are a lot more vulnerable than others – there's a reason BT is in talks to buy EE, after all.
There are many different philosophies the networks might follow, but they're going to have to choose one. And with the rise of WhatsApp, Facebook Messenger, Viber and others subverting them with data-centric services, those choices will need to be made sooner rather than later.
Sign up to receive daily breaking news, reviews, opinion, analysis, deals and more from the world of tech.
James was part of the TechRadar editorial team for eight years up until 2015 and now works in a senior position for TR's parent company Future. An experienced Content Director with a demonstrated history of working in the media production industry. Skilled in Search Engine Optimization (SEO), E-commerce Optimization, Journalism, Digital Marketing, and Social Media. James can do it all.