Microsoft admite que Windows 10 Mayo 2020 rompe la conexión a internet de algunos PC
Posiblemente relacionado con el uso de redes VPN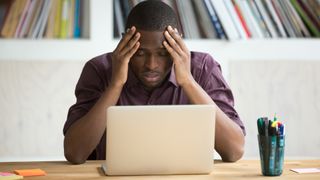 (Image credit: Shutterstock)
En otra nueva muestra de cachondeo con las actualizaciones de Windows 10, la actualización de mayo de 2020 tiene un problema que Microsoft acaba de admitir: pierde la conexión a internet para algunos usuarios.
Es un bug algo raro — y que ya hemos visto antes — en el que Windows 10 muestra que no hay conexión a internet en la barra de tareas aunque la realidad es que la conexión del PC está bien y los usuarios pueden navegar pero sólo en algunas aplicaciones.
El problema está en que algunas aplicaciones se fían de lo que les dicen Windows 10 y se niegan a intentar la conexión a internet porque creen que no hay conexión — aunque la haya.
Un navegador web funciona bien, por ejemplo, pero algunas apps como Cortana, Microsoft 365, OneDrive o la Microsoft Store siguen la señal del sistema operativo y se niegan a conectar. Esto no sólo afecta a aplicaciones de Microsoft: Spotify, por ejemplo, tampoco se conecta por el mismo bug.
Hay varios informes sobre este problema y sus ramificaciones. Windows Latest ha estado siguiendo todo lo que se ha publicado y confirma que el problema es real porque lo han podido reproducir sin problemas.
La página web alemana Born City afirma que un lector que ha experimentado la falta de conexión dice que está relacionado con el uso de redes privadas VPN o proxies, pero no está nada claro cuál es la fuente que ocasiona todo este lío.
Quizás recuerdes que en marzo escribimos sobre un problema similar — que posteriormente fue solucionado por Microsoft pero que ahora ha vuelto a aparecer. En aquella ocasión, el problema estaba también relacionado con los VPN.
Microsoft está investigando
Microsoft ha reconocido en un post en el foro TechNet que hay 'clientes que informan sobre falta de conectividad a internet en el indicador de conectividad (Network Connectivity Status Indicator o NCSI) en PCs con Windows 10 2004 [May 2020 Update] pero que sí pueden hacer ping a recursos de internet o navegar.'
Así que Microsoft está al tanto e investigando pero todavía no hay solución. La única solución, por ahora, es restaurar una copia de seguridad previa a la actualización de mayo de 2020 — pero no es una solución ideal.
Windows Latest afirma que podría haber una solución pero que sólo funciona para un número limitado de usuario y no para otros. Además requiere editar a mano el Registry de Windows 10, algo que no recomendamos porque puede ser una fuente adicional de problemas si no se hace bien.
Dicho esto, si tenéis este problema y os queréis arriesgar, éstas son las instrucciones:
Escribe 'Registry Editor' en la búsqueda de Windows 10. Pulsa en la app que aparece.
Pulsa 'Yes' para ejecutar la aplicación.
Dentro del editor, busca el siguiente texto: HKEY_LOCAL_MACHINE\SYSTEM\CurrentControlSet\Services\NlaSvc\Parameters\Internet
Selecciona 'EnableActiveProbing' y cambia el valor de 0 a 1.
Si tienes suerte, esto solucionaría el problema aunque te volvemos a advertir que a mucha gentes no le ha funcionado y que te arriesgas a provocar una catástrofe si no sabes lo que haces.
Esperemos que Microsoft arregle pronto este nuevo lío porque ya no tenemos ni una imagen más de gente frustrada delante de un PC.
Get daily insight, inspiration and deals in your inbox
Get the hottest deals available in your inbox plus news, reviews, opinion, analysis and more from the TechRadar team.