Los Samsung Galaxy Fold se agotan nada más salir, con precios de hasta $4.000
Cuando se encuentra el marketing y los consumidores enloquecidos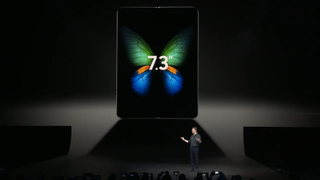 (Image credit: Samsung)
Sí, es cierto que Samsung está fabricando el Galaxy Fold con cuentagotas para alimentar el deseo del consumidor por la oferta limitada, pero el hecho es que su primera oleada se ha agotado en minutos. Y hay gente que está pagando más de $4.000 en el mercado de importación. Una verdadera locura.
Y eso que yo soy fan de los teléfonos plegables. Me parecen que son el futuro y que, una vez hayan resuelto todos los problemas y refinen el diseño, va a ser el tipo de teléfono que todo el mundo uso. Pero nunca pagaría $2000 por uno y menos aún más de $4.000, como algunas personas están haciendo con unidades importadas de Corea del Sur a Hong Kong.
Corea del Sur es por ahora el único país en el que puedes comprar un Galaxy Fold. La primera tanda de pedidos por el teléfono plegable de $2.000 se vendió en cuestión de minutos nada más hacerse pública. Y, com apunta el blog SamMobile, la compañía de Seúl ha tenido que cambiar sus planes de lanzamientos por la demanda, que es más alta de lo que esperaban. El resultado es que habrá una segunda tanda de pedidos para el 18 de septiembre y un incremento de la producción.
Y como decía antes, la primera oleada de unidades disponibles ha sido muy limitada: sólo 4.000 unidades, 3.000 vendidas directamente por Samsung y 1.000 distribuidas por las tres compañías de telefonía más grandes del país.
No parece mucho pero, si lo piensas bien, es impresionante dadas las circunstancias. Primero, el Galaxy Fold cuesta el equivalente 2.000 dólares americanos en Corea del Sur. Segundo, el teléfono fue recibido inicialmente con críticas unánimes por su pobre diseño mecánico, que resultó en varios teléfonos rotos por los periodistas que los probaron. En teoría, los problemas han sido resueltos, pero el teléfono sigue siendo frágil por su propia naturaleza y además es la primera generación. Sabiendo esto, es difícil explicar cómo puede la gente está haciendo cola para pagar $2.000 —o más del doble en el caso de las unidades importadas a Hong Kong.
Según Samsung, su estimación es vender 1 millón de Galaxy Folds en todo el planeta una vez esté disponible internacionalmente. Vista la fiebre asiática, no lo dudo en absoluto.
Get daily insight, inspiration and deals in your inbox
Get the hottest deals available in your inbox plus news, reviews, opinion, analysis and more from the TechRadar team.