Los precios desorbitados de las Nvidia RTX 3000 dan asco
Gran parte de la culpa es de los criptominers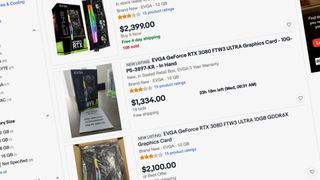 (Image credit: eBay)
Si has estado esperando el lanzamiento de la serie Nvidia GeForce RTX 3000 para actualizar tu gaming PC on una nueva GPU, lo llevas claro. No tendrás acceso a una hasta dentro de bastantes meses, cuando Nvidia y sus fabricantes comiencen a resolver los problemas suministro.
Como apunta Extreme tech, los precios de GPUs como la RTX 3080 en sitios de subastas como eBay se han disparado en el último mes, pasando de una media de 1.300 a 1.500 dólares hasta alcanzar una media de 2.069 dólares el 3 de marzo. Lo alucinante es que hay que gente que compre a estos precios tan disparatados.
Las tarjetas de vídeo RTX 3080 tienen un precio de venta recomendado típico de entre 699 y 869 dólares (dependiendo del fabricante de la tarjeta), lo que significa que hay muchos gangsters listillos subiendo el producto a más del doble de su valor declarado.
Los datos proceden del ingeniero de datos Michael Driscoll, que también ha informado anteriormente sobre problemas similares a los que se enfrentan los aficionados a las consolas. Al hablar con PC Mag, señaló que las cifras de ventas comenzaron a bajar en torno al lanzamiento de la RTX 3060, la última GPU asequible de Nvidia. Y también una de las más populares.
"Los precios dejaron de subir exactamente cuando se lanzó la 3060, así que eso no puede ser una coincidencia. No es una caída enorme, pero sí significativa. En cuanto a las subidas, no tengo forma de confirmarlo, pero sé que muchos empleadores dan las bonificaciones de fin de año en febrero, y la gente está empezando a presentar y recibir las declaraciones de impuestos, lo que podría estar impulsando [las compras de estas tarjetas] aparte del aumento de [los] precios."
Tiempos oscuros para los PC gamers
Otro factor clave son los criptomineros, algunos culpables de la inflación demencial que estamos viendo. Hemos visto un boom de gente que utiliza estas nuevas tarjetas RTX en granjas de criptominería desde que la serie 3000 se lanzó a finales de 2020. E incluso marcas de juegos como Zotac parecen no tener problemas con sus clientes.
Nvidia quiere limitar el uso para criptomoneda en sus tarjetas, pero aún hay demasiada confusión para saber si las modificaciones funcionan y eso libera sus GPUs para los gamers. Habrá que ver el impacto en el stock disponible — y en los precios de reventa de eBay — pero no creemos que se vaya a notar mucho por el momento.
Sign up for Black Friday email alerts!
Get the hottest deals available in your inbox plus news, reviews, opinion, analysis and more from the TechRadar team.
Jess is a former TechRadar Computing writer, where she covered all aspects of Mac and PC hardware, including PC gaming and peripherals. She has been interviewed as an industry expert for the BBC, and while her educational background was in prosthetics and model-making, her true love is in tech and she has built numerous desktop computers over the last 10 years for gaming and content creation. Jess is now a journalist at The Verge.