Los nuevos televisores Samsung TVs tendrán una función clave para mejorar la calidad de imagen
Por fin, calibración de películas HDR10+ movies según la luz ambiental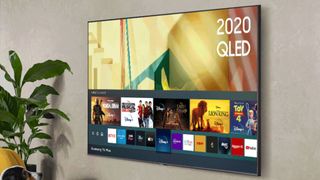 (Image credit: Samsung)
Por fin, los nuevos televisores Samsung van a tener una función clave para mejorar la calidad de la imagen que sus máximos competidores ya tienen: la calibración de imagen dependiendo de la luz ambiental.
Llamada HDR10 + Adaptive, esta función está diseñada para la mayoría de los hogares y oficinas, donde no hay salas de cine en casa aislada de la luz y las condiciones lumínicas cambian permanentemente. Esto afecta a la visualización del contenido que, dependiendo de la luz ambiental, requiere diferentes curvas de brillo o contraste, sobre todo para contenido HDR10.
HDR10 + Adaptive sólo calibra la configuración de imagen de contenido HDR10 +, es decir, películas o series de TV codificados con el formato HDR dinámico preferido por Samsung.
Según su nota de prensa, Samsung afirma que "la función HDR10+ Adaptive admite la optimización dinámica escena por escena [...] y ahora puede ajustarse a cualquier condición de iluminación de la habitación, mejorando aún más la experiencia HDR. Esta función utiliza el sensor de luz del televisor y asegura que la pantalla se ajusta a los valores de sus creadores sin pérdida de detalle o contraste".
HDR10+ no está tan extendido como su competidor Dolby Vision, pero es el único formato HDR de los televisores Samsung. La función también funcionará con el modo cine, la configuración de imagen que elimina el horroroso refresco digital de telenovela habitual en estas pantallas.
La nueva función Adaptive llegará a los futuros televisores QLED de la compañía coreana, presumiblemente a toda la gama QLED 2021 aunque todavia no tenemos un desglose detallado de los modelos que llegarán en el CES 2021, en el mes de enero. En estos momentos, HDR10+ está disponible para todos los títulos 4K HDR en Amazon Prime Video.
Dolby Vision IQ domina el mercado
Sin embargo, HDR10+ Adaptive no es la primera tecnología en realizar esta función de calibración de imagen. Ya hemos visto una funcionalidad similar con Dolby Vision IQ en televisores Panasonic y televisores LG el pasado año.
Dolby Vision IQ utiliza los sensores de luz incorporados para medir la cantidad de luz ambiental en una habitación y garantizar que el brillo y el contraste sea óptimo para una mejor visualización en esas condiciones.
Igual que HDR10+ Adaptive, Dolby Vision IQ sólo funciona con contenido Dolby Vision de 10 bits, que es soportado por la mayoría de los servicios de streaming de vídeo.
Sign up to receive daily breaking news, reviews, opinion, analysis, deals and more from the world of tech.
Henry is a freelance technology journalist, and former News & Features Editor for TechRadar, where he specialized in home entertainment gadgets such as TVs, projectors, soundbars, and smart speakers. Other bylines include Edge, T3, iMore, GamesRadar, NBC News, Healthline, and The Times.