Advertisement Feature
HP Smart Tank printers are now even more affordable thanks to this trade-in deal at Currys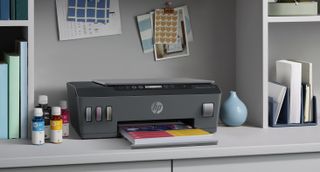 (Image credit: HP)
Printers can be troublesome devices in some scenarios, let's face it, with one of the biggest potential frustrations being running out of ink. Especially if that happens when you're about to print off something vital like a boarding pass for your flight later that day.
Wouldn't it be marvellous if there was such a thing as a printer with everlasting ink?
Clearly, that's not going to happen – at least outside of scenarios where you rub a lamp and a genie emerges to grant you three wishes (and even then, printing may not quite be top of the wish-list). However, what is a realistic proposition is buying a printer that comes equipped with a ton of ink. Enough to last you some three years of printing, in fact, which may not be everlasting, but it sure is a long time.
What are we talking about here? HP Smart Tank printers, that's what. These printers are sold with (up to) three years' worth of ink included, meaning no messing around ordering replacement cartridges every few months, and Smart Tank printers are also beneficial for the environment in that respect too.
Overall, they're a rather ingenious invention to grace the printing world, and the even better news now is that HP is currently running a trade-in deal with Currys throughout April. This allows you to take your old printer into the store and get some money back for it when upgrading to a selected all-in-one Smart Tank model (capable of printing, scanning and copying).
Let's dig deeper into the subject of why HP Smart Tank printers are a great choice for your next printer – especially if you don't want to worry about ink refills for the next few years – before taking a closer look at the finer details of that trade-in offer with Currys.
A smarter choice for you
As mentioned, HP Smart Tank printers come with up to three years of ink right out of the box. What does that mean exactly? HP bases that on a typical usage scenario of printing 200 pages per month (but the time that the bundled ink lasts for could vary depending on what material you're printing and other factors).
On top of years of hassle-free printing, HP Smart Tank models come with a number of other benefits, not the least of which is that they save you a good deal of money on running costs compared to being forced to make repeated purchases of ink cartridges.
HP Smart Tank printers deliver on the quality front, too, offering crisp text for documents, and vibrant colours for printed photos (as well as prints that last for a long, long time without fading – the ink supply isn't the only thing to boast longevity in spades here). The latest generation of Smart Tank devices are also quicker at printing than previous models, with HP observing that they are in fact up to 38% quicker.
Furthermore, speed is a strong suit when it comes to setting up the printer – you can do this quickly and easily via a smartphone if you prefer. What's more, you can print directly from your phone – or order scans, or copies – using the excellent HP Smart app.
A smarter choice for the environment
There are good reasons why an HP Smart Tank printer is seriously eco-friendly, too. For starters, these devices are made from recycled electronics (sporting an EPEAT Silver certification – the foremost recognized ecolabel for tech products). Doubling down on that is the bonus that if you take advantage of the trade-in offer from Currys, your old printer will be recycled.
Another consideration is that some printer manufacturers may use ink cartridges that end up in landfill (if they have no cartridge recycling scheme – HP does, by the way). However, with Smart Tank devices, HP does away with ink cartridges entirely, instead allowing the owner to refill the ink tank using resealable bottles (which benefit from a spill-free design to ensure no mess and no fuss).
We shouldn't forget to mention that many of HP's Smart Tank printers offer automatic double-sided printing. This feature adds a string to the sustainability bow and saves paper (note that other models have this as a manual feature, too).
And a smarter choice for your wallet, too
Fed up with your clunky old printer, and having to order cartridges, or running out of ink at very inopportune moments? You may well feel that it's time to leave those woes behind and upgrade to an HP Smart Tank printer, and there's never been a better time than now.
That's thanks to the latest generation of HP Smart Tank all-in-one printers which are speedier and better than past models, and of course the icing on top is the trade-in deal at Currys which runs up until April 30, 2023.
Simply take your old printer – which can be any brand, not just HP – into a Currys store (do note that this offer is only eligible in-store) and you'll get £30 off selected new HP Smart Tank models. By the way, that's true even if your old printer is broken – it doesn't matter what condition the device is in, you'll get a £30 credit. And also the knowledge that your old hardware is going to be responsibly recycled (and that your new printer benefits from green-friendly certification, too).
HP Smart Tank printers are already very affordably priced at Currys, and factoring in the low running costs – with those years of ink bundled with the device – plus the £30 off trade-in deal, they truly represent a bargain and a half.
Such is the cost-effectiveness of these Smart Tank printers over the long run, even those new to the market for a printer (without a device to trade in) would still do well to consider purchasing one of these HP all-in-ones at Currys.
So, check out the excellent range of HP Smart Tank printers available at Currys, and remember to give yourself enough time to take your old printer into a retail store if you want to grab that £30 off trade-in deal, bearing in mind that this offer only lasts until April 30.
Sign up for Black Friday email alerts!
Get the hottest deals available in your inbox plus news, reviews, opinion, analysis and more from the TechRadar team.