The Honor Magic 5 Pro was finally unveiled at this year's edition of MWC Barcelona, and we got our hands on the new device ahead of the big reveal (head over to our hands-on Honor Magic 5 Pro review to read our first impressions).
The fast-growing Chinese manufacturer has emerged from the shadow of its old parent company, Huawei, with a mission to compete against the likes of Samsung and Apple in the premium smartphone market – and the Magic 5 Pro could well be the phone to help Honor do just that.
Honor made its first premium move last year with the excellent Honor Magic 4 Pro – the brand's first bona fide premium smartphone to launch outside of China – and its follow-up device, stylized as the Honor Magic5 Pro, debuted at MWC 2023 alongside the foldable Honor Magic Vs (head to our hands-on Honor Magic Vs review for our first impressions of that device).
So, in light of the phone's official announcement, we've put together this one-stop-shop guide to all details worth knowing about the Honor Magic 5 Pro. Below, you'll find information on its camera setup, design and performance features, as well as any confirmed details about its price.
Honor debuted the Honor Magic 5 Pro at MWC Barcelona 2023, confirming its impressive specs in the process. Read our hands-on Honor Magic 5 Pro review for our initial impressions of the device.
Honor Magic 5 Pro: Release date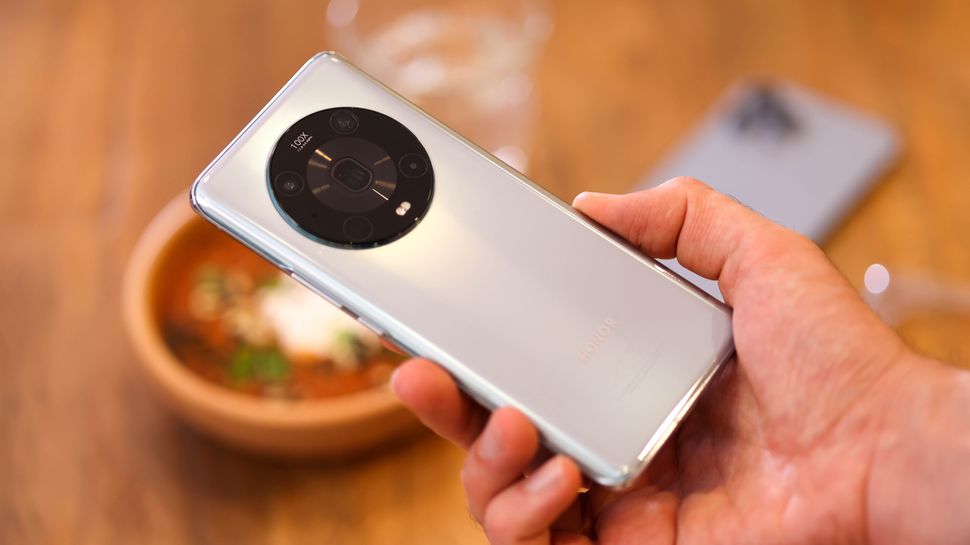 Honor officially unveiled the Honor Magic 5 series at MWC Barcelona 2023, but we still don't know when the device will be available to buy.
In all likelihood, the Honor Magic 5 Pro will go live for pre-orders in the next few weeks, with a proper release date coming later down the line. Its predecessor, the Magic 4 Pro, hit shelves on May 13, 2022, so Honor may well opt for a similar date for that phone's successor.
It's worth nothing, though, that the Magic 5 Pro is unlikely to be available in the US. Huawei sold Honor in 2020 to avoid seeing its one-time sub-brand placed on the US import blacklist, so there's no legal reason why Honor couldn't sell its upcoming flagship across the Atlantic, but it's not something we've seen the burgeoning brand do as of yet.
The Magic 4 Pro is available to purchase in the UK and Europe, so we'd expect Honor to follow suit by making the Magic 5 Pro available in these regions, too. Availability in Australia, however, seems unlikely.
Honor Magic 5 Pro: Price
Honor hasn't yet released global pricing information for the Magic 5 Pro – but we know the base version of the device will cost €1199 (around $1270 / £1060 / AU$1890) in Europe.
For context, the Honor Magic 5 Lite is now available to buy from £329.99 / €369, though its premium sibling will, for obvious reasons, retail for much more.
Honor Magic 5 Pro: News and specs
The Honor Magic 5 Pro will arrive boasting a veritable smorgasbord of premium specs.
For starters, its predecessor's "Eye of Muse" design for the rear cameras remains, as does the same 6.81-inch LTPO display topped with quad-curved glass. However, in keeping with the brand's new human-centric design philosophy, the Honor Magic 5 Pro's 120Hz display is certified circadian-friendly, which essentially means it's not too taxing on the eyes. By mimicking the dynamic dimming of natural light, the Honor Magic 5 Pro reduces eye strain by 18% (compared to other premium smartphones), giving you 30 minutes more sleep, Honor says.
Under the hood, a Snapdragon 8 Gen 2 chipset marks a step up from the Gen 1 processor found in the Magic 4 Pro. Honor has also added new Wi-Fi and Bluetooth infrastructure to its new flagship, which should boost Wi-Fi performance (and reduce latency) significantly. See the full Magic 5 Pro spec sheet below:
This is a device that has been designed based on insights about YOU. #UnleashthePowerofMagic with the all-new #HONORMagic5 Pro. From the floating display to computational photography to super large battery, and more! #HONORMWC2023 #MWC23 #Snapdragon pic.twitter.com/4m4fiWfBdAFebruary 27, 2023
The Honor Magic 5 Pro gets a hefty 5100mAh5 battery, too, that supposedly yields over 12 hours of battery life with heavy usage (for comparison, that's more than the S23 Ultra and iPhone 14 Pro Max can manage).
On cameras – which is where this phone will likely make headlines – the Honor Magic 5 Pro packs a 50MP wide lens, a 50MP telephoto lens, a 50MP ultra wide lens, and a 12MP ultra wide lens on the front.
The key differences between the Magic 5 Pro and its premium competitors, though, are the former's various special photography modes. One of them is AI motion-sensing capture, which allows you to snap impressive stills from motion-heavy movements like dancing, jumping or the shuffling of a deck of cards. Check out the feature in action via the tweet below:
The #HONORMagic5 Pro is blowing our minds with its AI feature – look at how it automatically captures a moment of breaking a GUINNESS WORLD RECORDS™! Uncover what else it can do to #UnleashThePowerofMagic at #MWC23! @GWR #GuinnessWorldRecords pic.twitter.com/d0fy7FVZWNFebruary 13, 2023
We'll be testing out AI motion-sensing capture (and the rest of the phone's photography features) once we've spent more time with the Magic 5 Pro in the coming months. In the meantime, head over to our aforementioned hands-on review see how the phone fared in our early testing.