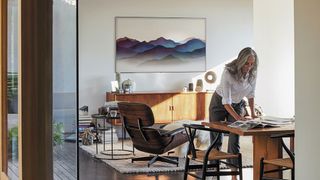 Sponsored by Samsung
With so many television technologies to choose from in 2018, it's now more important than ever to make an informed decision when choosing a set that's right for the whole family.
In all likeliness, each member of your family has different interests, which is why you need a TV that can do everything exceptionally. Samsung's 2018 QLED range does precisely that, offering a number of thoughtful features that will improve the viewing experience for everyone in your household.
Whether you love watching sports, playing video games, binge watching movies and television shows or simply want a television that looks beautiful from a design sense, Samsung's 2018 QLED range is here to do it all excellently.
Here's why we think Samsung's QLED is the perfect TV for the whole family.
Incredible picture quality for movies and TV
Filmmaking technology has grown by leaps and bounds in recent years, allowing for stunning 4K HDR movies and TV shows with mind-blowing visual effects and crystal clear cinematography.
Thanks to streaming services like Stan and the advent of 4K Ultra HD Blu-ray, it's now possible to enjoy picture perfect movies and TV from the comfort of your living room with Samsung's 2018 QLED TVs.
Using photoluminscent Quantum Dots to display over a billion colours, Samsung's 2018 QLED range is capable of extremely vibrant images that appear truly lifelike without becoming over-saturated.
In an effort to achieve deep blacks and bright whites, Samsung has introduced an advanced backlighting system known as full-array local dimming (FALD) on its Q8 and Q9-series TVs. While many LED TVs use an edge-lit system that shoots light from the sides of the screen, FALD employs hundreds of small blacklights across the whole panel, allowing Q8 and Q9 QLEDs to light specific areas of the display with incredible precision.
Because of this, light bleeding is significantly reduced, meaning viewers can enjoy deeper blacks than ever before on a Samsung TV.
Combined with advanced HDR10+ functionality, which employs metadata to adjust the brightness and dynamic-range of supported TV shows and movies on a scene by scene basis, as well as crystal clear 4K resolution support, Samsung's QLED range provides an incredible viewing experience all round.
Gaming features that are literally game-changing
When it comes to achieving video game bliss, a high quality display can be just as crucial as the gaming PC or game console you're playing on. Offering a number of features aimed squarely at gaming enthusiasts, Samsung's 2018 QLEDs have set out on a quest to take your games to the next level of visual excellence.
One area that has seen tremendous improvement in this year's QLED range is the time it takes for your button presses, keyboard strokes or mouse movements to register on your screen. Input lag to been reduced to just 15ms, meaning your actions in game should now feel instantaneous.
Once considered PC-exclusive features, Samsung's 2018 QLED range has also incorporated support for FreeSync and variable refresh rates (VRR), meaning your TV will match the framerate of your game and prevent screen-tearing in the process.
On top of this, every television in Samsung's 2018 QLED range offers high frame rate support (up to 120 frames per second) and Game Motion Plus, which helps to reduce judder and blur to provide a smoother gameplay experience overall.
Fantastic for sports watching
Thanks to the use of Quantum Dot technology, Samsung's 2018 QLED boasts the ability to display over a billion colours, making it the ultimate way to experience your favourite sporting events. From vivid, multi-coloured player uniforms, to the lush green grass of the field, Samsung's QLED TVs make sports look more natural and dynamic.
Watching sports at home is great, but it's even better when you can share in the excitement with friends and family. To ensure that everyone has the best view of the action, you need a television with exceptionally wide viewing angles.
Samsung's QLED range offers clear, bright images from wherever you're sitting, meaning every person in your living room will have the best seat in the house.
On top of this, Samsung's 2018 QLED televisions are capable of displaying at an astounding 200Hz motion refresh rate, allowing for exceptionally smooth motion. Not only does this make player movements appear more lifelike, it also ensures so that you'll never lose track of the ball again.
And that's just the beginning…
Featuring a sleek and sophisticated design, Samsung's 2018 QLED range has been crafted to blend in seamlessly with the family home. Its Ambient Mode allows you to use onscreen backgrounds that match the TV's surroundings, so you never have to stare at a black rectangle again— you can even apply soothing motion wallpapers that display important information, like the current time or even weather forecasts.
On top of this, Samsung's innovative One Clear Connection system means you only need one slim cable coming from your television for both power and AV purposes. All of your other connections, including HDMI, Ethernet and USB cables, are plugged into an external box that you can keep out of sight — no more cluttered cables sticking out of your television.
Customer satisfaction is of the utmost importance when it comes to Samsung's 2018 QLED TVs, which is each television in the range comes with a 10-year 'No Screen Burn' guarantee.
Simply put, Samsung's 2018 QLED TV range has been thoughtfully crafted to offer the features that are truly important to every member of the household. It's this level of care and attention that makes Samsung's QLED the perfect TV for the whole family.
To discover the full range, visit the official Samsung QLED TV mini-site here.
This article is proudly brought to you by Samsung Australia.
Get daily insight, inspiration and deals in your inbox
Get the hottest deals available in your inbox plus news, reviews, opinion, analysis and more from the TechRadar team.