Éste puede ser el nuevo caza de combate secreto de la US Air Force
Diseñado con una nueva tecnología de ingeniería asistida por computador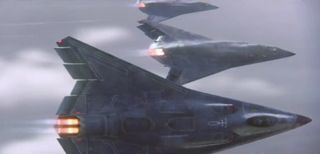 (Image credit: USAF)
La fuerza aérea de los Estados Unidos anunció por sorpresa un avión de combate la semana pasada — una máquina formidable que ha sido desarrollada por la propia USAF en muy poco tiempo y que, según ellos, ha batido todos los records de velocidad y rendimiento en vuelo. Sin embargo, el resto del proyecto sigue siendo totalmente secreto. La fuerza aérea norteamericana no ha compartido ni más información ni imágenes. Por lo menos oficialmente.
Pero según The Aviationist, la fuerza aérea podría haber ocultado a simple vista el diseño de este avión en un nuevo póster que marca el 73 aniversario de la USAF, fundada el 18 de septiembre de 1947 (hasta ese momento, no había un brazo del ejército dedicado a la aviación, que dependía en parte de la US Navy y la US Army).
Éste es el poster:
La forma del avión es completamente triangular, extremadamente plano y sin timón de cola. El diseño es muy diferente del que había propuesto Lockheed Martin y Boeing, lo que hace pensar que el diseño y construcción del prototipo podría haber contado con la ayuda del tercer fabricante de aviones en discordia: Northrop Grumman. De hecho, una pista que indica esta posible colaboración es que el diseño de este caza recuerda bastante a los bombarderos invisibles B-2 Spirit, también fabricados por Northrop Grumman.
Este avión de combate no tendría igual en el mundo, según la USAF. Aparte de batir records de maniobrabilidad, el caza tendría una cabina para un piloto pero también podría actuar como un dron. Sabemos que la USAF está trabajando en aviones que puedan ser tripulados, pilotados por humanos de forma remota como los drones actuales o usando inteligencia artificial.
Y aunque la ilustración podría ser sencillamente un concepto artístico, existen varias pistas que podrían confirmar que éste ese el avión que el Dr. Will Roper —secretario asistente de la USAF para compras, tecnología y logística — anunció el pasado 15 de septiembre durante el evento de presentación del programa NGAD (Next Generation Air Dominance o dominio del aire de siguiente generación).
Demasiadas coincidencias
El principal motivo que fundamenta la sospecha de que el prototipo secreto sería igual o muy similar a esta es la ilustración es la coincidencia entre diversos materiales. En el mismo poster — como se puede ver sobre estas línea — el diseño se repite tanto en la ilustración como en el logotipo del 73 aniversario de la USAF.
Pero hay algo más:
Estas dos fotografías de objetos volantes no identificados fueron tomadas en los cielos de Wichita, Kansas, y Amarillo, Texas. Muestran una forma que es extremadamente similar al diseño en ala delta del póster.
Son demasiadas coincidencias para ignorar que, efectivamente, éste podría ser el diseño del avión secreto no-tan-secreto.
Un diseño único creado con nueva tecnología de ingeniería por computador
Durante el evento virtual Air, Space and Cyber Conference 2020, el Dr. Roper afirmó que la USAF ya había construido y volado un prototipo de demostración a escala total en el mundo real: "hemos roto records haciendo esto. Estamos listos para construir el avión de siguiente generación en una manera que nunca habíamos hecho".
Al parecer, para conseguir un desarrollo tan rápido, el grupo de proyectos secretos de la USAF situado en Area 51 utilizó tecnología avanzada de ingeniería asistida por computador. El sistema habría creado dos aviones digitales gemelos y utilizado nuevos algoritmos para realizar iteraciones y simular vuelos en entornos virtuales antes de construir el prototipo físico. Esta técnica de la que no sabemos mucho más ha sido clave para conseguir tiempos de desarrollo cortos que hasta ahora eran imposibles.
Get daily insight, inspiration and deals in your inbox
Get the hottest deals available in your inbox plus news, reviews, opinion, analysis and more from the TechRadar team.