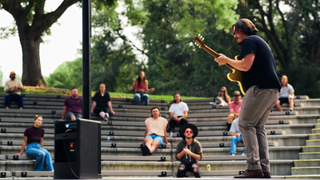 (Image credit: Harman)
Whether you're a musician, a DJ, a venue owner, or an event organizer, you need a good sound system. Otherwise, your performances and presentations, no matter how compelling, will fall on deaf ears. To put it another way, if people can't hear you properly, they'll get bored.
And the moment they get bored, you've already lost them.
JBL is a brand established with this in mind. With a well-deserved reputation for quality and fidelity, JBL's gear is trusted by artists and sound techs everywhere. The recently-released JBL-EON ONE MK2 Column PA more than upholds that reputation with a best-in-class acoustic package and a wealth of additional features and controls.
The battery-powered JBL EON ONE MK2 is designed with portability in mind, lightweight and with built-in storage for its compact PA components. It doesn't sacrifice any power or quality for that portability, either.
When you power on the system, you'll wow audiences with high-fidelity wide dispersion sound up to 123 dB (119 on battery) and natural, smooth low-frequency sound down to 37 hZ.
This is all courtesy of a 10-inch woofer housed in an acoustic cabinet coupled with a geometrically-optimized C-shaped 8-tweeter array, both empowered by a built-in 1500 watt amplifier.
As if all that's not impressive enough, the EON ONE MK2 also comes with a ton of professional-grade features, including:
Automatic feedback suppression
8 bands of parametric EQ
An extensive, convenient list of presets.
Soundcraft Easy Ducking
Bluetooth audio streaming
A comprehensive suite of professional-grade Lexicon DSP, including reverb, chorus, and delay.
Two 48V phantom power channels for microphone connectivity
A 5-channel digital mixer
For a beginner, that may all seem a bit overwhelming But there's more good news in that regard. JBL's included a triple-tier DSP to seamlessly swap between beginner, intermediate, and advanced controls, so you can go as in-depth with your sound as you want, and still have everything come through loud and clear.
JBL's new PA also comes with a full-color LCD screen, enabling granular control of all parameters. There's also a Simple Success LED to display meters and mixer functions such as clipping, mute, and signal detection. Finally, if you need fast access to the PA's onboard EQ, there's a set of fixed knobs on its exterior.
The EON ONE MK2's battery is capable of operating for up to 6 hours on a full charge. As an added bonus, it's integrated into the unit's column spacer. This not only makes it easy to swap the battery in and out, but further enhances both stability and acoustics.
Last but not least, the JBL Pro Connect mobile app allows you to manage and configure multiple speakers simultaneously — up to ten, courtesy of Bluetooth 5.0. Available on both Android and iOS, JBL Pro Connect allows you to seamlessly manage multiple workflows. It also offers extra features such as snapshots and tap tempo.
Quality. Fidelity. Agility. These are all crucial for anyone who works with sound, from buskers to educators.
The JBL EON ONE MK2 provides all of this alongside intuitive controls, a lightweight, portable frame, and a powerful battery. It's your go-to anytime, anywhere sound system. No matter what you need.
Sign up to receive daily breaking news, reviews, opinion, analysis, deals and more from the world of tech.