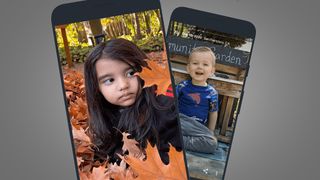 (Image credit: Google)
Google ha cambiado el cuento de su servicio Google Photos: lo que antes decía que era compresión de "alta calidad" imposible de distinguir del original resulta que es una calidad muy mala. En un correo electrónico, Google conseja ahora a los usuarios que suban las imágenes con la calidad original — algo que te obligará a pagar su servicio Google One.
Google Photos ofrece dos opciones de calidad para las copias de seguridad de tus fotos: "Alta Calidad" — que comprime las instantáneas a 16 MP para ahorrar almacenamiento — y "Calidad Original" — que se almacenan a la misma resolución y compresión con la que las tomaste.
Anteriormente, Google decía que "alta calidad" era indistinguible del original y que a todos los usuarios les valdría. Sin embargo, en un reciente correo electrónico enviado a algunos suscriptores, Google advierte que las fotos subidas en "Alta Calidad" podrían aparecer muy pixeladas en comparación con las "Originales".
Acompañan el correo con una imagen comparativa que muestra la diferencia entra las dos opciones, mostrando un pájaro muy pixelado que quizás podría sobrestimar el deterioro de la calidad real.
El correo electrónico a los suscriptores añade que "las fotos de calidad original conservan la mayor cantidad de detalles y permiten ampliar, recortar e imprimir las fotos con menos pixelación". Como ya hemos dicho, esto contrasta con las afirmaciones anteriores de Google, que decía que su opción de carga de "alta calidad" era "casi idéntica" a la calidad original.
Lo cierto es que, aunque puede haber una diferencia notable de detalle entre una foto de 16 MP y otra de 33 MP, las instantáneas comprimidas en "alta calidad" rara vez son la pesadilla pixelada que se ve en la comparación de Google.
¿Por qué Google Fotos aconseja ahora a sus usuarios que no suban fotos en "alta calidad", utilizando esa captura de pantalla trucada como demostración?
Meterte miedo para que te suscribas
El "dónde dije digo dije Diego" de Google llega justo a tiempo para la llegada de su nueva política de almacenamiento, donde ya no será posible grabar de fotos con esa compresión de forma ilimitada y tendrás que pasar por caja para almacenar fotos y vídeos si te pasas del límite. ¡Qué coincidencia!
El fin de Google Photos llegará a partir del 1 de junio. A partir de ahí tendrás que comprar un plan de suscripción Google One. Después del 1 de junio, todas las fotos subidas a Google Fotos contarán para el límite de 15GB de Google Drive. Si quieres superar ese límite de 15 GB — una cantidad ridícula para los entusiastas de la fotografía — tendrás que optar por Google One o buscar un servicio alternativo.
Los precios de la suscripción a Google One comienzan en 1,99 dólares al mes por 100GB de espacio de almacenamiento en Google Photos, Google Drive y Gmail, y aumentan en función de la cantidad de almacenamiento que necesites.
Si te gusta hacer uso del almacenamiento ilimitado de Google Photos, todavía puedes hacerlo, al menos durante los próximos meses. Pero ten en cuenta que, a partir del 1 de junio, deberás tener un plan para conservar tus fotos en Google — o considerar soluciones alternativas de almacenamiento de fotos.
Get daily insight, inspiration and deals in your inbox
Get the hottest deals available in your inbox plus news, reviews, opinion, analysis and more from the TechRadar team.

Rhys is TRG's Hardware Editor, and has been part of the TechRadar team for more than two years. Particularly passionate about high-quality third-party controllers and headsets, as well as the latest and greatest in fight sticks and VR, Rhys strives to provide easy-to-read, informative coverage on gaming hardware of all kinds. As for the games themselves, Rhys is especially keen on fighting and racing games, as well as soulslikes and RPGs.