The best Google Photos alternatives offer a secure platforms to store your photos and videos on your mobile, desktop, and online.
Google Photos is easily one of the best photo cloud storage apps out there. Backed by the powerful Google Drive, the platform is intuitive to navigate and easy to use, whether storing or sharing your media. Like so many Google apps, it "just works". But the introduction of the Google One subscriptions effectively ending one of the best free cloud storage deals, and fears over the search giant's data-gorging means many are searching for substitute storage space.
From the best cloud storage platforms to photo storage and sharing sites, we've tested the best Google Photos alternatives for your images and videos. As part of our review process, we've assessed interface and experience, storage capacity, sync speeds, and security. We've also looked at pricing and platform availability. So, whether you're a professional photographer, enthusiastic shutterbug, or just looking for a secure space to store valuable business assets, you'll find an alternative that works for you.
The best alternative to Google Photos in 2023
Flickr is an incredibly generous free alternative to Google Photos, letting you store up to 1000 photos and videos at no cost (but there are ads). And like Google's offering, it's on web, Android, and iOS - with a Mac-only uploader tool also available.
Frequent photographers will likely outgrow the free limit pretty quickly. But to keep things really simple, there's only one upgrade option: FlickrPro, which features unlimited photo cloud storage for a monthly, annual, or bi-annual subscription. Images can be automatically uploaded, stored at full resolution, with a range of analytics tools for professionals (and the data-curious).
In our review, we said, "FlickrPro offers a strong entry into the cloud storage space of image and video storage, combining the social aspect for sharing the content. It excels at the unlimited storage, with a dedicated software tool, the cross platform support, and the ease of use especially with tagging images."
However, that file type support is limited - nothing beyond JPG, PNG, and non-animated GIFS. As we noted, "unfortunately, this leaves out RAW images that are popular with pro photographers. Any other image that gets uploaded will be converted to the JPEG format.
Flickr photos are organized in a tidy social feed, which you can set public or private. By setting your photostream as public, other photographers can follow and comment on your work.

Read our full FlickrPro review
IDrive isn't just one of the best Google Photos alternatives - it's TechRadar Pro's top pick for best cloud storage overall. That makes it an excellent choice for anyone who wants a secure place to organize their image collections online (as well as other file types).
During our time with IDrive, we felt "while IDrive certainly has a few rough edges, you can't really fault the service in terms of the ground it covers and the high reliability." It's especially good for business users, thanks to its security measures and range of storage options.
Ultimately, we felt IDrive deserved "high scores for the sheer breadth of services offered – from backing up the photos on your smartphone to backing up the files on your company's servers."
If you don't have a massive budget to spend on a photo storage app, you can always sign up for the free version of IDrive. It'll provide 5GB of storage, which is suitable for those who don't have a massive amount of photos to store.
But should this not be enough storage, you can upgrade to 5TB or 10TB. What's more, as a premium account holder, you'd be able to upload and store photos from all your devices.
What we also love about IDrive is that it offers some useful features for photographers. Namely, you can use the Auto Camera feature to back up all the photos and videos stored on your device to the cloud automatically.
There's also a facial recognition feature that can order your photos automatically, and you can sync photos on a range of linked devices. And if your data is ever wiped, you can use IDrive Express to access a physical hard drive containing all your backed-up photos and videos.

Read our full IDrive cloud storage review


What sets pCloud apart from some of the best alternatives to Google Photos is its lifetime subscription. Pay a single upfront fee and you can access this platform forever without paying more. Ideal for those keen to escape Google's ungenerous subscription costs.
The cheapest lifetime subscription costs $175 and provides 500GB of storage. But if this isn't enough, you can pay $350 for 2TB of storage. If you'd prefer not to pay a large lump sum, there are annual plans available.
In our review of the Swiss-made cloud storage solution, we found its interface as clean "as a typical street in Geneva or Zürich." But felt that "while it can share and sync all types of files, pCloud is especially suited for multimedia content."
Just like iDrive, pCloud automatically uploads your photos and videos to the cloud. And you can sync all your devices automatically. If you store photos on internet services such as DropBox, Facebook, Instagram, OneDrive, and Google Drive, you can also create backups via pCloud.
pCloud also does an excellent job is security, providing 256-bit encryption for every file stored on its platform. You also get a range of comprehensive file management tools, including file versioning, data recovery, remote upload, online document previews, and the ability to rewind your account by 30 days.

Read our full pCloud cloud storage review


Adobe Creative Cloud Photography is actually two products bundled together into a single subscription package.
When it comes to the best photo editors and photo organizers, Photoshop and Lightroom are the gold standard. So, if you're a professional photographer looking for a more advanced alternative to Google Photos, you should definitely check out Adobe Creative Cloud Photography.
As a Creative Cloud subscription package, CC Photography provides access to some of Adobe's best-known cloud solutions for photographers.
In Lightroom, you can take and edit photos via intuitive mobile, desktop, and web software. And once you've finished editing your photos, you can automatically save them to the cloud.
With Adobe Photoshop for desktop and iPad, you can edit your photos using one of the most powerful photo-editing solutions around. And you can then show off your creations by creating a portfolio website and using a range of social media tools, which are included in the plan.
On top of these features, you get 20GB of cloud storage. Adobe says this is enough data to backup 4,000 JPEG files.
For more substitutes, we've tested, reviewed, and rated the best alternatives to Adobe Photoshop and the best Adobe Lightroom alternatives.

Read our full Adobe Creative Cloud Photography review


SmugMug offers what so many of the best alternatives to Google Photos don't: unlimited photo cloud storage at full resolution.
But this is far from just another cloud storage provider. Like Flickr, owned by the same company, SmugMug is fully focused on photographers.
So, as well as storing images online - with full support for RAW files through SmugMug Source - users can also build their own website in a matter of minutes, simply by dragging and dropping content boxes into place. The results are impressively professional, with granular customization across the board for higher-level subscribers. We found it a great way to help photographers broaden their audience reach and showcase their art their way.
For creatives looking to make money from their artwork, SmugMug also features easy-to-use ecommerce selling tools. Subscribers to the photo storage and sharing site also gain access to stats, analytics, and engagement metrics.
There's no free storage options here, which is a shame. However, subscribers on all plans can access, with subscriptions starting at $11 a month.

Read our full SmugMug review
Nord Security might be more known for its NordVPN offering, one of the best virtual private networks, but it's also developed a powerful alternative to Google Photos: NordLocker.
In our in-depth review, we described NordLocker as an exceptionally secure cloud storage platform, praising "a user experience that is close to best-in-class" for backing up photos.
The Google Photos alternative lets you drag-and-drop all your photos and videos to the cloud, where they'll be protected by end-to-end encryption. When you want to access your photos and videos, you just need to log in to your NordLocker account on a PC or Mac.
Thanks to automatic data backups, you can easily retrieve your precious photos and videos if your device is broken or lost. NordLocker also boasts a secure file sharing feature, which allows you to give someone permission to access one of your encrypted folders (i.e. locker) and send it to them securely.
However, NordLocker won't be the perfect substitute for everyone. For starters, there's no iOS and Android support yet, and high-capacity storage plans are lacking. Files can also only be shared with other NordLocker users.
But for a pleasant workflow and strong security backing, NordLocker is one of the best alternatives to Google Photos.

Read our full NordLocker review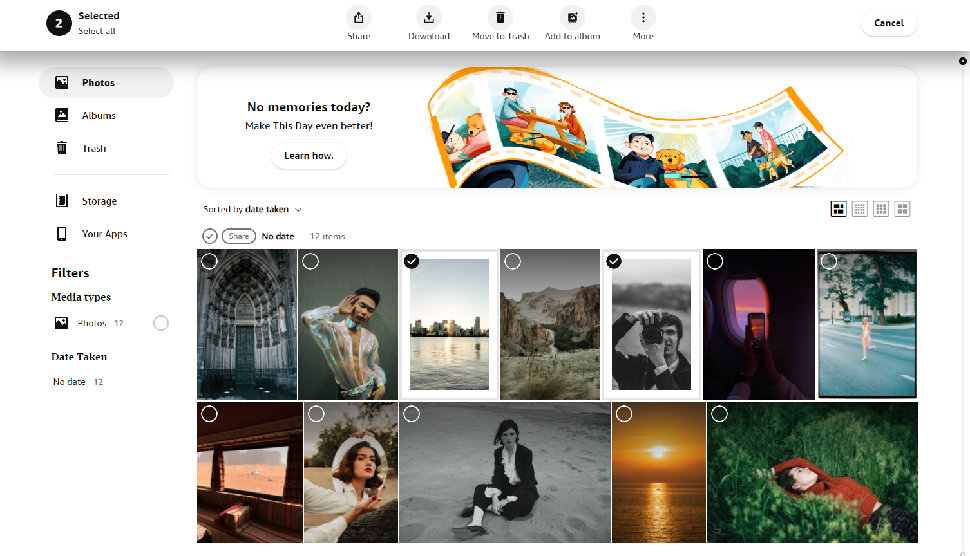 Amazon Photos is one of the best Google Photos alternatives in part because it feels like a carbon copy of the top photo storage site. Ideal if you're not seeking a radical change in experience.
The interface is largely the same, following the same basic flow - great for beginners or anyone who just wants no-fuss photo cloud storage. Better still, the Google Photos alternative offers unlimited photo storage.
But there's a catch or two.
For starters, like Google Photos used to do, Amazon will compress your 'unlimited' images - to retain high resolutions, you'll need to pay. And only Prime members unlimited storage for photos and 5GB of storage for videos. Non-Prime members get 5GB of photo and video storage. Subscription plans are available, of course. As one of the best free alternatives to Google Photos, the space on offer is fair but ungenerous.
That was a major sticking point in our review. We felt "while Amazon Photos offers all the basics you want from a cloud storage service, if you're not already an Amazon Prime member, there's nothing special enough about it to justify choosing it over iCloud, Google Photos, or Dropbox."
If you download the Amazon Photos app, you can use it to automatically save and back up every photo and video stored on your device. That way, you can save memory on your phone and retrieve content when your device is damaged or lost.
Prime users not only get more storage on Amazon Photos, but can also give unlimited storage to five family members and quickly find specific photos by entering search terms based on words, locations, and names.
Using the Amazon Photos app, you can view your photos and videos on all your devices. And if there's a photo or video that you want to share with someone, you can send it via text message, email, and supported apps. Best for Prime members, or those looking for a less refined like-for-like replacement for Google Photos.

Read our full Amazon Photos review


Best Google Photos alternatives: FAQs
How to choose the best alternatives to Google Photos for you
Why you can trust TechRadar We spend hours testing every product or service we review, so you can be sure you're buying the best. Find out more about how we test.
When choosing which alternative to Google Photos is best for you, start by deciding what you like and dislike about Google's platform.
You have two types of alternatives. General cloud storage for photos, like iDrive and pCloud, or photo-focused storage, like Adobe CC Photography, FlickrPro, and Amazon Photos. If you're predominantly storing images and other media, photography storage sites are worth investigating. If you're using the cloud storage for other file types and documents, the former will be best.
If you're housing your photos elsewhere, make sure your new Google Photos substitute makes it easy to import/export your photos from other cloud storage providers like DropBox, OneDrive, and Google Drive, The best alternatives to Google Photos may also let you access social media sites like Facebook and Instagram.
For those wanting free storage, Google Photos' 15GB is about average. Flickr has a generous free 1000-photo cap. Most are less generous, either limiting free cloud storage to around 5GB to 10GB, or not offering free space at all.
As such, it's better to identify the subscription package that offers the best value. For comparison, Google Photos offers 100GB, 200GB, and 2TB plans. A photo backup service like iDrive offers everything from a free 10GB right up to 50TB. Unlimited photo storage is available, too, from the likes of FlickrPro, pCloud, and Amazon Photos.
When trying out alternatives to Google Photos, look for additional features. Google Photos offers fairly lightweight editing tools, whereas a substitute like Adobe Creative Cloud Photography high-grade photo storage and industry-standard photo editing tools. If you're making the switch, make it work for you.
Check platform availability. The Google service is one of those ubiquitous apps that's available everywhere, but not all of the best Google Photos alternatives have mobile or desktop app support.
Is Google Photos free?
Google Photos offers free photo cloud storage - but there's a 15GB limit, which also includes files you store on Google Drive and other platforms offered by the company. If you own certain Google Pixel phones (up to Google Pixel 5), you'll also be able to take advantage of free standard-resolution image storage. For more space, and to retain images at their original higher resolution, then you'll need to opt for a Google One subscription. On the other hand, you can try out some of the best alternatives to Google Photos - some of these provide better platforms for photo storage and sharing, with some even delivering unlimited storage space without compressing your images.
What's the best way to backup photos?
If you want to make sure your photos are kept safe and secure, backing up is essential. Google Photos and Google Photos alternatives use cloud storage, so you can retrieve these at any time so long as you have an internet connection. There are also backup software tools and the best cloud backup services to ensure you never lose your media. Alternatively, you can physical storage, such as SSDs, USB flash drives, and hard drives. The best way to back-up photos is to use a combination of all methods, while storing photos to multiple libraries (for example, saving them to both Google Photos and Microsoft OneDrive).
For more help, see our guide to the best ways to backup photos
How we test the best alternatives to Google Photos
We've tested loads of cloud storage tools, including the best lifetime cloud storage and the best cloud backup services.
When testing the best alternatives to Google Photos, we judge each app against the same criteria that matters to users: experience, space, performance, security, and value.
The top alternatives all possess outstanding user experiences - even Amazon Photos, which does feel somewhat dated. All services we rated as best are intuitive to navigate, simple to use, and accessible to all.
Storage space is a major factor. In our view, the more storage options available, the better. Not everyone needs unlimited space, but with everyone taking more and more photos and videos, most will need more than the free storage caps. We highly rate the services that recognize and meet a range of user needs.
We assess each platform for performance and security. Photo syncs should be fast, seamless, and accessible on other devices as swiftly as on Google Photos. Because we all invest so much in our digital assets, the best alternatives must have clear security policies and encryption in place.
Finally, we look at value - are the free options fair (and genuinely free)? Does the platform offer the best deals relative to the amount of storage and extras?