When installed on your desktop, Dropbox occupies one location and everything you wish to be synced with other devices should be saved here - unlike cloud backup services which can sync all of your content across your hard drive. Understand that and you will be pleased with this cloud drive solution that has very few flaws - it works seamlessly everywhere you need it, and new features continue to be added on a regular basis too.
Pros
+

Smooth user experience

+

Packed with file-sharing features

+

Advanced selective sync options

+

Well designed mobile apps

+

2GB free cloud storage
Cons
-

No full device backups

-

Not the cheapest option

-

Limited free storage

-

Not end-to-end encryption
Why you can trust TechRadar We spend hours testing every product or service we review, so you can be sure you're buying the best. Find out more about how we test.
One of the original companies to truly understand what the best cloud storage means is Dropbox. First released back in 2008 to replace the then-ubiquitous flash drive - a goal that it's definitely managed to succeed in reaching - it's become one of the most popular online storage sites in the world.
Working seamlessly with Windows, macOS, Android and iOS, Dropbox keeps your files backed up to the web and in sync across multiple machines without any additional user effort. Fire-and-forget, indeed. The question is, how does one of the originals in the cloud storage space compare to younger competitors?
Dropbox: Pricing & plans
Full credit to Dropbox for offering a free tier, although even 2GB of the best free cloud storage space really isn't much to write home about. However, it provides an opportunity to try the service for free, forever, which is something a lot of rivals won't allow. Your capacity can even be expanded somewhat through doing things like installing the mobile client and making referrals of other people to Dropbox, with the understanding that you'll miss out on some of the more advanced features offered by the service, such as offline folder access when mobile.
Personal plans have access to 2TB of storage - individual users get this for $11.99 a month or $9.99 a month when billed annually. The Family plan, letting you share your 2TB space among up to six users, is $19.99 a month or $16.99 a month when billed annually.
There are several plans for businesses, starting with the Professional plan. This bundles 3TB storage and limited-access eSign software at $19.99 a month or $16.58 a month, billed annually. There are also subscription plans for small and large teams, with greater security features. The Standard plan delivers 5TB for $18 per user month (or $15 a month on the annual plan); the Advanced plan offers unlimited cloud storage for $30 per user per month, or $24 a month annually).
It's worth noting that, like many subscription-based models, savings are to be had for annual commitments. In the case of Dropbox, a 20% saving is pretty good.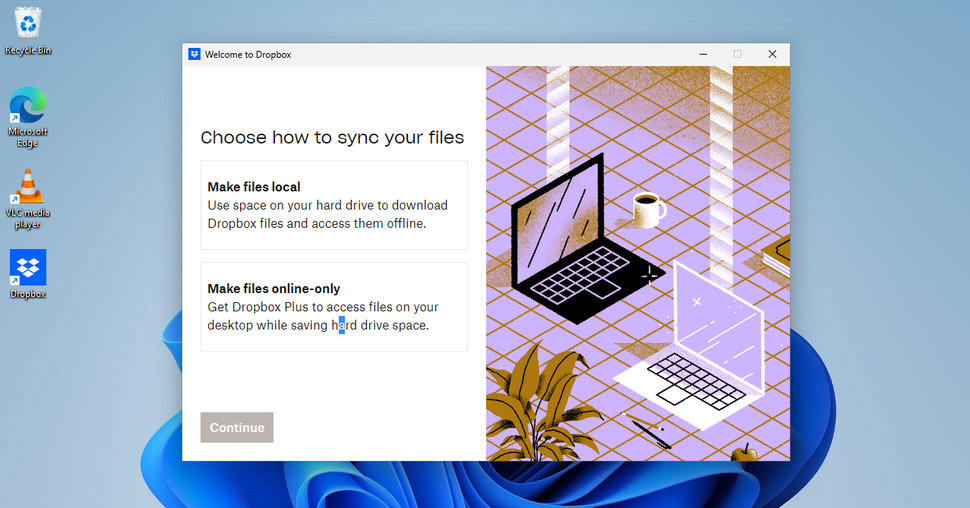 Dropbox: Interface
It's hardly unexpected from a service and app that's been around through the ages, and Dropbox has grown up to offer a very clean, elegant interface that can manage all your files. Well, it always has offered one of the nicest experiences in terms of user experience, but consumer needs have meant that Dropbox has had to keep up with the trends. For sharing a folder of pictures or returning files back from digital death, Dropbox has a straightforward process no matter the device.
Client apps for Windows and macOS are kept up to date, and have a modern-looking interface. Recent changes to your files are listed, which provides a good overview of what you (and your team) are doing inside Dropbox.
To manage syncing settings and bandwidth use is quite straightforward, with strong performance all-round. Uploading both the browser and desktop client provided near identical speeds, which were up to twice as quick as some other services we tested using the same network parameters.
While the desktop clients are somewhat basic in what they offer, the web interface is rather impressive, so good that some other cloud storage services would do well to emulate it, with files and folders at the ready, media ready to be played directly from the web, tons of options available with a click of the mouse, and smart touches spread throughout, such as your most recent file changes displayed up top.
On the mobile front, the Dropbox apps also have a clean layout with slick functionality. You can get at all of your files and folders easily, along with uploading files from phones and tablets. These apps offer integration with native document management systems like the Files ecosystem on iOS.
Like many other cloud-based apps, the mobile versions of Dropbox offer some of the best photo cloud storage, with background support for image library backup, which is especially useful on trips where your smartphone or tablet becomes your one and only device. We especially liked the built-in document scanner, which proved great for archiving bills, invoices, and receipts. Remember, you can select for these not to sync onto your computer to minimize the impact on your desktop, and to help keep things running smoothly.
Put simply, Dropbox's crisp aesthetics provide a welcoming sight regardless of how you access the service.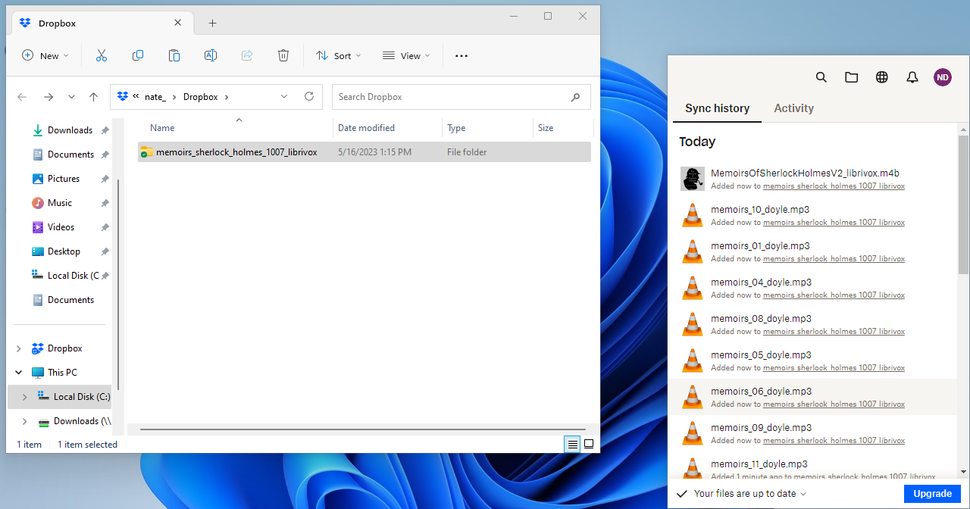 Dropbox: Features
With Dropbox installed on Windows or macOS, everything is then put into your designated Dropbox folder to get synced with the cloud. This may sound familiar, as Windows and macOS natively support this in conjunction with their own cloud services OneDrive and iCloud Drive. However Dropbox was one of the initial apps to trailblaze this, and despite a whole host of new competition, it still performs incredibly well offering a slick experience.
One limitation of Dropbox is that you can't include network drives or external drives in your Dropbox, because anything that you want to be synced should be moved into this dedicated space on your desktop. However, you can certainly select which files and folders are synced to which device, choosing to keep files only in the cloud which saves space on your hard drive.
We were incredibly impressed how quickly the Windows Dropbox app installed itself after download (less than 20 seconds). One of the first options you need to choose is whether to make files 'local'. In other words, they will exist on both your device and the Dropbox cloud or 'online only.'
You're also asked which other folders you want to sync besides the Dropbox one that's created in your home directory. By default your 'Desktop', 'Documents' and Downloads are selected but you can change this during setup.
When it comes to sharing and collaboration, Dropbox excels at giving other people access to files and folders. It even has its own Google Docs clone which is called Dropbox Paper. This lets you collaborate with other people to work on documents in real-time. There are also built-in search capabilities that are powerful, enabling you to search text within documents with one of the paid-for Dropbox options.
Previous versions of files stretch as far back as 30 days on the free plan or 180 days on the paid plan. During our testing, we found it's possible to beyond this for certain plans using add-ons.
Dropbox even throws in a file sharing tool called Dropbox Transfer for sharing large files online. It's worth noting that to get the full 100GB allowance here, users need to be subscribed to the Professional or Advanced business plans - otherwise, this is capped to a less-impressive 2GB. The feature list is great, however, and even better, all these functions are well thought out and intuitively presented.
One of the company's newest features is what it calls Dropbox Passwords. A password manager available to all subscribers, offering an unlimited number of saved passwords for paying customers and a limit of 50 for free accounts, which is still respectable. It works in conjunction with a browser extension that, in our experience, worked well. The autofill process wasn't quite as slick as the native support which - in our case - used Safari with iCloud Keychain to sync passwords across all devices.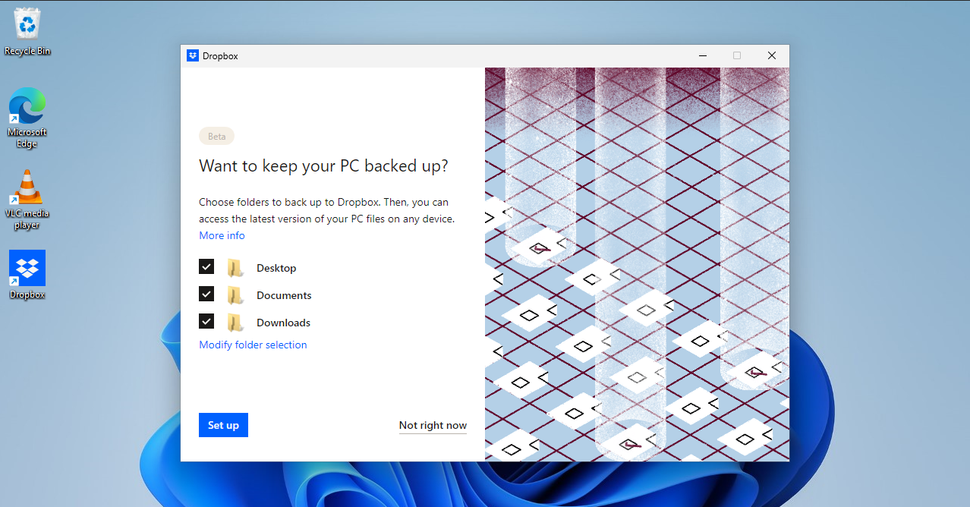 Dropbox: Security
Dropbox provides 256-bit AES encryption for your data. However, the files aren't fully end-to-end encrypted like on some other services, which means in a pinch, Dropbox staff can get at your files. But it also means that the files are not always secured from anyone looking.
The company also claims that any data transmitted between your devices and Dropbox servers is encrypted by SSL/TLS, so it can't be deciphered during transit.
We leave it up to you as to how concerned you should be about this limitation, but it's worth noting that not having end-to-end encryption makes it an easier process for Dropbox to offer a polished, fully-featured web app.
Other, fully end-to-end encrypted cloud drives and backup services that we've tested are a little more clunky to use, at best. Dropbox is also compatible with a number of third-party cloud encryption tools like Boxcryptor, which let you encrypt files locally before upload. If set up correctly, this means not even Dropbox staff will be able to read your data.
Two-step authentication is another option Dropbox offers to accounts to keep them better protected. You can do this via SMS but we always recommend using the best authenticator apps instead, as it's more secure.
It's worth pointing out that a serious data leak did occur in 2012, although it wasn't publicly disclosed until 2016. The company has focused on security ever since, so things should be at least a little more secure by now.
Dropbox: Our tests
To test Dropbox, we measured sync speed, file recovery and versioning. This was conducted on a Windows 11 virtual machine running the desktop client. Connected via fiber broadband and a VPN server, our speed tests showed an average upload speed of 70 Mbps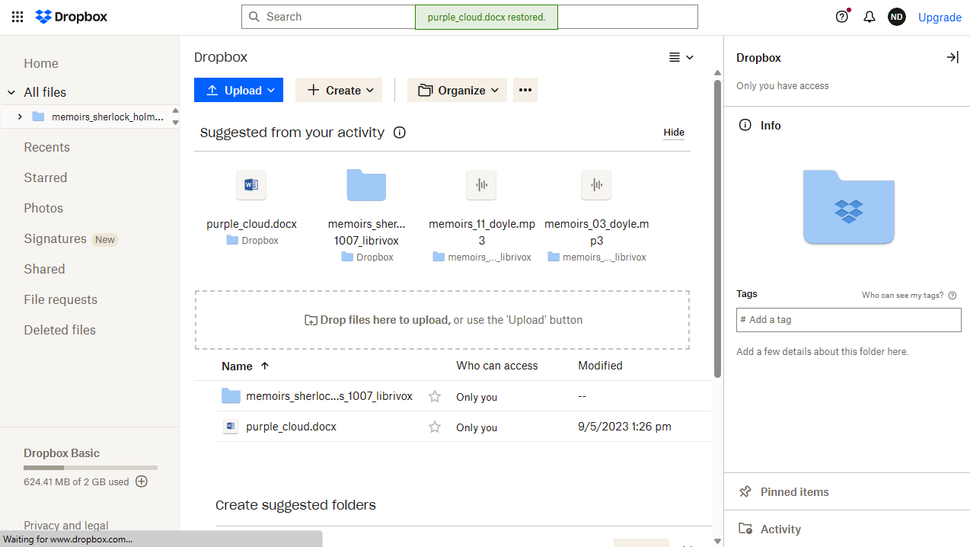 To test sync speeds on the service, we placed a 625MB test folder into the Dropbox folder in our home directory. We then launched the Dropbox client. We were pleased to see each of the files that were being uploaded, each listing individual progress bars.
Dropbox synced all files in the test folder in 85 seconds - the fastest cloud storage client we've reviewed to date by a comfortable margin.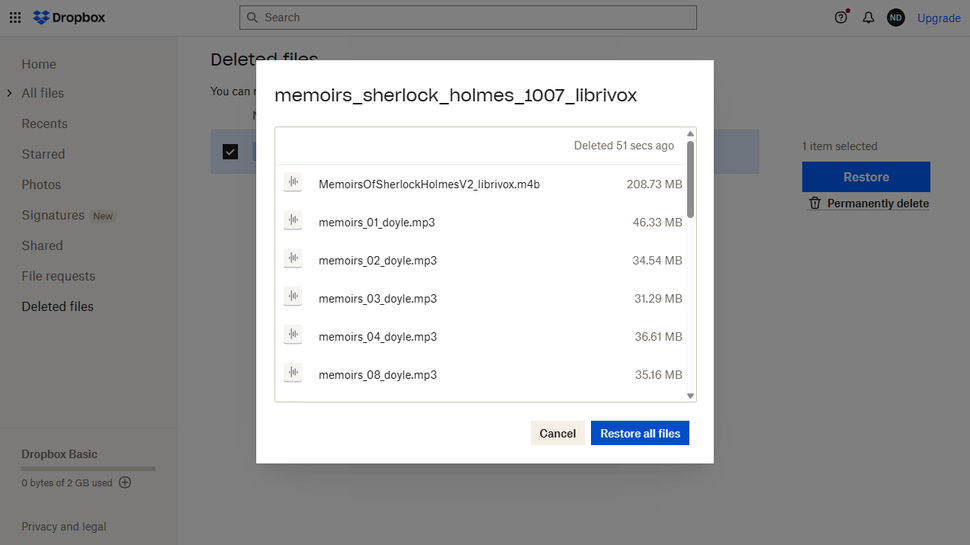 In this test we wanted to see if we could retrieve files after they were removed from the directory.
During setup, we chose Local storage of Dropbox files. So, when we copied our test folder to the Dropbox directory after upload, it existed both on our device and in the cloud.
When we deleted the test folder, Dropbox gave us a helpful warning that it would be deleted from all our Dropbox devices. After going ahead, we used the client to launch Dropbox.com where we could easily find the Deleted File section.
From here we clicked Restore and confirmed we wanted to restore all files. They synced back to the local Dropbox folder on our device in less than 45 seconds. Again, this is the fastest speed we've seen in all the cloud storage clients we've tested.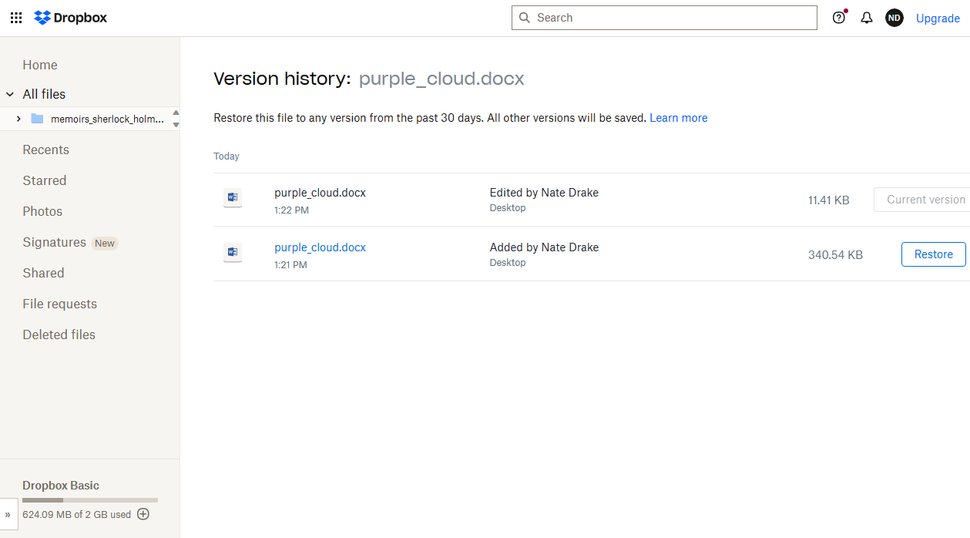 To see how Dropbox performs for file versioning, we placed a test document - a .docx file - in the Dropbox folder on the device. We waited for the client to sync. It took less than 2 seconds. Next, we opened the document in Wordpad, removed all text except the intro and let it sync again with Dropbox.
The file appeared as Edited Now in the Activity tab in the Dropbox client. We chose 'View on Dropbox.com' to preview the Word document on the website. When we clicked Options we saw Version History, which we used to restore the original.
Customers on the free plan, as well as 'Plus' and 'Family' subscribers can store any number of file version histories for 30 days. Dropbox Professional and Standard subscribers benefit from 180 days. Advanced and Enterprise customers can restore file versions up to 365 days after upload. Some paid subscribers can make use of Dropbox add-ons to extend version history for up to 10 years.
Dropbox: Verdict
Dropbox is at the top at what it does. While it lacks the online office suite capabilities of Google Drive, and the tight iOS and macOS integration of iCloud Drive, it excels when you need to sync files and folders between devices running different operating systems. In short, Dropbox is just about the best in the business – and has been for a while, which is why OneDrive and iCloud have been playing catch up for too long - but they are.
It's not quite perfect. But the desktop, mobile and web apps can leave a lot of Dropbox's rivals in the dust, both in what they can do and how well they do it. Dropbox has more than succeeded with its mission to make USB flash drives redundant. It also has gone on to do considerably more besides, as it offers intelligent, reliable, secure file syncing and cloud storage that anyone can use.
The lack of client-side encryption isn't unusual for a major cloud storage provider. The fact that Dropbox is so popular also means that it's compatible with a number of cloud-encryption products, so if security is a concern for you, you can protect your files before uploading.
Really it is not an overstatement to say that Dropbox can genuinely change the way you work.
Mark is an expert on 3D printers, drones and phones. He also covers storage, including SSDs, NAS drives and portable hard drives. He started writing in 1986 and has contributed to MicroMart, PC Format, 3D World, among others.