Apple iCloud Drive (opens in new tab) continues to add new features and improvements, and they're certainly needed: Apple was slow out of the blocks, and its cloud storage service has long lagged behind the more polished competitors made by Microsoft, Google and Dropbox.
There are signs of Apple finding its feet with iCloud Drive though, with the addition of new features like folder sharing, and integration with macOS and iOS getting better all the time. Here's what to expect from Apple iCloud Drive right now, and how well it will work for you.
Apple iCloud Drive features
As well as backing up data from certain apps - and this is really dependent on the app developer working with Apple to ensure compatibility - iCloud Drive is now a user-facing, more conventional cloud storage service: it has its own entries in the Finder on macOS, and has its own apps on iPhones and iPads. The idea is you can back up anything you like, from PDF documents to images, to Apple's servers and get at it from anywhere.
Support is non-existent for Android though – unless you count logging into the iCloud web portal in an Android browser, which is a tortuous process. Windows users are treated a little bit better, because as well as the web interface there's a desktop iCloud client that you can use to sync files to and from a machine running Microsoft's OS, though this really doesn't offer the same slick experience that macOS users get. iCloud Drive is only really of use for those on Apple hardware though.
The best feature of Apple iCloud Drive is really just that it works: it's not as hidden as it once was, but it's still designed to operate largely in the background, syncing your important files between mobile and desktop devices. Anything that gets added to your iCloud Drive is synced to the web, and on a Mac you can opt to include the Desktop and Documents folders as well.
iCloud Drive is best used in the background where it can be left to get on with it, automatically syncing files and optimizing space on your Mac's hard drive. A couple of tests using the browser portal brought up the results we were expecting: the service can keep up with its competition and your own broadband connection is likely to be the limiting factor.
Because iCloud Drive is so closely integrated with the macOS experience, finding the various settings can pose its own challenges. Many of the user's day-to-day experiences will lie in Finder, but certain settings are found in System Preferences - the app that controls computer-wide settings.
This includes the option to toggle on and off 'Optimize Mac Storage', which promises to keep files downloaded to your computer if you have enough space, and to remove these local copies as and when you run out of space. Other cloud storage solutions offer this too, but Apple is smart in the way that it optimizes this based off your frequently used files - it's not as black and white as on or off. While this is great, some users would prefer more control over this, which cannot be had.
Basic file and folder sharing is included, but there's no versioning, so you can't get back older versions of files. Collaborating with others is best done using the macOS and iOS apps, however there is basic browser access for those working from other operating systems.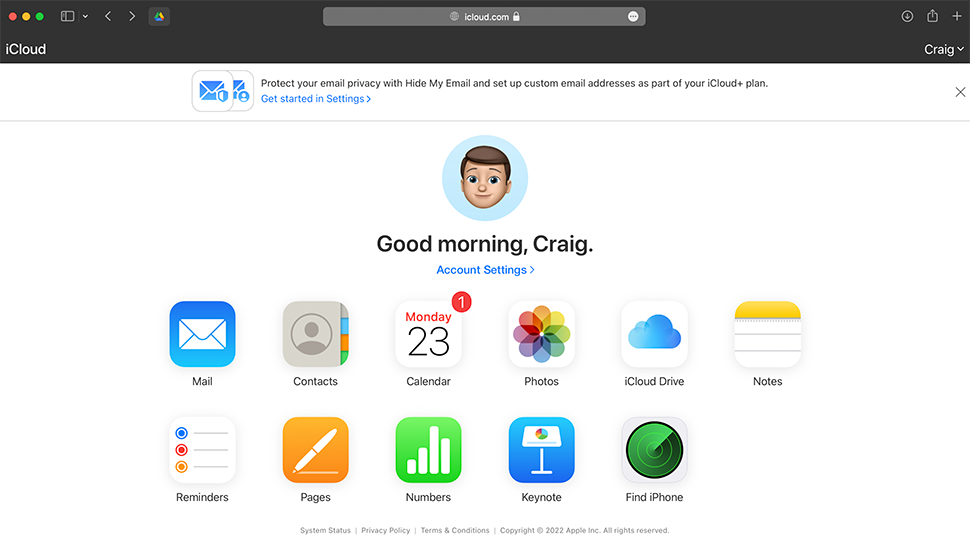 Apple iCloud Drive interface
We've touched on how well iCloud Drive is integrated into macOS and iOS, and even if you don't sign up for extra storage, and don't allow iCloud to manage your photos and videos, it's still deeply embedded in these operating systems (if only to manage app backups and calendar and contact syncing).
iCloud Drive is right there inside the Finder on macOS, and you can also find a variety of options in System Preferences too. While iCloud Drive isn't able to back up an entire machine, it gets pretty close—considering you can reinstall macOS and your programs from the web. Just about everything else that matters can be stored in iCloud. From what we can tell, file transfers are usually speedy and almost instantaneous.
Over on iOS, there is now a dedicated Files app with its own iCloud Drive section. You can copy, move, delete and share files without too much trouble, and everything has the usual visual appeal and slickness you would expect from Apple.
The same goes for iCloud online, which again has improved significantly in recent years, making it much easier to get at your files – you still can't stream videos direct from the web, unfortunately, but you can stream audio files as long as they're saved in common formats.
We especially like the way that Files for iOS can display other cloud drives - like Google Drive and Microsoft OneDrive - directly in the app. Not only does this eliminate the need to go in via the third party app (it still needs to be installed on your device), but it should make syncing and accessing files easier with Apple offering a better, more consistent user experience for native apps.
In terms of the interface, everything about iCloud Drive is pretty much in line with the other software Apple makes – it's mostly polished and smooth, with a few occasional quirks. At least iCloud Drive no longer looks like a tagged-on afterthought whenever it appears, which was the case when it first appeared.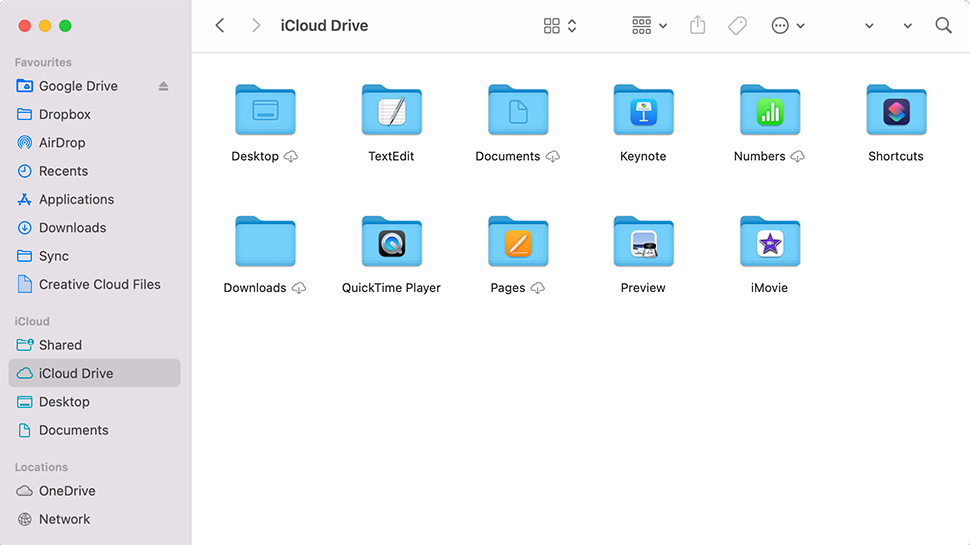 Apple iCloud Drive security
While iCloud Drive data is encrypted to keep it safe from prying eyes, it's not end-to-end encrypted – that means Apple can technically get at the data if it wanted to, though there's no reason to suspect it would. Many other cloud storage services take the same approach, not least to make sure your files can be accessed easily from anywhere. For users after the very tightest security, there are better options around.
Apple accounts can be protected with two-factor authentication and we would strongly recommend that you switch this on – it means that even if your username and password are exposed, unwelcome visitors can't get at your data without an extra code that's displayed on your phone or laptop - or, of course, by SMS. In general, Apple and iCloud Drive do an impressive job of data security.
Apple iCloud Drive pricing
Apple gives everyone 5GB of storage space for free with iCloud Drive, though that's not going to go all that far if you're syncing all your photos and videos to the web. After you've used up all that, you need to pay a monthly fee for some extra space.
Users have a choice of three tiers: 50GB for $0.99/£0.79 a month, 200GB for $2.99/£2.49 a month, or 2TB for $9.99/£6.99 a month. That's broadly comparable with the consumer cloud storage services offered by Apple's big tech rivals, including Google Drive and Microsoft OneDrive. If you stop paying, your files don't go anywhere, but you won't be able to upload anything new.
All paid plans - now known as iCloud+ - also include iCloud Private Relay which masks your IP address for a sense of anonymity online, the option to create multiple unique, random email addresses to sign up to third party apps known as Hide My Email, support for custom email domains, and storage for one, five, or unlimited HomeKit Secure Video-compatible cameras depending on the plan.
Three bundles are also available, only one of which is aimed at individuals. Along with 50GB of iCloud+ storage, it brings Apple Music, Apple TV+ and Apple Arcade subscriptions for $14.95 (£14.95) per month. Family plans upgrade the iCloud+ storage to 200GB, priced at $19.95 (£19.95) per month, and top-tier Premier plans add Apple News+, Apple Fitness+ and 2TB of iCloud+ storage for $29.95 (£29.95) per month.
As mentioned above, iCloud Drive only really makes sense for those already in the Apple ecosystem. With that in mind, we like the range of options and bundles available to help multi-service subscribers save a bit of money.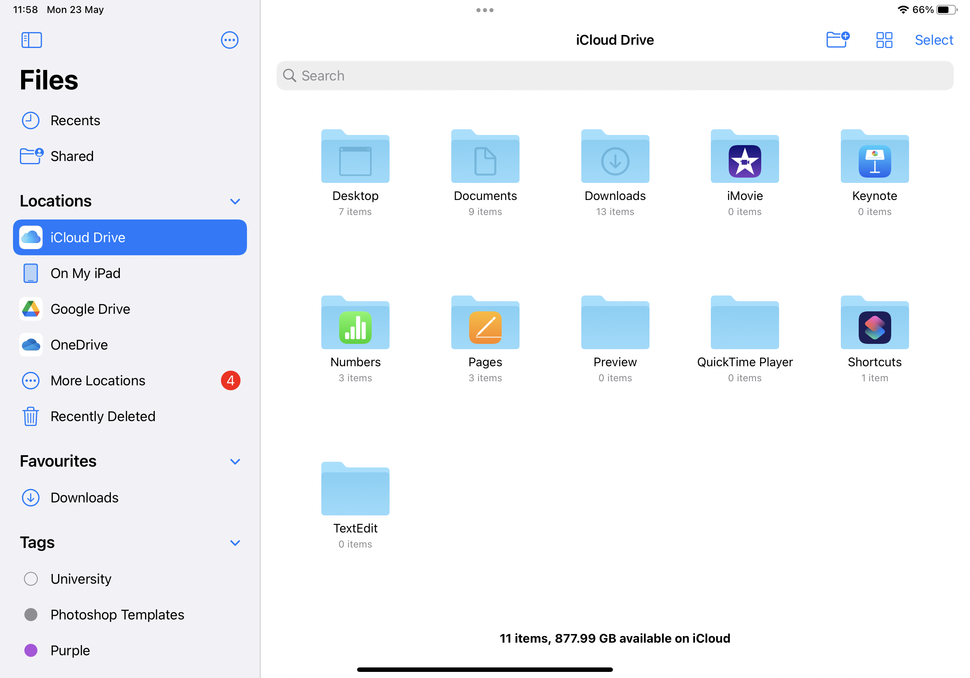 Apple iCloud Drive verdict
iCloud Drive is a lot better than it used to be, and is now a proper cloud storage solution to compete with rivals from Dropbox (opens in new tab), Microsoft OneDrive (opens in new tab), Google Drive (opens in new tab), and others. However, despite recent improvements, it still doesn't offer quite as much as those other services – most obviously when it comes to having an Android app of any description, but also with lacking advanced features such as versioning and selective sync.
There are better cloud storage services out there, and yet if the only devices you use are a Mac and an iPhone, iCloud Drive is so well integrated into them that you might never need to switch to an alternative. macOS and iOS will always default to iCloud, so it's the most convenient option for Apple users, but if you're looking to pay for a service we think your money is probably better spent elsewhere.