El secreto por el que Windows 11 usa Amazon y no Google para las apps de Android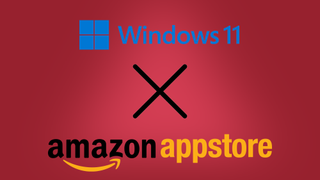 (Image credit: TechRadar)
Una de las mayores sorpresas del lanzamiento de Windows 11 fue el anuncio de que las aplicaciones de Android estará disponibles para el nuevo sistema operativo en la nueva Microsoft Store. La otra gran sorpresa: la tienda es de Amazon.
La decisión ha sido celebrada pero también recibida con inquietud y desconcierto. El rediseño de la Microsoft Store en Windows 11 es bienvenido, pero los usuarios tendrán muchas menos aplicaciones de Android para elegir en comparación con laa Play Store de Google.
Pero hay una razón por la que Microsoft ha elegido Amazon.
Viendo lo que siempre hemos tenido delante
Google ha anunciado recientemente que va a cambiar el formato de las aplicaciones de Android (APK) para pasar a un nuevo formato a partir de agosto llamado "Android App Bundle" (AAB).
APK es similar las apps 'install.exe' de Microsoft o los paquetes de macOS de Apple.
El nuevo tipo de archivo AAB reduce el tamaño de la aplicación per además será firmado. Google será capaz de rastrear la aplicación desde su Play Store con una "clave de carga", por lo que puede trazar la aplicación si algo ocurre.
Y aquí es donde yo creo que entra la App Store de Amazon en Windows 11.
La tienda Amazon Windows 11
Amazon tiene su propia tienda de aplicaciones para Android desde hace año. Permite a los usuarios de dispositivos Kindle Fire descargar aplicaciones desde el propio sitio de Amazon.
Tiene casi 500.000 aplicaciones disponibles, lo que parece ridículo comparado con los millones de la Play Store de Google.
Sin embargo, Amazon tiene un control total sobre su tienda. Sigue el estilo de Apple y limita el acceso. La tienda de Google puede tener millones, pero la mayoría es pura basura.
Si combinas esta selección de apps con los planes de Google con AAB, está claro que Microsoft ha elegido a Amazon porque, primero, no inunda la nueva tienda de Microsoft con aplicaciones de mala calidad. Y luego, no le da poder a Google con su trazado de apps.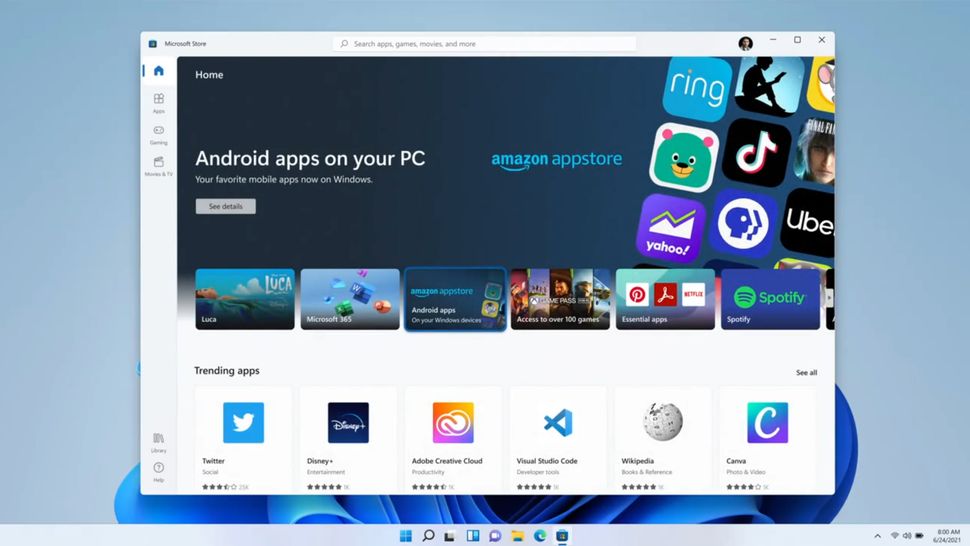 Es un movimiento ingenioso. Permite que haya más aplicaciones en la nueva Microsoft Store con un esfuerzo mínimo por parte de Microsoft. Ayuda a convertir su App Store en un rival importante de la Mac App Store de Apple, que ahora tiene aplicaciones de iOS en los Macs M1.
Y con las extensiones disponibles para Microsoft Edge también en la Microsoft Store, es una camino fantástico para que los usuarios descubran aplicaciones que no habrían encontrado antes.
Por el momento, la Windows 11 de 'preview' no incluye apps de Android. Tendremos que esperar para ver si realmente funciona bien o no. Pero, sobre el papel, es una jugada inteligente.
Sign up to receive daily breaking news, reviews, opinion, analysis, deals and more from the world of tech.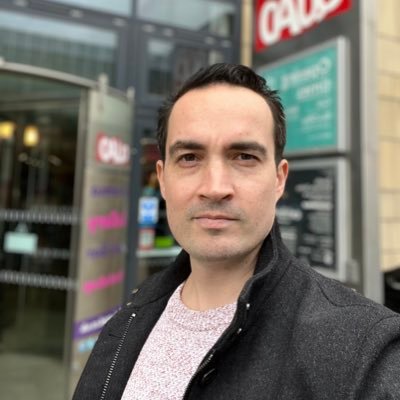 Software & Downloads Writer
Daryl had been freelancing for 3 years before joining TechRadar, now reporting on everything software-related. In his spare time he's written a book, 'The Making of Tomb Raider', alongside podcasting and usually found playing games old and new on his PC and MacBook Pro. If you have a story about an updated app, one that's about to launch, or just anything Software-related, drop him a line.