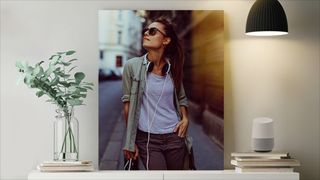 You sometimes wonder if the constant evolution of technology has left any room for the more traditional means of photo preservation and display.
With image-based social media, super-sized SDs and cloud services taking over, we seem to be losing the lovely, tangible and tactile experiences a printed photo can bring.
Thankfully the medium hasn't disappeared, to be replaced with umpteen Facebook uploads. With around 30 billion photos printed every year (across all formats), there's still a massive appetite for the printed picture, and CanvasDiscount.com has been a key player in keeping the form going strong.
With years of experience in personalized photo printing, the experts from the acclaimed printing service demonstrate exactly what it is that makes customized photo prints so popular, and why the demand for personalized photo products keeps growing.
There's one medium that seems to dispel any notion of an impersonal high-tech future robbing our daily lives of more authentic experiences.
From niche item…to a best seller
If you're wondering if printed photos will dwindle to a forgotten medium, think again. Just look at the resurgence in love for vinyl in the face of the MP3, or the paperback against the advent of ebooks. Photo Canvas Prints follows this pattern – but with a slight difference.
While printing your photo was once a routine part of the picture-taking experience, purely due to the technical limitations of the day, canvas photo printing was introduced later as a more advanced and somewhat more meaningful form, one perfect for hanging in the home.
The story of canvas prints isn't the familiar tale as represented above, a once-popular physical format eclipsed by the virtual alternative.
This is a recent phenomenon that only picked up steam at the tail end of the 2010s; a period which also saw the birth of Instagram and a new-found appreciation for authentic – preferably classic and timeless – experiences in the world of photography.
Photo prints started to hit the mainstream alongside the more personal trend in image-based social media and a new appetite for more genuine lifestyle experiences.
Though it's undoubtedly been a niche product, from the very start photo canvas printing has gone hand in hand with our love for documenting our daily lives and for chasing the elusive quality of authenticity, whether in photography or interior design.
With more and more people looking for an affordable way to get their favorite photos printed on a real, physical wall decor piece, canvas prints have become the gold standard for every modern, Pinterest-worthy interior space.
Whether it's a photo from that life-affirming trip last summer emblazoned with a witty quote, an adorable close-up of a beloved pet or a high-definition landscape shot, this has to be the most convenient and best-value way to give your living space the personal touch.
Authentic photo experience with cutting-edge technology
We're not talking about photo canvas prints as some defiant hold-out against modern technology – after all, this is a product that couldn't exist without that tech.
At CanvasDiscount.com each pixel-perfect rendition of a cherished photo is created using solvent-free HP latex inks and state-of-the-art printing facilities.
In fact, the quality is so high that many professional photographers use CanvasDiscount.com as an inexpensive solution for exhibiting their work. And who can blame them?
Photo prints give you a faithful recreation of the original hues and resolution, it's photo printing as it should be in 2018.
But surely part of the reason canvas prints are in such high demand is that authenticity factor. Reproduced using cutting-edge technologies, your photo is printed on a canvas fabric that's then stretched over a hand-crafted spruce wood frame.
This organic quality partly explains the resurgence in popularity that canvas prints have enjoyed in the last few years, a rebuttal to being forced to see memories only on pixels.
An effortless fusion of craft and technology, canvas prints are the perfect medium when you want to give the deluxe treatment to a photo with special significance.
Disturbing the volatility
Given as an original gift for any occasion or lending the perfect finishing touch to a lovingly refurbished interior, when a premium product demands this little effort (and money!) it's just got to be worth a try.
That might be why hundreds of thousands of customers keep putting in orders at CanvasDiscount.com.
These low-cost, high-quality canvas prints turn virtual images into unique decor items with that elusive authentic feel.
With cloud technology still somewhat volatile and unpredictable, archive-quality print work can seem like a better option than a few bits of data stored away in the cloud library.
For years now, this lifestyle decor solution has been an affordable way to exhibit the work of professional photographers and enthusiasts.
It might feature a minimalist star map, a reunion photo or perhaps your favorite car, it might come as a stripped-down regular canvas or a framed photo to heighten the effect; however you customize your canvas photo print, this is a must-have feature of your living space – and a decor trend that's sure to continue to make a big impact in 2019.
Make sure your first photo canvas print is produced by experienced masters of their craft and get it printed with CanvasDiscount.com!
Sign up to receive daily breaking news, reviews, opinion, analysis, deals and more from the world of tech.