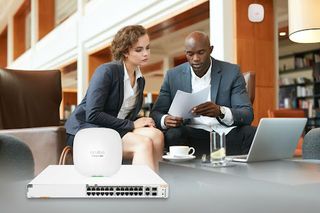 (Image credit: Aruba )
From the first steps through the door of your boutique hotel through the end of their stay, your guests are expecting a pleasant experience. Today, a dependable Wi-Fi network for guests can be just as important as hot water and a well-stocked snack bar. And if your accommodations are leaning into smart speakers and IoT devices, it's all the more critical to have a network that keeps everything running seamlessly. That's where Aruba Instant On Wi-Fi solutions come in.
Aruba Instant On networking equipment is well suited to the hospitality industry, providing a strong foundation and extensive expandability to accommodate a large environment or grow as your business grows.
Aruba Instant On AP11D and AP17 access points provide the seamless wireless networking your customers expect. An individual AP11D access point can support up to 50 connected devices, and multiple access points together to cover a wider area and more devices. With support for so many devices, it's easier to install more smart IoT devices.
The customer experience doesn't end in the lobby. Providing Wi-Fi to outdoor spaces is also valuable, and the Instant On AP17 is designed to hold up in the weather. Whether for parking lots, pools, patios, or outdoor venues, the AP17's weatherproof enclosure will keep it up and running so your clients can continue to get the same Wi-Fi they'd been loving indoors when they head outside. Smart Mesh working between all of the Instant On access points makes for a singular network that provides seamless coverage wherever your guests go.
The setup of the system is simplified for both the AP12 and AP17 access points. A single connection will carry both the data signal and power for the access points. With Aruba Instant On 1930 and 1960 network switches, you've got the beating heart of your network. You'll have simple management tools for your network, bandwidth to meet your needs today and expandability to meet your needs down the road, and robust security features to keep your guests and your business's information protected.
Managing the network is simple through the Aruba Instant On app or web portal, which provide convenient remote network management tools running on AWS cloud. You'll be able to see the devices running on the network and their activity, helping keep everything running smoothly with simplified troubleshooting and easy identification of bandwidth hogs.
You can find out more about what Aruba Instant On can do for your hospitality business right here.
Sign up to receive daily breaking news, reviews, opinion, analysis, deals and more from the world of tech.