UPDATE: We're collecting all the best Cyber Monday and Black Friday deals on our main Black Friday 2017 hub. So if you missed out on shopping in-store during Black Friday, there'll be plenty of savings online in less than week. So jump onto our Black Friday page as the bargains continue into next week.
The frenzy that is Black Friday can rush by in what feels like the blink of an eye, but if you miss out on those amazing deals, there's always Cyber Monday to look forward to.
Read more: Samsung CHG70 QLED Gaming Monitor
It's Black Friday's online sibling, having made it way Down Under to become popular with retailers trying to capitalise on pre-Christmas shopping sprees.
There's hundreds of dollars to be saved during Black Friday and Cyber Monday, but shoppers will need to pounce on a bargain they want real quick as most good deals sell out in minutes.
That's why we'll be listing all the best Cyber Monday deals right here, so you won't have to spend time and energy chasing up the best bargains, and we fully expect it to outdo last year's sales.
Although there are no official sales figures available for Cyber Monday 2016 in Australia, discount coupon platform CupoNation reported that about 60% of the shoppers were women, most of whom were 34 years or younger.
When is Cyber Monday 2017?
Cyber Monday 2017 falls on November 27 this year. It's always the Monday after Black Friday, or the Monday after Thanksgiving in the US.
Unlike Black Friday, where the focus is traditionally on brick-and-mortar stores as well as online retailers, Cyber Monday is more about shopping on the web. In fact the marketing term was first dreamt up as a way to get people to buy more of their stuff online, at a time when web shopping wasn't as familiar and as straightforward as it is now.
The term 'Cyber Monday' was first coined in 2004, but since then has become a huge deal on its own in the last decade in the US, and is becoming increasingly more popular in Australia over the last five years.
The weekend of Black Friday and Cyber Monday isn't just significant for sales – it also represents the beginning of the Christmas shopping season. It usually helps to have some idea of your holiday shopping lists before the weekend so you can take full advantage of all the sales at your disposal.
However, deals come in hot and fast on Black Friday and Cyber Monday, and you'll no doubt find great savings on tech and other items you didn't even know you wanted!
Why Cyber Monday matters
Cyber Monday drives strong sales for retailers, kickstarting the Christmas shopping season, and gives consumers access to some very decent bargains – it's a win-win for both sides, so it's no surprise that Cyber Monday continues to grow in popularity.
Cyber Monday also highlights changing trends in how people use the internet. Cyber Monday 2016 marked the first time ever that people spent more than US$1 billion on products bought from their phone.
Not only that, but it also marks a shift in how retailers treat the holiday season. While they may have sold huge numbers of products during Black Friday, they need to make sure there's enough stock for Cyber Monday sales, too, or risk losing out to competitors who have enough stock for both.
You have to acknowledge the influence of Black Friday as well, because without Black Friday there's no Cyber Monday. If you've missed out on the weekend sales or not had time to get online, then you've got Cyber Monday to fall back on, and to a large extent it's about shoppers taking up the last opportunity to land a deal before December starts.
What to expect from Cyber Monday 2017
All the usual benefits of online shopping apply to shopping on Cyber Monday 2017: you can do it from the comfort of your own home – or lock yourself away in your office toilet – you can compare dozens of products and prices in seconds, and you can purchase your goods almost instantly.
With the tech landscape shifting quite a lot over the last year, we now have better phones, new TVs, updated smart home devices and more.
In the past few years, Black Friday and Cyber Monday have merged into a solid week of non-stop deals, so it's possible that we'll see Cyber Monday deals start earlier in the weekend and last until Tuesday.
That doesn't mean, however, you should wait until Tuesday to make your purchases as plenty of products will likely run out of stock during the weekend, and if you see a deal that fits what you want, you should probably pull the trigger.
You'll see all the good deals at the start of the weekend, but as Cyber Monday wears on, the deals will get even more intense. It's a balancing act – you don't want the products to go out of stock, but you still want to find the best deals out there.
The best way to go about your shopping is to keep an eye on this page as we get closer to Cyber Monday. We'll keep this page updated as time goes on with the best Cyber Monday deals available.


Predicting the best Black Friday deals of 2017


iPhone 8
The iPhone 7 is still the go-to iPhone, but by the time Cyber Monday 2017 rolls around we'll have another iPhone on offer – the iPhone 8. Rumoured to feature an edge-to-edge display and wireless charging, the iPhone 8 will likely be on sale from both carriers and retailers. So if you're in the market for a new top-tier phone, Cyber Monday 2017 will be a good day for you.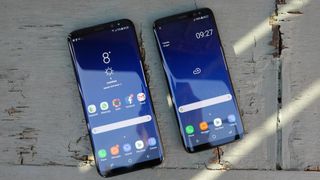 Samsung Galaxy S8
If Android is what you're after, the Samsung Galaxy S8 could be the phone to buy. The newest Galaxy features impressive specs like the Exynos 8895, as well as Samsung's new Infinity Display, which is big, beautiful, and super bright. By the time Cyber Monday rolls around, the Galaxy S8 will have been out for some time, which makes it a perfect candidate for massive price cuts.


PS4 Pro
The latest and greatest version of Sony's PlayStation is the PS4 Pro, and it's expected to feature heavily in Cyber Monday 2017 sales. In fact, we're all but sure it will since during Cyber Monday 2016 we saw a ton of deals for its predecessor, the PS4 Slim. Most notably, PS4 Pro Cyber Monday deals will include can't-miss bundles, complete with controllers, accessories, and games.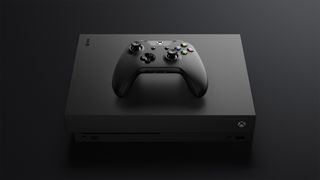 Xbox One X
The Xbox One has got a new sibling; Microsoft's so-called Project Scorpio has been revealed as the Xbox One X, and it's quite a console. Not only does it feature full 4K gaming, but it also already has a massive 22 games that will support its powerful performance features, including titles like Forza 7, Anthem, and more. The launch price of the Xbox One X is set at $649, but hopefully we can expect it to drop a little during Cyber Monday 2017, and maybe we'll see some neat bundles too.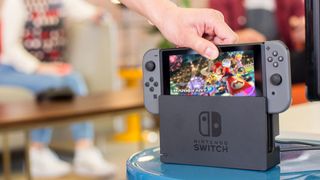 Nintendo Switch
A bigger focus will be placed on Nintendo this year as the company has finally unveiled the Nintendo Switch console. The Switch features a ton of great games, including The Legend of Zelda: Breath of the Wild, but by the time Cyber Monday rolls around you can bet there will be a lot more ready to play. Expect some serious Nintendo Switch deals this year.


4K TVs
Black Friday and Cyber Monday have traditionally been great times to buy TVs, and this year will be no different. From LG to Samsung to Panasonic, expect massive deals on the best TV technology. You'll get huge discounts on 4K TVs, as well as lower-resolution TVs, so no matter how much you're willing to spend there should be a screen for you.


Cameras
Cameras may not be as heavily featured as TVs, but that doesn't mean they don't see solid savings later in the year. DSLR cameras from the likes of Nikon and Canon, as well as GoPro cameras, will all get eye-catching discounts, namely through retailers like Amazon, Best Buy, and more.


Laptops
If you're looking for a new daily driver in terms of a computer, then Cyber Monday is a great time to go shopping. There were plenty of discounts on laptops last year and this year could see more, including gaming laptops and Apple's latest range of MacBooks.


Headphones
From Beats or Bose to Jabra or JBL, there are sure to be plenty of sweet savings on headphones. This year, the so-called 'true wireless' form factor is a little more popular, so it's expected we'll see discounts on those headphones from the likes of Apple and Samsung. If you're more into over-ear and on-ear headphones, you'll still get access to plenty of discounts, so keep an eye open for those.


Cyber Monday 2017 FAQ
What is Cyber Monday?
Cyber Monday is the biggest day for online deals of the year. It's the Monday immediately after Black Friday, and the day when retailers shift their attention away from sales in-store and towards sales online.
When is Cyber Monday?
This year, Cyber Monday falls on November 27. Black Friday is on November 24.
Where are the best Cyber Monday deals?
Cyber Monday deals happen all over the web, but the best place to stay on top of them is, of course, right here on TechRadar. We'll be updating this page with new deals as we find them, and we'll tell you whether the discounts are really worth it or if you should keep looking.
How do I get the best Cyber Monday deals?
There are plenty of things to keep in mind when you're shopping for new deals. For starters, it's best to make a list of things you actually want so you can avoid falling into sales traps during the day and buying products that give you buyer's remorse. It's also a good idea to note beforehand how much you're willing to spend as it's easy to spend more than you otherwise might.
How do I stay safe while buying things on Cyber Monday?
We recommend always buying from companies that you know are legit. The likes of JB Hi-Fi, Myer, Apple, Harvey Norman and other big names like these are your best bet for safety online, but even then it's a good idea to look into things like return policies.
Be very wary of phishing emails as these can be a big source of income for scammers. In fact, even if an email does appear legitimate we recommend going straight to the website offering the products rather than clicking on links in emails.