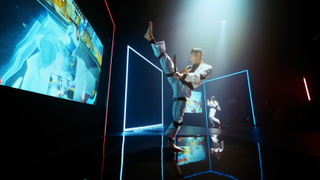 (Image credit: AXIS)
Singapore-based tech company Refract Technologies is here to define the future of virtual reality (VR) with its innovative AXIS (Active XR Interface System) technology, which is a cross between a full-body game controller and a professional real-time motion capture system.
AXIS is completely wireless, removing the need for any external base stations. This delivers untethered freedom of movement, so you can use your body as a real-time game controller even in tighter spaces.
With its interchangeable and easily-replaceable parts, it's also easy to set up and won't break the bank, making AXIS a game-changer for those looking for a user-friendly, reasonably-priced motion-capture solution.
Plus, with Refract already having hit its crowdfunding campaign target - now is the time to get involved before the deals are gone.
Feature-filled VR
That's not to say it's lacking in features. AXIS is composed of nine individual sensors placed strategically across the body as well as an on-body wireless hub, allowing for highly accurate inside-out tracking.
It's designed to plug and play with a number of the most popular VR content libraries and is IPX5 certified for worry-free water and sweat resistance. This makes the system ideal for fitness applications; it's attracted the attention of the World Taekwondo Federation, which is currently working alongside Refract to organise an official virtual sports programme.
It's not just a system designed only for athletes, either. Refract has built AXIS to tailor to three distinct setups depending on a user's needs: Standard, VR, and Creator. So whether you're into normal video games, VR experiences or an animator who needs to use AXIS for motion capture, all bases are covered.
More bang for your buck
Despite this unique approach to full-body motion capture, AXIS is frequently compared to other VR systems on the market. However, the differences couldn't be clearer.
Many other products on the market have a high base cost, not to mention the ongoing licensing and subscription fees they demand each month.
AXIS, on the other hand, delivers an affordable experience, all while offering premium features such as its low-latency real-time tracking capabilities, plus free software updates for all customers.
Compatibility is another major difference between AXIS and a number of its competitors. While many systems lack support for services such as OpenVR, OpenXR, SteamVR, these are supported out-of-the-box with AXIS, which also offers open-source plugins for both Unreal and Unity.
The world is shifting towards adopting mixed reality as a way of life, from commerce and entertainment to social activities and even fitness.
Systems that require you to connect it to your PC and rely on third-party sensors for motion sensing simply cannot deliver this vision, whereas AXIS - with its completely wireless, interchangeable experience - is embracing our mixed reality metaverse future.
Community-first VR
AXIS is embracing its passionate community, too. Refract is building a vibrant ecosystem to engage and maximise community involvement and to encourage the development of user-generated content.
Looking forward, it also plans to hold regular developer Q&As, and to develop the AXIS input generator for even non-tech savvy users to easily map custom gestures, and the AXIS App Centre for community apps and tools.
If you want to be part of this growing community, now is the time to back AXIS on Kickstarter.
AXIS has already exceeded its crowdfunding target of £72,000 and there is now one week remaining to get in on the campaign. Refract is offering backers some big discounts for pledging early, plus a copy of Freestriker, the company's own in-house title that's being built specifically for AXIS.
Sign up to receive daily breaking news, reviews, opinion, analysis, deals and more from the world of tech.