The Nama J2 Juicer has earned an almost cult following due to its all-in-one, hassle-free design. It can turn any fruit or vegetable into fresh juice with very little effort, and it automatically separates the skin, pulp, and seeds with ease. This means you can toss everything in with minimal prep work, and mix different fruits together to create your own unique juice blends. All of this does come at a price, and its versatile design makes it a little fiddly to set up, but it's worth the investment if you're a regular juicer.
Pros
+

Creates fresh, tasty juices with minimal effort

+

Allows you to combine multiple fruit and veg in one go

+

Can be used to make juices and smoothies
Why you can trust TechRadar We spend hours testing every product or service we review, so you can be sure you're buying the best. Find out more about how we test.
One-minute review
I love the idea of making fresh juices at home. It's a great way to up the amount of fruit and veg I have in my diet, as well as increase how many vitamins my kids consume. Yet even with the best intentions, I rarely have time or the motivation to chop and peel bags of fruit and veg in order to achieve this ambition.
So when I saw the hype around the Nama J2 Juicer, my interest was well and truly piqued.
Nama claims that its J2 juicer removes the hassle of making homemade juices and smoothies by allowing you to combine multiple fruit and veg, in layers, inside a large hopper. You then turn the dial and the juicer does the rest – creating unique juice and smoothie blends that contain all the goodness from the food while removing all the waste. No pulp, pips, skin, or waste.
And in my experience with the Nama J2 over the past two months, it lives up to these promises, as well as the hype. It looks great, combining a retro 1970s feel with modern styling; it allows you to throw in any fruit and veg and create batches of juice in minutes, with minimal preparation. The juices it makes are as fresh and tasty as you buy in stores or get on holiday and it's definitely encouraged me to add more fruit and veg to my family's diet. So much so, I'd say it's one of the best juicers, if not the best juicer I've ever tested.
It's not perfect – it comes with a hefty price tag, can be fiddly to set up, and is one of the largest juicers I've used. There are also a couple of design elements, such as the low position of the spout, that detract slightly from its performance. However, if you're a juice fanatic and have the money to spare, I think it's worth the investment.
Nama J2 Juicer review: Price and availability
List price: $550/£599
US/UK
Available to ship internationally to AUS
The Nama J2 Cold Press Juicer is available in the US for $550, in black or white, directly from Nama. It can also be shipped internationally with a choice of either an Australian, European, or UK plug. However, shipping fees for doing so range between $100-$200 and the price varies based on the conversion rate at the time of sale.
In the UK, it's available in both colors via official reseller, UK Juicers, for £599.
Nama sells a cheaper model called the Vitality 5800 J1 Cold Press Juicer. It costs $399/£399 and has a smaller hopper than the J2, but it does come with three different strainers for juicing, smoothies, and sorbet. The J2 only offers juicing and smoothies.
The Nama J2's closest like-for-like juicer – in terms of price, design, and features – is the Hurom H-200 Slow Juicer. It costs $499/£519 and has a similarly large hopper that can be used to juice whole fruits and make drinks with multiple fruit and vegetable ingredients.
At the more expensive end of the spectrum is the Kuvings Whole Slow Juicer REVO830W. It has two different-sized chutes where you can feed in different-sized fruit and vegetables, as well as a smoothie, and sorbet strainer. For these extras, the Kuvings is $150 more expensive than the US version of the Nama at $699, yet costs the same in the UK, at £599.
Nama J2 juicer review: Design
Three-tiered design is attractive and sturdy
Separate juice and pulp spouts, and containers
Fiddly setup
The Nama J2 is one of the heaviest, bulkiest, and tallest juicers I've reviewed, weighing 12.1 lbs/5.5kg and measuring 9.8 x 9 x 17.7 inches/24.9 x 22.9 x 45.1cm. Yet it's also one of the most attractive, combining a modern-looking base and mechanisms with a retro, 1970s ribber plastic hopper.
The juicer comes with a three-tier system. The first tier consists of its wide, bulky base where its motor and power dial is found. This dial can be set to On, Off, and Reverse.
The second tier is a plastic chamber that contains a thick, black auger used to squeeze and press the juice from the fruit and direct it toward the juice spout. The rotating auger sits within either a juicing or a smoothie strainer – depending on what drink you're making – and a spinner brush on the inside of the chamber catches and brushes pulp and skin toward the pulp chute.
The third tier is a large, tall hopper. This is where you layer your fruit and vegetables ahead of juicer or making smoothies. It's this hopper that gives the Nama J2 its height, and its large size is what lets you make large batches of juices containing multiple ingredients.
When the dial is switched to the 'On' position, a small, thick plastic blade on the top of the auger gently chops pieces of fruit into smaller chunks to help them pass from the hopper into the chamber. Once in the chamber, the fruit is pressed against the strainer by this rotating auger. The juice flows toward the spout, while the pulp, skin, cores, and waste are filtered toward the pulp chute.
Should any of the pieces of fruit get stuck in the hopper, you can use the feeding chute via a hole in the hopper's lid to push it down or turn the dial into the 'Reverse' position to move the contents and clear the blockage. The juicer doesn't turn off automatically, though. You need to manually turn the dial to the 'Off' position to stop the blades and auger spinning.
The Nama J2 comes with two plastic containers – one for catching pulp and waste, and the other for collecting the juice. Despite how tall the Nama J2 is, the spout isn't high enough to fit a regular glass underneath so this juice container goes from a nice-to-have to a necessity.
The Nama J2's height and size make it a conspicuous appliance. It takes up a lot of countertop space, doesn't fit comfortably beneath kitchen cupboards, and can't be stored away without being dismantled, meaning you'll need to reassemble it every time.
Speaking of assembly, the Nama J2 is fiddly to set up. The auger has to be twisted into the exact position to make sure it sits flush with the top of the chamber. You then have to assemble the chamber and hopper before you put it on the juicer. Otherwise, it won't lock into place, and the juicer won't turn on. This isn't clear from the instructions and I had to turn to the internet for help.
To clean the juicer, you then need to remove these two tiers and twist them to separate. Trying to do this while balancing the heavy chamber and hopper on the side, and with juice and pulp dripping out, seems like an oversight for what is otherwise a well-designed juicer.
Nama J2 juicer review: Performance
Tall hopper offers maximum yield with minimum effort
Quiet, slow motor produces minimal foam
Creates flavorsome juicers and smoothies

One of the standout features of the Nama J2 is its ability to get a high yield out of your fruit and veg with minimum effort. Thanks to its large hopper, you don't have to chop your juice or smoothie ingredients into small pieces, as is the case with the majority of juicers I've tried.
You don't even need to peel them if you don't want to, although depending on the fruit and veg you're using, the results can vary if you leave the skin on. For instance, if you leave the skin on oranges, it dulls the flavor of the juice somewhat, yet if you leave the skin on pears and apples, it makes no noticeable difference to the final results.
If you're making juices with multiple ingredients, you simply layer them on top of each other – softest ingredients at the bottom; hardest at the top – and make a large batch of juice in one go. This not only makes the process of making juices and smoothies easy and fast – I made a green juice full of broccoli, ginger, celery, apple, pear, and fresh parsley in less than five minutes from start to finish – but it also means you only have to clean the appliance once.
The Nama J2 uses a mixture of crushing, chopping, and pressing the ingredients to extract the juice. Its auger spins relatively slowly, which is beneficial for a number of reasons. Firstly, it means the juicer takes its time to maximize the amount of juice that is extracted.
Secondly, it means the pulp has also been squeezed, making it drier than in other juicers I've tried. This makes it less messy and thus easier to get rid of.
Thirdly, the Nama J2's slow speed creates minimal foam and froth which enhances the flavor of the juice and makes it taste clean and fresh. This slower speed does mean that it took almost a minute – 58 seconds – to extract the juice from a single apple, but it did so with very little noise, measuring an average of just 64 dB, which is about the equivalent of a normal conversation.
Nama claims that the J2's tiered, slow system – and the fact you don't have to remove the peel and other parts – helps preserve nutrients and makes the juices healthier, more flavorsome, and full of fiber. I can't vouch for how nutritious the juices and smoothies are, in comparison to other juicers I've tried, but I can vouch for just how tasty Nama J2 juices are.
The orange juices I've made using the J2 are among the best I've had, on par with the kind of fresh juice you get in sunnier climes on holiday.
In fact, I've used this juicer more than two dozen times and I've not once experienced a bad batch of juice or smoothie. Even when I left the skin on the orange, the juice was still tasty and fresh, it was just not as good as when the skin had been removed.
Despite how fiddly it can be to set up, and take apart, the Nama J2 juicer is easy to clean. It doesn't get too clogged up during the juicing process, and the spinning brush, auger, and strainer all come apart.
The juicer additionally comes with a bristle brush that helps you get rid of any pulp left in the strainer, meaning you have all bases covered.
Should you buy the Nama J2 Juicer?
Swipe to scroll horizontally
Nama J2 Juicer

| Attributes | Notes | Rating |
| --- | --- | --- |
| Price | It definitely sits at the higher end of the juicer price spectrum but it's worth it for its performance and features | 3/5 |
| Design | Solid, attractive design let down by a somewhat fiddly setup and low spout | 4/5 |
| Performance | Produces a high yield of fresh, tasty juice with minimal effort | 5/5 |
Buy it if...
You want great juice with minimal effort
The Nama J2 juicer removes almost all the hassle of creating delicious juices and smoothies thanks to its large hopper which can handle multiple fruit and veg at the same time.
You want to make juices and smoothies
The Nama J2 comes with two strainers – one that's suitable for juices, and another that's used to make smoothies – which adds to its versatility.
You're planning to make juices regularly
Due to the large size of the Nama J2, it's not easy to store either out of the way or in a cupboard. If you're planning to make juices regularly then this is fine. If you're not, it will soon become tedious having to get it out and set it up each time.
Don't buy it if...
Space is limited
The Nama J2 has a large base that takes up a significant amount of countertop space, and a tall hopper that doesn't fit easily under cupboards.
You're a casual juicer or don't want to make smoothies
If you only make juices occasionally, you may be paying for more features than you need with the Nama J2. There are cheaper juicers available that may better suit your needs.
You're on a budget
At $550, the Nama J2 is an expensive appliance and this will make it a hefty investment if you're on a budget.
Nama J2 Juicer review: Also consider
Swipe to scroll horizontally
| | | | |
| --- | --- | --- | --- |
| Row 0 - Cell 0 | Nama J2 | Breville the Fresh and Furious | Breville the Juice Fountain Cold |
| Price | $399/£399 | $199.95/ £199.95/ AUS $299 | $179.95/ £179.95/ AU$349 |
| Capcity | 1.2L | 1.5L | 2L |
| Size | 9.8 x 9 x 17.7 inches/24.9 x 22.9 x 45.1cm | 17.3 x 8.5 x 6.9 inches/ 43.9 x 21.6 x 17.6 cm | 17 x 17 x 9 inches/ 43 x 43 x 23 cm |
Not sure you need a device this large that does it all? Here's our other top picks...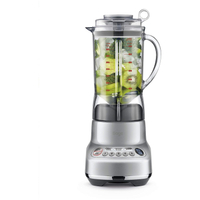 Breville the Fresh and Furious
Our favorite standalone blender as of writing is the Breville the Fresh and Furious. It's easy to use, effective, and much more storage-friendly than the Nama J2.
Read our full Breville the Fresh and Furious review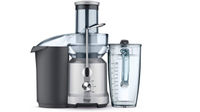 Breville the Juice Fountain Cold
Also from Breville, our favorite standalone juicer is the Juice Fountain Cold. We loved its large capacity lidded jug, easy-to-empty large pulp container and the smooth, tasty results.
Read our full Breville the Juice Fountain Cold review
How I tested the Nama J2 Juicer
I used the J2 to make fresh juices three times a week for two months
I made green juices, orange juices, carrot juices, and apple juices
I also made juice blends, and smoothies using oat milk, and yogurt
The Nama J2 took center stage on my countertop for two months. I used it three times a week to make breakfast and lunchtime juices, as well as pre- and post-workout smoothies.
Throughout this testing period, I made single-fruit juices – including orange, carrot, and apple juice. I made juice blends, including green juices as well as carrot and apple, orange and pineapple, and orange and lemon juice. I also made smoothies using a mixture of bases, including oat milk and greek yogurt. This involved switching between the two strainers. I set up the juicer as per the instructions and cleaned it as advised.
Read more about how we test
First reviewed June 2023
Victoria Woollaston is a freelance science and technology journalist with more than a decade's experience writing for Wired UK, Alphr, Expert Reviews, TechRadar, Shortlist and the Sunday Times. She has a keen interest in next-generation technology and its potential to revolutionise how we live and work.