Knowledge sharing on TikTok is one of the reasons I'm most excited about and invested in the app – and judging by the volume of content out there, I'm not the only one.
From music production to sewing, or my personal interest, digital art, as soon as you land on your creative pursuit's algorithm, your 'For You' page shall runneth over with tips, tricks, and hacks to make the most of your creative tools.
I've always loved drawing, but I never took it more seriously than the odd doodle here or there. I'm quite experimental with my art, and it takes me a while to hone my craft, so traditional art always felt quite alienating to me – especially after my high school art teacher disparaged me in front of my class, calling my style "art for children". She wasn't wrong; I wanted to be a Disney animator back then.
But when I got an iPad Pro 12.9 (2021) I decided I'd give art another go, but this time I'd use Procreate, a much more forgiving mistress than paint and canvas – and TikTok has been vital for taking my art to the next level.
Learning the ropes
I've got a pretty short attention span, and when it comes to learning technical skills I'm incredibly impatient, so those lengthy, drawn-out YouTube tutorials from days of yore always frustrated me. TikTok, on the other hand, presents me with bite-size tips, usually sped up to match the pace of the rest of the app's short-form content.
Procreate is pretty easy to use – certainly more so than Adobe's Creative Cloud software, which is aimed more at professional artists – but there's a plethora of tools and tricks of the trade that are slightly hidden from the uninitiated.
The TikTok algorithm has taken me on a real journey of learning how to use Procreate properly, and it's really evolved as I have – and it's been a fascinating insight into how the platform grows with its users.
When I first got my iPad, I was already on CreativeTok, but I started liking more videos of Procreate users as I looked for inspiration. Off the back of this, I was initially mostly served shorts along the lines of 'Common mistakes from beginners' and the basic principles of the software.
Had it not been for these kinds of videos, I could have made some pretty devastating mistakes. During the early stages of one project, for example, I learned from TikTok how to amend the DPI when changing canvas size and switch the color profile to CMYK, which ultimately saved me from spending 20+ hours on a piece of work I then wouldn't be able to print.
The next phase of learning was around some of the toolbar features, helping me learn how to shape the software's capabilities to my own needs. This was where I really started obsessing over my newfound digital art hobby, and began working on projects for family and friends while exploring different styles.
These tips included customizing and creating brushes, using the color gradient tool and creating custom color palettes, all of which have really enhanced my work, and after just a few weeks of scrolling through videos and doodling regularly, I started to actually pull together some finished works that were more complex and dynamic using what I'd learned. I began to think out of the box more, developing my own style in a way I'd never felt confident enough to before.
Over time, my feed has developed to the point where I'm getting lessons on traditional art principles, but all delivered through Procrate – everything from how to draw specific facial features to how to balance light and shade.
In many ways, it's become a real source of inspiration, but also comfort to me. When it's time to sit down and draw, I'm deliberately and confidently tackling new skills and tools in order to create something unique and entirely my own, rather than trying to retrofit a piece of software I don't understand into whatever arbitrary picture I've painted in my mind. In that sense, TikTok has taught me more than how to draw, I suppose; it's taught me how to be a better artist.
Lesson learned
One thing you can fail to realize when starting out with a new skill - especially one that involves software - is how easy it is to bake bad habits into your process. TikTok tips in themselves are useful, but having a different video pop up in my feed almost every day continues to make me hyperaware to keep on top of how I use Procreate.
The moment I realized most what an impact TikTok has had on my learning process was when I graduated to more professional-grade tools. Recently, I'm spending more time on Photoshop and Creative Cloud to upskill and try out some of the best drawing tablets, and while I do view the odd piece of content on TikTok to help me along the way, these professional tools seem to garner less interest on social media.
It's a shame really, as I'm feeling sluggish about my learning again. There's absolutely a place for long-form educational materials; TikTok simply can't replace the hours of training and experience needed to master more complex professional tools.
Still, I can't shake the yearning to scroll my 'For You' page instead of watching another hour-long 'Learn the basics of drawing on Photoshop' video on YouTube.
Good for artists, bad for art?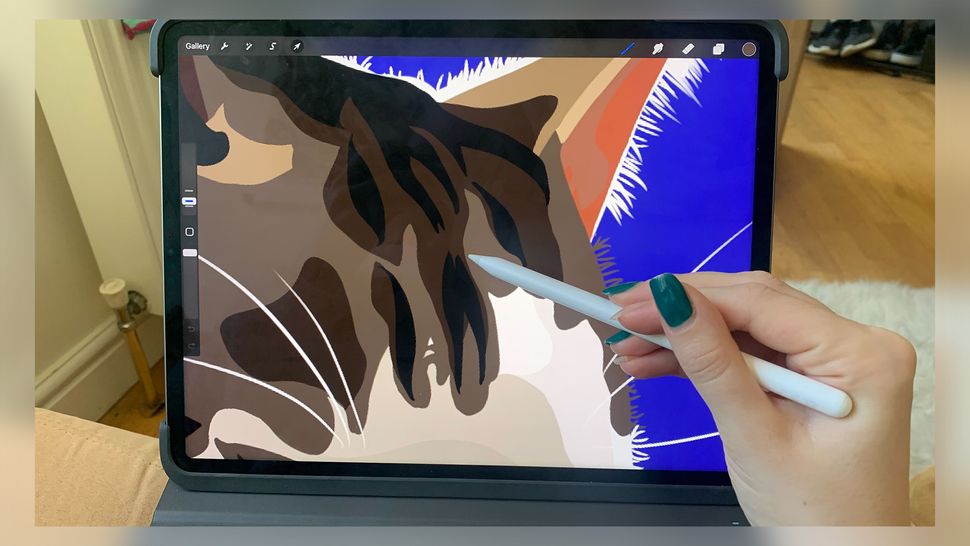 I'd be remiss not to mention the impact TikTok is having on the arts in general. Social media has profoundly changed the parameters of success for artists.
Having a strong following is a good indicator of success when it comes to selling a product, meaning those who are winning on the algorithms are significantly more likely to make a profit from their work – and this is especially true on TikTok, with the short-form content pulling in swathes of followers eager to consume and support emerging artists.
But does a strong following equate to good art? Not necessarily; and we're already seeing this have a profound impact on industries like publishing and music, with the app massively boosting some users based on just a snippet of their work.
Never mind the fact that not every artist is on TikTok, limiting their appeal to publishers who may instead opt for the low-hanging fruit of ready-made hype for an artist.
As with many philosophical and moral quandaries in the age of the internet and social media, there's no simple solution or answer here, other than to make sure we explore art and artists outside of our comfort zones (and apps!) to help teach algorithms that we want to see more diverse representations on our 'For You' pages.