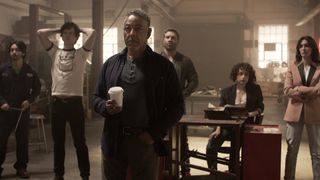 (Image credit: Netflix)
Full spoilers follow for Netflix's Kaleidoscope.
Kaleidoscope has landed on Netflix – and there's a lot to unpack from its shocking and somewhat anticlimactic finale.
After seven episodes of misdirects, mysterious puzzle pieces, and other clues, the nonlinear heist drama revealed all in its final episode. That entry – the White episode, aka the day of the heist – provided answers to most of our pressing questions about Leo, Roger, and company.
However, there are still a few plot threads left unresolved by the time the credits roll. What happened to Leo? Do Judy and Stan live happily ever after? How does Hannah get away with all that cash? And will there be a second season?
Ahead of the show's release, TechRadar sat down with some of Kaleidoscope's cast to get answers to those questions and more. Major spoilers for Kaleidoscope follow. Turn back now if you haven't watched the entire series.
Kaleidoscope ending explained: who escapes with the money?
That would be Hannah (You season 4's Tati Gabrielle), the daughter of Ray/Leo (The Mandalorian season 3's Giancarlo Esposito).
In the Violet episode, set 24 years before the heist, we learn Ray is forced to give up Hannah when he's arrested (and later imprisoned) for a robbery that goes awry. Eventually escaping prison (in Green, seven years before the heist), Ray tracks Hannah down – only to find she's working for Ray's former associate Roger (Rufus Sewell), who betrayed Ray during that failed burglary.
Ray and Hannah have an emotionally charged reunion in Green's final scenes, with Hannah refusing to forgive Ray for abandoning her. However, when Ray – now going by Leo to evade the law – reveals his plan to rob Roger's seemingly impenetrable vault, Hannah agrees to be his eyes on the inside.
Unfortunately for Ray (and the rest of his crew), Hannah double-crosses them. As the gang moves the $7 billion worth of bonds out of Roger's vault, Hannah throws a spanner in the works. With the help of her roommate, a mail delivery employee in Roger's security firm, Hannah steals the bonds, replacing them with colorful pieces of paper (how Kaleidoscopic, eh?), and escapes with the gang's entire earnings.
The only person who finds out about Hannah's betrayal is Ray who, despite being stabbed in the back (again), later reveals he fully understands why Hannah acted as she did. Hannah's decision is all the more forgivable to Ray as he's slowly succumbing to Parkinson's, so he can't enjoy his winnings. Meanwhile, Hannah has a child to bring up. In Ray's mind, then, the fortune is better spent helping his daughter and grandson live a happy and healthy life.
Explaining the rationale behind Hannah's decision to rob Leo's gang, Gabrielle said: "It's not about the money for Hannah. It's more a catharsis that she did something good. On the day Leo leaves her, he tells her people don't do what they're supposed to do. And I don't think we, as adults, realize what things kids are going to hold onto – a parent's choices don't always help in the long run.
"Hannah doesn't learn about her father's lifestyle until later but, when she does, she knows she has to help her father find peace with himself. She knows he tried to get away from it, so it's her job to forgive him and understand he did the best he could. That's the credo she lives by."
Kaleidoscope ending explained: what happens to Bob?
In short: he's dead. Bob is shot multiple times by the FBI after Ray tips them off about his location in the Pink episode, which takes place six months after the heist.
For most viewers, the ill-tempered and menacing (albeit emotionally damaged) Bob gets what he deserved. First, Bob tries to coax Judy into double-crossing Ray's gang and stealing the $7 billion for themselves. He nearly gets caught during a diamond district heist and severely injures his hand as he escapes in the Yellow episode, which almost throws the main heist into disarray, too. Then, during the heist, he gets RJ killed, tries to murder Stan, and is seemingly strangled to death by Judy.
However, Bob survives and begins a quest for vengeance on those who wronged him. With the help of two mercenaries, he tracks Ray and Ava down, gets Ava killed, steals the last of Ray's money (and Ava's stash of weapons), locates Judy and Stan (who are now romantically involved), and plans to murder them. Thanks to Ray's tip-off, though, the FBI put Bob down before he hurts anyone else.
For Jai Courtney (The Suicide Squad), who plays Bob, his character's fate was always likely to end in such a way. However, Courtney suggests Bob isn't the only one looking to deceive his allies, which makes his desire for payback relatable.
"That's a thread throughout the show that you see with other characters," Courtney muses. "There's the potential for everyone to backstab each other so, when Bob sees an opening, he takes it. As for what happens after, I think it's just all in the moment for him. There are obstacles thrown in his way and decisions that need to be made on the spot. It's cool that some people will see Pink before any other episode and, based on how things are structured, might end up sympathizing with Bob as the story progresses."
Kaleidoscope ending explained: what decision does Judy make?
We were unsure, but Rosaline Elbay (Ramy), who plays Judy, has a definitive answer for us.
In the Pink episode, Judy has rekindled her romance with Stan – they were together before she met Bob – and the pair are managing to stay off the FBI's radar. However, with the couple running out of money, Judy is forced to sell a piece of jewelry Bob gave her. Stan takes the bracelet to a pawn shop, whose security cameras pick Stan up. That leads the FBI to their location, which just happens to be the same place that Ray sends Bob to before alerting the FBI to Bob's whereabouts.
As Stan tucks into a meal at a nearby street vendor (and Bob and the FBI engage in a shootout), Judy spots Bob's car in a parking lot. Investigating the vehicle, she finds the money and passports Ray had promised them, which Bob robbed from Ray and Ava. Grabbing the duffle bag, Judy looks back at Stan before staring out at the open road.
So Judy has a big choice to make: she can leave Stan to be found by the FBI (after they take out Bob) and escape on her own with the money and passports in Bob's car. Alternatively, she can race back to Stan, quickly explain everything, and run together to get their happy-ever-after moment. So, what does she choose to do?
"It's interesting," Elbay says. "Eric [Garcia, Kaleidoscope's showrunner] and I talked about it during filming. We had differing opinions so we said 'let's see how we feel as time goes on', and we did. There's a version where Judy definitely goes back to Stan, but there's also one where – and this is my personal leaning – Judy needs some time by herself to process everything that's happened over the past few years.
"I think that's true of Judy and Hannah. There's a lovely potential for people breaking out of cycles, which have kept them trapped for a long time, in Kaleidoscope. So I think this is Judy figuring herself out and, maybe in a couple of years, she'll call Stan and say 'let's set up a taco truck'. But she needs a few months to clear her head, so I think she leaves him there."
Kaleidoscope ending explained: is Ray alive? And what does he leave in Roger's vault?
We have the answer to one of those questions, but not the other.
Let's start with the item Ray leaves in Roger's vault. During the Violet episode, the pair fail in their attempts to steal jewelry worth millions of dollars, including a necklace with a violet-colored gemstone (who saw that coming, eh?) as the, erm, crown jewel of the collection. It's during this robbery that Roger betrays Ray, which sets Kaleidoscope's heist-based events in motion.
After Ray's gang has robbed Roger's vault, Ray returns to the vault to leave a calling card for Roger so he knows who stole from him. What's the item Ray leaves behind? The violet gemstone necklace. When the FBI arrives to inspect the scene, they realize Roger was Ray's partner in the robbery 24 years prior, which leads the FBI to arrest and imprison Roger. Anyway, the series' final shot sees Ray placing that necklace in Roger's personal vault; the camera lingering on Ray's face before the credits roll.
Asked if Garcia gave him any indication of what was going through Ray's mind during that moment, Esposito says: "No. I think the exciting thing about Kaleidoscope is that things aren't nailed down, so it's open to interpretation. When you look into Ray's eyes, I think you see a number of things. He might see things he's done but, from an audience perspective, he's tired. He's done. He would love to have that unconditional love from his daughter again, but he can't because of what he's done, even if she's forgiven him for it."
As for whether Ray lives or dies, that's also left up in the air. In the Pink episode, we see an increasingly frail Ray walking alone in a park with a suitcase. As he walks through a dark tunnel, a shadowy, armed figure is shown to be following him. The mysterious man draws his handgun and points it at Ray's head. However, the screen turns pink as a gunshot is fired, leaving Ray's fate unknown.
Esposito declined to comment on Ray's ambiguous ending or whether a second season of one of the best Netflix shows we've seen in a while might be greenlit. However, The Boys season 3 actor indicates which outcome he prefers to see in his own mind.
"I want Ray to walk through that tunnel and see Hannah again," Esposito says. "I want him to have that final hug. Parkinson's is a devastating, uncontrollable disease, but you can fight it and Ray has that fight in him again. As he walks, you don't know if he makes it but, at this point of his journey, he doesn't want any more loss. He just really wants to live."
Kaleidoscope is available to stream in full on Netflix now.
Sign up to receive daily breaking news, reviews, opinion, analysis, deals and more from the world of tech.
Senior Entertainment Reporter
As TechRadar's senior entertainment reporter, Tom covers all of the latest movies, TV shows, and streaming service news that you need to know about. You'll regularly find him writing about the Marvel Cinematic Universe, Star Wars, Netflix, Prime Video, Disney Plus, and many other topics of interest.
An NCTJ-accredited journalist, Tom also writes reviews, analytical articles, opinion pieces, and interview-led features on the biggest franchises, actors, directors and other industry leaders. You may see his quotes pop up in the odd official Marvel Studios video, too, such as this Moon Knight TV spot.
Away from work, Tom can be found checking out the latest video games, immersing himself in his favorite sporting pastime of football, reading the many unread books on his shelf, staying fit at the gym, and petting every dog he comes across.

Got a scoop, interesting story, or an intriguing angle on the latest news in entertainment? Feel free to drop him a line.