If you're in the market for a new laptop, Walmart offers great deals on a wide array of machines. Whether you're shopping for a top-of-the-line machine or an economical bargain, Walmart has many options.
We've scoured the Walmart laptop department for the best prices on our favorite machines, which as with most things, are some of the lowest around. Further down the page you'll find additional options if you haven't yet found something to your liking.
It's always worth thinking about whether you can wait and get a better deal around the Holiday season - it just depends how patient you really are.
And, for now, be sure to check out these other Walmart deals:
Our favorite laptops at Walmart
Dell XPS 13
The best laptop is now even better
CPU: 8th generation Intel Core i5 – i7 | Graphics: Intel UHD Graphics 620 | RAM: 8GB – 16GB | Screen: 13.3-inch FHD (1,920 x 1,080) – 4k (3840 x 2160) | Storage: 256GB – 1TB SSD
Centered IR webcam
Gorgeous new design
Beautiful optional 4K display
Steeper starting price
White option is pricier
Riding the top of our best laptops list for three years running, the 2018 revision of Dell's flagship continues the trend of excellence. The 2018 Dell XPS 13 is a slimmer, more powerful version of the award-winning laptop with a stunning 4K display and a gorgeous Rose Gold on Alpine White color option. Packing an 8th-generation Intel Core i5 or i7 CPU and a bezel-less 'Infinity Edge' display, this Dell XPS 13 is more expensive, but its still worth every penny. It's no wonder the Dell XPS 13 continues to be the most popular Windows laptop in the world. Better yet, there's a wide range of customization options, so you can make the Dell XPS 13 the best laptop for you.
Read the full review: Dell XPS 13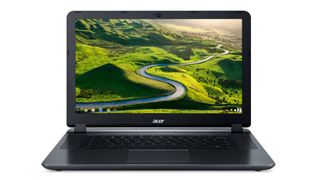 Acer Chromebook 15
Battery life like no other
CPU: 1.5GHz Intel Celeron 3205U | Graphics: Intel HD Graphics | RAM: 4GB | Screen: 15.59-inch, HD (1,920 x 1,080) touchscreen | Storage: 32GB SSD
Stunning battery life
Attractive, fanless design
Trackpad feels clunky
While it may be outclassed by the Pixelbook and the Samsung Chromebook in terms of sheer power, the Acer Chromebook 15 can still pack a wallop while providing battery life that is frankly out of this world. It's rare that a laptop can truly provide all-day battery, but in our independent battery tests, Acer's Chromebook lasted an astonishing 17 hours – on top of providing enough power to get your work done online. If you're looking for a 15 inch Chromebook that will give you the most bang for your buck, look no further.
Read the full review: Acer Chromebook 15
Dell Inspiron 15 7000 Gaming
The best gaming laptop for those on a budget
CPU: Intel Core i5-7300HQ (quad core 3.5GHz) | Graphics: Nvidia GeForce GTX 1050 Ti + Intel HD Graphics 630 | RAM: 8GB DDR4 | Screen: 15.6-inch, Full HD | Storage: 256GB SSD
Fantastic value
Great battery life
Touchy track pad
Screen isn't the best
If you're after a new gaming laptop and you don't have the kind of money that you need for the Asus ROG Zephyrus GX501, the Dell Inspiron 15 7000 Gaming laptop is your best option. It comes in at well under half the price and offers absolutely fantastic value for money. The Nvidia GeForce GTX 1050Ti graphics chip is easily powerful enough to lubricate the best games on the built-in 1080p display while general performance in Windows is super slick thanks to the Core i5 CPU. If you're going to be moving around a bit, you'll be pleased to know that the battery life on this laptop is also superb; we got nearly 8 hours out of it while watching HD video. A gaming session with Tom Clancy's The Division on medium settings for two hours only dropped the battery to 66%. This is far better than similarly priced rivals. So in the reasonably-priced category, the Dell Inspiron 15 7000 is definitely the best laptop around at the moment.
Read the full review: Dell Inspiron 15 7000 Gaming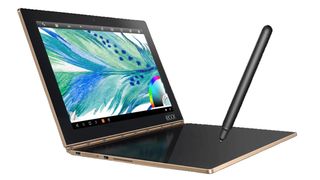 Lenovo Yoga Book (Windows 10)
The netbook of the future – the ultra netbook?
CPU: 1.44GHz Intel Atom x5-Z8550 | Graphics: Intel HD Graphics 400 | RAM: 4GB | Screen: 10.1-inch FHD (1,920 x 1,200 resolution), IPS touchscreen | Storage: 64GB flash storage (plus 128GB with microSD)
Insanely thin and light
Keyboard surprisingly accurate
Woefully underpowered
Dated microUSB port
The Lenovo Yoga Book, and the Windows 10 version of it in particular, is the sort of futuristic fodder you would find in an episode of Black Mirror. It has a keyboard that doubles as a Wacom touch panel and, best of all, it's cheap as hell. Now, of course, that comes with the caveat of a weak Intel Atom processor, but the rest of the Lenovo Yoga Book should go down in the history books.
Read the full review: Lenovo Yoga Book
Asus Chromebook Flip
Premium Chromebook specs, economic Chromebook pricing
CPU: Intel Pentium 4405Y – Intel Core m3-6Y30 | Graphics: Intel HD Graphics 515 | RAM: 4GB | Screen: 12.5-inch, FHD (1,920 x 1,080) LED backlit anti-glare | Storage: 32GB – 64GB eMMC
Elegant tablet mode
Tactile keyboard
No out-of-box Android app support
Middling speakers
When it comes to the best Chromebook laptop, you have a choice between two stark alternatives. There's the premium Chromebook Pixel and this one, the excellent Asus Chromebook Flip C302, which combines premium features in a much more affordable package. Chromebooks are excellent and affordable laptops that are perfect for students, and the Asus Chromebook Flip C302 is easily one of the best Chromebooks — and one of the best laptops — money can buy. It comes with an Intel Core processor, full 1080p display, touchscreen, backlit keyboard and USB-C port.
Read the full review: Asus Chromebook Flip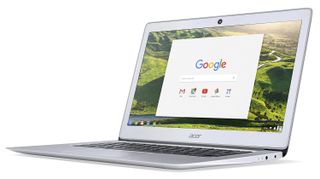 Acer Chromebook 14
Meet the anti-MacBook Air
CPU: Intel Celeron N3160 | Graphics: Intel HD Graphics 400 | RAM: 4GB | Screen: 14-inch FHD (1,920 x 1,080) display | Storage: 32GB SSD
Top-notch build quality
Solid keyboard and touchpad
Full HD display
Flaky HD video playback
With its slick lines and a slim silhouette, the Acer Chromebook 14 makes for a subtle, snazzy laptop. Although its display isn't the most attractive we've seen, it's still acceptable for full HD. On top of that, the keyboard and trackpad adhere to the principle of 'it just works.' The battery life is satisfactory as well despite falling a bit south of Acer's 12-hour claim in real-world use.
Read the full review: Acer Chromebook 14
Dell XPS 15
The best 15-inch laptop available this year
CPU: Intel Core i5-7300HQ - i7-7700HQ | Graphics: NVIDIA® GeForce GTX 1050 with 4GB GDDR5 | RAM: 8GB - 16GB DDR4 | Screen: Up to 15.6-inch Ultra HD (3840 x 2160) InfinityEdge touchscreen | Storage: 1TB HDD - 512GB SSD
Amazing power
Sublime screen
Slim design
Poor webcam position
If you love the look of the XPS 13 at the top of this list, but need something a little bigger with more graphics power, the Dell XPS 15 could be the best laptop for you. Packing the same InfinityEdge technology, the screen extends right to the edge of the machine, which means it's as small as it's possible to make a 15-inch laptop. It's quite pricey, though, depending on which version you get. The very top end version has a 4K colour-accurate display, which makes it perfect for graphic design, and gaming performance is decent as long as you play at either a lower resolution or on medium settings.
Read the full review: Dell XPS 15
Acer Swift 3
A budget Ultrabook that performs better than it looks
CPU: Dual-core Intel Core i3 – i7 | Graphics: Intel HD Graphics 620 | RAM: 4GB – 8GB DDR4 | Screen: 14-inch full HD (1920 x 1080) ComfyView IPS | Storage: 128GB – 256GB SSD
Powerful for the price
Stellar battery life
Boring looks
Down-firing speakers
While you may have been convinced that "budget Ultrabook" was an oxymoron up until this point, Acer has turned this common misconception on its head with the Swift 3. That's because the company has taken the all-aluminum chassis of the Acer Swift 7 and stuffed some more affordable components inside for everyone to enjoy. It doesn't run macOS, but the Acer Swift 3 does put the age-old MacBook Air to shame in about every other regard, including the nigh-unbeatable price tag. Of course, in the process of demolishing the competition, Acer did have to cut a few corners in order to keep the price so impressively low. So although you can't expect much in the way of an Ultra HD display or quality onboard sound, the performance benchmarks alone give even the Surface Laptop a run for its money.
Read the full review: Acer Swift 3
More laptop deals at Walmart