14900K vs 13900K: putting Intel's flagship processors to the test
Which Intel flagship should you buy, 14900K vs 13900K?
Efficiency Cores: 16
Performance Cores: 8
Threads: 32
Base Clock (E-Cores): 2.4 GHz
Base Clock (P-Cores): 3.3 GHz
Boost Clock (E-Cores): 4.4 GHz
Boost Clock (P-Cores): 5.6 GHz
Total Cache: 68MB
TDP: 125W
Intel's latest flagship processor is the best-performing chip we've tested yet, but is its performance enough to make it worth the upgrade from the 13th-gen, or is last-gen's powerful flagship the better value?
For
Best-in-class performance (barely)
No price increase
Very low idle power usage
Can go as high as 6.0GHz
Against
Barely any gen-on-gen improvement
Gets extremely hot
Efficiency Cores: 16
Performance Cores: 8
Threads: 32
Base Clock (E-Cores): 2.2 GHz
Base Clock (P-Cores): 3.0 GHz
Boost Clock (E-Cores): 4.3 GHz
Boost Clock (P-Cores): 5.8 GHz
L3 Cache: 36MB
TDP: 125W
Intel's last-gen flagship Core i9-13900K is a beast in just about every area, holding its own against its successor admirably, but is it enough to hold onto the best processor crown now that the 14th-gen chips have hit the market?
For
Dominates single-core and multi-core workloads
Same pricing as 12900K
Outstanding creative performance
Against
Obscene power draw
Runs extremely hot
Lacks AMD's 3D V-cache for gaming
With the release of the Intel Core i9-14900K, naturally PC enthusiasts looking for the best processor are going to want to put the 14900K vs 13900K to the test and see which one comes out on top.
And while both processors are extremely powerful, it's important to know what you're getting if you decide to invest your hard-earned money into either of these chips, since even on sale, they're not cheap.
Because even though most people interested in the Intel Core i9-13900K or Intel's newest flagship 14900K processor are more likely to care about the two chip's specs and raw performance, it's not like the amount of value these two chips represent isn't also an important consideration.
That's why I've done extensive testing on both processors across a range of benchmarks and workloads to help you find the best processor for your needs and budget. Or, if you're just window shopping and want to see what the two best Intel processors are capable of, I have all the data you'll need to satisfy your curiosity.
14900K vs 13900K: Price
The battle between the Intel i9-14900K vs 13900K on price is currently a tie, since both chips have a US MSRP of $589 (about £470/AU$855). Prior to the launch, I haven't been able to get a clear answer on UK and Australia pricing for the i9-14900K, so it's hard to know at the moment what this latest Intel processor will sell for in those markets.
But the 13900K does have a long price history in those countries and currently sits at £699/AU$929 in the UK and Australia respectively. I fully expect the i9-14900K to sell at or around these price points as well.
The real question then becomes what happens to the price of the i9-13900K now that the i9-14900K is on the store shelves? It will almost certainly drop, so even though the price difference hasn't shaken out just yet, it will almost certainly be in the 13900K's favor starting in just a few weeks.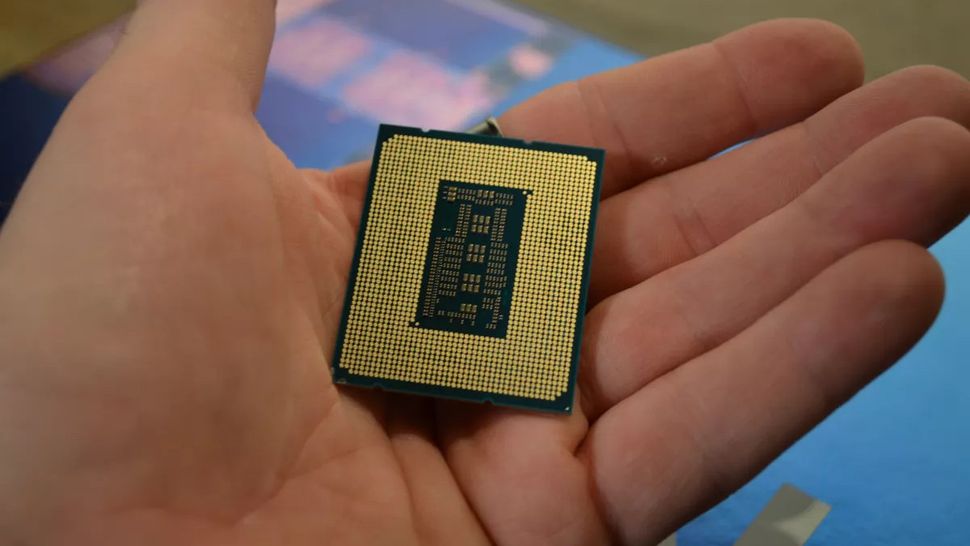 14900K vs 13900K: Specs & features
So, there really isn't much at all that's changed between the 14900K vs 13900K in terms of specs. The only difference on the tech sheet for the 14900K is some slightly faster clock speeds. In essence, the 14900K is just an overclocked 13900K.
The 14900K's base frequencies have increased by 200MHz to 3.2GHz for its P-cores and 2.4GHz for its E-cores, while its Turbo clock speed for its P-cores has also jumped up by 200MHz to 5.6GHz while its E-core turbo clock increased 100MHz to 4.4GHz.
It is worth noting that Intel also has two modes for its last two i9 processors that can boost P-core max clock speeds up from the normal P-core turbo clock maximum when it detects that one core is performing the best out of all of them. This will provide an extra 200MHz to that core so long as power and thermal limits aren't breached.
The other mode will detect if there is even more power and thermal headroom on that accelerated core, and if so, it'll boost it an additional 200MHz. This means that the i9-13900K's P-cores max out at 5.4GHz, but individual core speeds can go as high as 5.8GHz. For the i9-14900K, an individual P-core can max out at 6.0GHz under these limited circumstances, which is indeed faster than any consumer processor on the market today. When you hear Intel say the 14900K is the world's fastest processor, this is what they're talking about.
That is literally it in terms of specs. As for features, the entire Raptor Lake Refresh lineup has support for discrete Wi-Fi 7 and Thunderbolt 5, which is a real advantage, but one you can't really enjoy just yet as those technologies are only just now starting to roll out and won't go mainstream for a while yet (Editor's Note: Intel has since reached out to correct its original announcement to add that the recently released 14th-gen desktop chips will not, in fact, support Thunderbolt 5).
Swipe to scroll horizontally
Intel Core i9-14900K vs 13900K specs

| Header Cell - Column 0 | Core i9-14900K | Core i9-13900K |
| --- | --- | --- |
| Process Node | Intel 7 (10nm) | Intel 7 (10nm) |
| Socket | LGA 1700 | LGA 1700 |
| Performance Cores | 8 | 8 |
| Efficiency Cores | 16 | 16 |
| P-Core Base Clock | 3.2GHz | 3.0GHz |
| P-Core Turbo Clock | 5.6GHz | 5.4GHz |
| E-Core Base Clock | 2.4GHz | 2.2GHz |
| E-Core Turbo Clock | 4.4GHz | 4.3GHz |
| Thread Count | 32 | 32 |
| Total Cache | 68MB | 68MB |
| Integrated Graphics | Intel UHD 770 | Intel UHD 770 |
| TDP | 125W | 125W |
| Max Junction Temp | 100 ºC | 100 ºC |
Winner: Intel Core i9-14900K
14900K vs 13900K: Performance
Looking at the specs for the two chips, you can probably guess that the performance of the 14900K vs 13900K will be pretty close in the end, and you wouldn't be wrong.
Image 1 of 13
In synthetic benchmark tests, the Core i9-14900K has a 5.6% better single-core performance than the 13900K on average and just a 3.1% better multi-core performance. For productivity tasks, we're looking at a 5.3% better score for the i9-14900K, which is pretty much in line with its single-core average, as expected.
Image 1 of 7