If you've made it this far without picking up a new Xbox, you're in a great position to grab a bargain if you can wait that little bit longer. That's because we're only a few weeks away from sharing all the best Black Friday Xbox One deals with you.
We're guaranteed to see some of the best prices yet on the Xbox One S and the 4K powerhouse that is the Xbox One X in the Black Friday and Cyber Monday sales and let's face it, there's not long to wait now and the savings could will be huge. Easily enough to pick up an extra game or two with the money you'd save over buying now.
How do we know? Well, not only has our team of deal hunters been covering Black Friday and Cyber Monday for years now - not to mention every Amazon Prime Day sale - but we round up the latest Xbox One prices every week. So we know how good, or how bad prices are throughout the year. That means if we say a deal is fantastic value around the Black Friday shopping season, it's because we know it's a fantastic deal. And if we're being super honest, now's the time to hold off making any big gaming console, TV or laptop purchase as prices have crept up a little on most big-ticket items to ensure retailers can make deals seem even better next month. That's right, we're on to you guys!
When can I get the best Black Friday Xbox One deals?
Well, if you're looking to hit the sales hard on Black Friday itself, that'll be Friday November 23rd. But, that's not the only day to get a great deal, not by a long shot. Retailers get the ball rolling earlier every year, so much so we were seeing competitive deals from the beginning of November last year.
Amazon stepped things up on the discounts a few weeks later with a full week of Black Friday deals starting on the Monday, with fresh deals every day until Black Friday itself at the end of the week, with even more deals coming in over the weekend and Cyber Monday.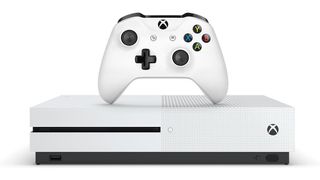 What about Cyber Monday Xbox One deals?
While the UK has well and truly adopted Black Friday, Cyber Monday - which is always the Monday following Black Friday, November 26 this year - hasn't taken off in the same way. Cyber Monday is arguably bigger than Black Friday over in the US, but that's not been the case here in the UK.
The best deals of the weekend bonanza are generally saved for the Friday, if not a few days before if retailers are getting nervous about the competition. So if you see an Xbox One bundle you really like on Black Friday, we seriously wouldn't risk holding out for something better on Cyber Monday, as it's more than likely you'll leave disappointed.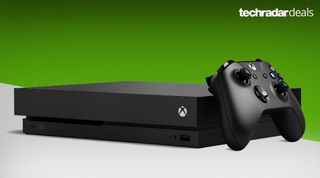 Where are the best Black Friday Xbox One deals?
Well, if you want to save yourself the bother of checking every retailer several times a day to see if they've added any fresh Black Friday Xbox One deals then we'd advise you bookmark this very page as we'll be updating it with the latest bundles throughout the Black Friday and Cyber Monday sales period. We'll compare the prices to other offers, tell you exactly what's included in a bundle and provide a link straight to it at the retailer's store.
We expect there to be a lot of competition this year here in the UK, perhaps more than ever before, as lots of different retailers vie for your hard-earned cash. The familiar retail giants will be out in force with some excellent Xbox One S deals and Xbox One X bundles.
Amazon will probably dominate and have the largest amount of stock to throw about. It might be beaten on raw value by some bundles at other retailers, but Amazon will have the largest variety of solid deals throughout November.
While we'd never advise hitting the high street stores on Black Friday (the deals are just plain awful compared to the online ones), Game's website will have some diamonds in the rough that'll we'll pick out from what's usually the home of some very overpriced bundles. Argos has had a strong 2018 so far and we expect the website to have some excellent special offers in the Black Friday sales. You'll be able to opt to pick them up from a local store if home delivery isn't ideal for you - your post person will really appreciate it too given the hell that awaits them in the Black Friday aftermath. Currys had a great selection of deals last year and it was rocking some of the best console deals out there during the first half of the summer with loads of games thrown in for the same price other stores were charging for a console with one digital game.
Those are the big fish though. Don't worry, we'll be keeping our eyes on smaller sites too as we know they've got form for busting out the big guns on Black Friday. Zavvi seemed hell bent on diving well under the £200-mark with Xbox One S deals last year and we think it'll be one of this year's dark horses once again.
We seriously miss Tesco Direct, which shut down earlier this year, as the special offer stacking at the site made the console deals amongst the very best in the land - and also probably battered its profit margins giving it another reason just shut it all down. That's why we're hopeful a site like AO.com is going to step up. AO has been an electronics specialists for a few years now, but it's only just started making an effort with gaming consoles this year and we've seen solid deals over the summer, so consider it as one to watch for sure.
Should I look out for the Xbox One S or Xbox One X?
There will be great deals on both, but let's take a quick look at which one might be best for you.
The Xbox One S, the slimmed down version of the original Xbox One is going to get insanely cheap. We've seen it with a game or two for around £230 in a few Amazon deals just after summer, it was sticking at around £250 over August with one game. And these prices have been for the 1TB version too, as it looks like Microsoft has phased out the smaller 500GB version (although don't be surprised to see some reappear as retailers move for a final clearance of them around the sales). So we're expecting prices to sink below £200, possibly even £150 with a game or two. Generally, we expect it to be cheaper than a PS4 Slim and certainly cheaper than any Black Friday Nintendo Switch deal.
If you're a fan of the best graphics you can get though, you'll be ignoring the Xbox One S deals in favour of some big discounts on the Xbox One X instead as it's been built to showcase games in 4K and HDR which is a must if you've got a modern 4K TV - if not, we're constantly on the lookout for cheap TV deals, too.
The Xbox One X came out just before Black Friday last year, giving it zero space for any discounts whatsoever. Meanwhile the PS4 Pro was at least £150 cheaper and thrashed it mercilessly into a corner until everyone frankly forgot it existed on Black Friday.
This year though, surely we'll have something to get excited about. For the vast majority of this year so far though, that hasn't been the case. The Xbox One X has generally still been £450 with one game as a mild improvement from the original £450 solo price. Occasionally we've seen Currys drop a deal with a few games out of nowhere for £399, but otherwise it's been grim out there. All while retailers have frankly struggled to keep the PS4 Pro in stock in both the UK and US.
Black Friday (and November in general) is a great excuse for Microsoft to pull its head from the sand and give us an excuse to get excited about Xbox One X bundles. We'd love to see it really go toe-to-toe with the PS4 Pro bundle prices, but given the Pro is £100 less at the worst of times and will be getting its own big discounts on Black Friday it's pretty unlikely. Sure the Xbox One X is technically more powerful, but most multi-platform games don't look that much better on the X, if at all and Sony's console is supported by a ridiculously rich collection of exclusive titles.
Anyway, in reality, with a healthy dose of optimism, let's cross our fingers for a £350 Xbox One X bundle with two or three game we've all got on our Christmas lists. We're talking anything from the likes of FIFA 19, Call of Duty: Black Ops 4, Shadow of the Tomb Raider, Forza Horizon 4, Battlefield V and so on.