Toys R Us might be on its way out due to bankruptcy, but it's going out with a bang and some of the greatest Black Friday deals this year. It'll have doorbuster deals on everything a kid of any age wants this holiday season.
Beyond sales on the usual action figures to LEGOs, Nerf guns and swing sets, we're anticipating Toys R Us bundle deals on all three major gaming consoles. Of course there are Barbie dolls, Transformers and Tickle Me Elmo TMX on the cheap. Even LEGOs fall (as in break apart all over the floor) somewhere in between, dependent upon their original prices.
Early Toys R Us Black Friday deals
Star Wars Luke Skywalker Landspeeder Ride-On
Now $299 (was $499) - $200 off
Ah landspeeders the official ride on all desert-ish planets in the Star Wars universe. What's more, you can look as cool as Luke Skywalker with this special model that's going for $200 off right now.
Nerf Rival Nemesis MXVII-10K Blaster
Now $77.99 (was $99.99) - $22 off
When it comes to Nerf battles, the biggest gun always wins and there aren't many larger than the Nerf Rival Nemesis. Thanks to a built-in compressor, you can fire this thing off like a machine gun with a simple trigger pull. This Nerf gun also comes in blue if that's more your style.View Deal
LEGO Star Wars BB-8
Now $79 (was $99) - $20 off
R2-D2 eat your heart out. BB-8 has basically overtaken the classic Star Wars mascot as the franchises' most popular droid and now you can have one in your life too with this discounted LEGO kit.
View Deal
LEGO Star Wars Millennium Falcon
Now $111.99 (was $149.99) - $33 off
The Star Wars Millennium Falcon wins the award for the most awesome LEGO kit thanks to its ability to open up. Now it's even cooler thanks to a $33 discount.
PlayStation 4 Slim 1TB Console
Now $199 (was $299) - $100 off
The PS4 Pro might be Sony's newest console, but the PS4 Slim is the most affordable gaming system you'll find on Black Friday. For $100 less than the Nintendo Switch, this console is the key to Sony's massive library of exclusive games.View Deal
Destiny 2 (PS4)
Now $34.99 (was$59.99) - $25 off
Speaking of exclusive, the best version of Destiny 2 is the one you'll play on the PS4. Sony has secured exclusive first dibs on all DLC and you can secure yourself this great deal on the still very new game.View Deal
Save $50 on any Xbox One S bundle
The Xbox One X might be the latest and hottest console upgrade this year, but now is the perfect time to pick up on a discounted Xbox One S bundle. Whether you're looking to snag a free copy of Forza Horizon 3, Battlefield 1 or Gears of War 4, you're going to save with any of these bundles.

Assassin' s Creed Origins (Xbox One)
Now $39 (was $59) - save $20
Still hot off the presses, you can get the latest installment of the Assassin's Creed franchise for a serious $20 discount.

Toys R Us ads to leak ahead of time
Wouldn't you know it - the Toys R Us Black Friday ad is here! Right before Black Friday 2017, Toys R Us posted its Black Friday Preview. Toys R Us plans to have doorbuster sales starting at 5pm on Thursday, November 23 and lasting all the way through to the time stores close on Saturday.
Sales will span everything Toys R Us sell, including the Xbox One S, PS4 Slim, video games, action figures, drones and more.
Since supply is generally low, knowing which deals you want and when they go live – and when they end – is the best way to score what you want at a discount before prices go back up. That's where the preview becomes crucial.
Early ads for Toys R Us Black Friday deals also help you stack deals from other retailers against this one's, so you can map out what to buy where, and determine alternative plans if one retailer's Black Friday deal goes out before you get to it.
Expected Toys R Us deals
Look out for Toys R Us deals on big ticket items. Game consoles like the Xbox One S, PS4 Slim, and Nintendo Switch are always hot items around Black Friday, as are all of games for these consoles.
This fall sees the release of a lot of major games now that the Xbox One X is out, and since new generally doesn't translate to cheap, Black Friday deals will likely be the best opportunity to get at these items.
Thanks to the Toys R Us Black Friday Preview, we know the toy store will have the Xbox One S for $189, the PS4 Slim for $100 off, and savings of up to $30 on video games.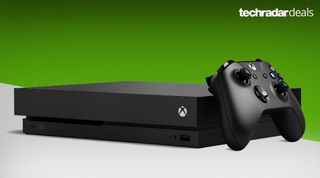 Black Friday deals in 2016 included console bundles as well as discounts to games on their own, so be on the lookout for lots of these at Toys R Us and elsewhere.
Popular toy brands like Lego, Disney, Star Wars and Barbie will also have special deals. Star Wars, Lego, and Barbie were popular deal brands in 2016, and that won't likely change for Black Friday 2017. With a new Star Wars movie coming out, expect both Star Wars and Star Wars-branded Lego products to be hot items this holiday.
Also look for deals on some bigger items, such a Power Wheels cars, backyard trampolines and other pricey purchases. Anything like this that generally costs a lot will likely have some discount applied to it. Toys R Us is just as eager to get these items out of the store as you are to purchase them.
Toys R Us Black Friday advice
In recent years Black Friday has grown to include days leading up to and even the whole weekend following the actual day itself. This means deal hunters need to be on the lookout for deals as early as they can, because there will surely be some big ones that catch us all off guard.
Online shopping may be making it easier to actually shop on Black Friday, both in stores and on the internet, but there's still serious competition among shoppers. Look for deals early and often if you know what you want to buy. Doing so will not only help you spot the best Toys R Us Black Friday deals as soon as possible, but it will also help you know when the listed deal price is actually a change from the non-Black Friday price.
Consider a VPN if you plan to do a lot of online shopping. Internet congestion can slow your online shopping to a standstill if a lot of people in your area are doing the same thing. A VPN will let you connect to servers in a different region where congestion might not be a problem, allowing you to snatch up the best Black Friday deals while others stare at a webpage that never loads.
If you see the deal you were looking for and it's in stock, don't wait around. Inventory is one of shoppers' biggest enemies during Black Friday. Not much hurts worse than seeing something you want is available, spending a bunch of time thinking about how badly you want it, and then not being able to get it. Don't delay on the best Toys R Us Black Friday deals this year.
See all the best Black Friday and Cyber Monday deals here: