I tested the 'world's toughest earbuds' by dropping them into a glass of water
The Jabra Elite 8 Active can take a dunk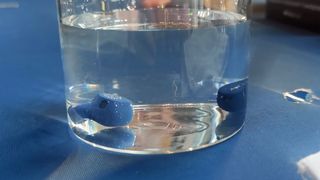 (Image credit: Future)
Stood in a packed convention hall in Berlin, listening to the man in front of me wax lyrical about the world's toughest earbuds, my eyes drift to the nearby glass of water and a thought pops into my head. What would happen if I dropped them in?
Of course, I didn't just go rogue and throw them in straight away: the glass of water was there specifically to demonstrate the Jabra Elite 8 Active, revealed during the IFA 2023 conference and billed as the 'world's toughest earbuds', and a new contender for a place on our best workout headphones list.
With an IP6X dustproof rating and said to be completely waterproof, they've allegedly passed nine durability tests to meet the US military standards for electronics.
'US military standard' is often used as a marketing term for rugged wearables like the best running watches for trails, triathlons and hikes, but this is the first time I've seen the term applied to a pair of earbuds. It helps that the Jabra Elite 8 Active are small, dinky little things that look surprisingly fragile.
At the Jabra representative's request, I picked them up and dropped them in the glass of water, half expecting them to fizz up and vanish like Alka-Seltzer. Yet, there they were. The same earbuds had gone through this test over and over today with journalist after journalist, submerging themselves again and again like a crack pair of Navy SEALS.
The Jabra rep took a pair of tongs, fished them out of the water, and cleaned the earbuds off with a towel, proffering to me. I duly stuck them in my ears and shook my head a bit. They didn't budge. Jabra's lined the earbuds with a liquid silicone 'ShakeGrip' rubber compound, and they seemed to be doing their job.
And sure enough, they worked. The earbuds are packing Dolby spacial sound with 6mm speakers, so they were suitably bassy, although not good enough quality to satisfy the audiophile crowd. I don't remember what track was actually playing, but it was thudding and aggressive and I could see myself finishing a set of deadlifts in the gym to it.
I took them out of my ears, snapped a few more pics, and handed them back to the rep, who duly began cleaning them for the next person to try. First impressions left me very impressed, although that could have been the tactile nature of the presentation.
Researching the buds afterward, I found they're listed as having 32 hours of battery life with the case, and they're packing Jabra's Adaptive Hybrid ANC. The new Elite 10 earbuds have it even better, with 0.4x more effective ANC than the Elite 8 Active, so I guess it's a little disappointing we don't have the ultra-premium option here.
My other concern is awareness. These earbuds are heavily marketed towards runners, and we're seeing a rising trend in the best bone conduction headphones becoming running favorites, as you can hear the traffic and other hazards while your music is playing. The Elite 8 Actives are certified ear-cloggers, so if you're running on busy stretches of road, you might be better served by an option like the new Shokz OpenFit.
Nevertheless, these are some of the best waterproof headphones I've tried yet. Unfortunately for swimmers, Bluetooth still doesn't travel well underwater, but if you just want a comfortable, secure earbud to survive the winter rains unscathed, these are going to be for you. At $200 / £200 / AU$330, they're on the more expensive side of things, but durability hopefully means longevity, which means value.
Get daily insight, inspiration and deals in your inbox
Get the hottest deals available in your inbox plus news, reviews, opinion, analysis and more from the TechRadar team.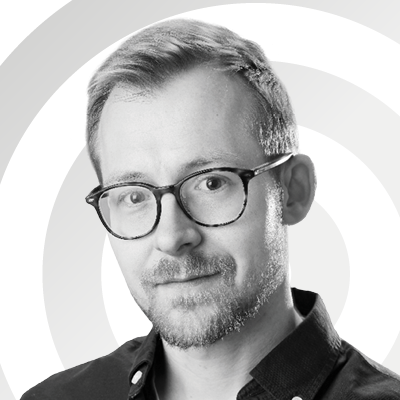 Fitness, Wellness, and Wearables Editor
Matt is TechRadar's expert on all things fitness, wellness and wearable tech. A former staffer at Men's Health, he holds a Master's Degree in journalism from Cardiff and has written for brands like Runner's World, Women's Health, Men's Fitness, LiveScience and Fit&Well on everything fitness tech, exercise, nutrition and mental wellbeing.
Matt's a keen runner, ex-kickboxer, not averse to the odd yoga flow, and insists everyone should stretch every morning. When he's not training or writing about health and fitness, he can be found reading doorstop-thick fantasy books with lots of fictional maps in them.