The Shokz OpenFit true wireless earbuds sit outside of your ear canals, delivering quality audio almost as good as in-ear buds while allowing you to hear your surroundings – perfect for fitness and everyday awareness. At times the fit needs adjusting, and you'll find cheaper options with similar benefits. But these are an excellent pair of buds and a good alternative to bone conduction headphones, bringing you big sound in an open-ear design.
Pros
+

Light and comfortable

+

Fantastic for awareness

+

Great sound and customizable
Cons
-

Sound leaks

-

Earhook not always ideal

-

No multipoint pairing
Why you can trust TechRadar We spend hours testing every product or service we review, so you can be sure you're buying the best. Find out more about how we test.
Shokz OpenFit: One minute review
The Shokz OpenFit earbuds don't use bone conduction tech. But they keep your ears free, sitting just above your ear canals and utilising an air conduction system instead, which means you can listen to your music with clarity and hear your surroundings.
Shokz is best known for producing some of the best bone-conduction headphones, like the Shokz OpenRun Pro and Shokz Trekz Air. These work by sending vibrations through your cheekbones to your ears, keeping your ear canals free. They're a good option if you like running or cycling outside and want to listen to music while remaining aware of what's happening around you. They deliver good quality audio, but not great – the best earbuds sound much better.
Shokz isn't the only tech brand to use air conduction. But there isn't much choice. We've previously covered OneOdio's OpenRock Pro headphones, and several other devices have a similar system.
The Shokz OpenFit certainly seem like the best of both worlds, bringing you better sound than bone-conducting headphones – more like the quality of in-ear buds – but you still don't have to wear them in your ears, keeping them free to stay aware of what's going on around you.
Shokz has had to consider the design here to achieve its goal carefully. The buds have ear hooks that fit behind your ears. This took some getting used to – especially as I wear glasses – but once twisted into place, they're incredibly light and comfortable. That said, I don't think the design will suit everyone.
Other key specs include EQ settings you can tweak, a decent seven hours of battery life, and 28 hours from the case, which isn't small by true wireless earbuds standards but will fit in a pocket.
The question is, are the Shokz OpenFit the ultimate fitness earbuds? Will they also suit everyday wear, or is there too much distraction from your surroundings and noise leakage from your favorite tunes? Spoiler: it's good, very good. Not quite perfect, but well worth your time.
Shokz OpenFit review: Specifications
Swipe to scroll horizontally
| | |
| --- | --- |
| Component | Value |
| Water resistant | IP54 |
| Battery life | 7 hours (earbuds), 28 hours (total) |
| Wireless range | 33ft (10m) |
| Weight | 8.3g / Charging case: 57g |
| Frequency response | 50Hz-16kHz |
Shokz OpenFit review: Price and availability
Cost $179.95 / £179.99 / AU$289
Difficult to compare value to rivals
You can definitely find similar specs for cheaper
At £179.99 / $179.95 / AU$289 they're the most expensive headphones from Shokz to date in most markets. For comparison, the Shokz Open Run Pro cost $179.95 (about £130 / AU$250) and the more affordable but not as impressive Shokz OpenMove retail for $99.95 / £79.95 (about AU$140). But even though these are all Shokz headphones, the OpenFit do have a very different design and proposition.
Other earbuds aimed squarely at those into fitness, like the Beats Fit Pro, are more expensive at $199 / £199 / AU$299.95. As are the Beats PowerBeats Pro, which are $249 / £219 / AU$349 and have a similar earhook-style design. But you can get your hands on a good pair of workout buds for less, like the JLab Go Air Sport at $30 / £29 / AU$69.
There aren't many open-ear earbuds on the market, but the Sony LinkBuds offer some of the same benefits in that they also keep your ear canals free. At launch they cost $179 / £149 / AU$299.
Compared to the small selection of other air conduction earbuds on the market, they're a little more expensive than the OneOdio OpenRock Pro, which are currently selling for $153.15 / £119.99 / about AU$236.68. But cheaper than the Cleer Audio ARC II, which are $254 / £199 / about AU$387.
The problem with assessing the value of the Shokz OpenFit is they're not exactly like any other devices on the market. They're more expensive than some other air conduction buds, but we haven't had a chance to review their rivals yet, so can't say for sure whether the price is justified in this space. For this reason, I think they're solid value as they're ticking a lot of boxes. At the same time, it is possible to get similar specs for a little less.
Shokz OpenFit review: Design
Innovative air conduction tech
Flexible design for round-ear fit
Lovely, velvety texture
The Shokz OpenFit are engineered to get sound from the buds to your ear canals in the most effective way possible.
Shokz is using what it calls DirectPitch technology to do this, which is similar to air conduction. It uses sound waves to optimize the distance and angle between the earbud and your ear. This leads to more sound pressure directed right at your ear and less off into other directions.
The result is that you are able to hear sound clearly. This, combined with the 18 X 11mm dynamic drivers means these earbuds deliver quality, crisp sound, even when they're near your ear and not inside it.
The buds have what Shokz is calling a dolphin arc ear hook design. This means there's the main bulk of the bud that hangs next to your ear canal, which is held in place by a hook that slides behind your ear.
The hook is made from dual-layered liquid silicone with a flexible memory wire inside, which Shokz says is what makes the earbud pliable, so you can adapt them a little to your ear shape. On their exterior, they have a soft silicone finish, which makes them feel incredibly comfortable and almost velvety to the touch.
The buds also have an IP54 water resistance rating. This is better than many of the best true wireless earbuds although isn't quite as impressive as the IP55 rating from the Shokz Open Run Pro. It does mean they'll be fine throughout even the sweatiest of workouts – just not a dip in the pool.
Shokz OpenFit review: Features
Touch controls worked well most of the time
Customizable EQ
Decent ANC for calls
You can control both audio playback and calls via built-in touchpads on the outside of the bulky bit of the buds. There are both tap and press and hold controls and you can customize what these do from within the Shokz app. These worked well most of the time, but there were a few delays. Not hugely inconvenient, but I did have to stop mid-run to get them to do what I wanted them to do.
The Shokz app is simple and easy to use. You'll find info about the battery left in the buds, as well as an option to tweak the EQ settings here, which is handy if you want to play around with the sound a little or try out one of the presets – I liked the Bass Boost setting.
There are a couple of standard true wireless earbuds features you won't find here. There's no multi-point pairing mode and no ear detection either, so remove one and your music will keep playing. Although you can just listen with one bud, which is handy.
There are noise-canceling mics on the exterior of the buds, which is to make call quality as clear as possible, and I found this worked well in more environments apart from it being rather windy.
Shokz OpenFit review: Performance
Great sound for open-ear design
Comfortable once you get the fit right
7 hours of battery in the buds and 28 hours with the case
The Shokz OpenFit are designed to deliver sound that's clear and quality despite their open-ear design and I really enjoyed listening to music using them. There were crisp and clear vocals on quieter and more melodic tracks, like Agnes Obel's 'Riverside'. But I was pleasantly surprised by how powerful the bass was, too. Kali's 'Area Codes' delivered a thumping bassline, and big, powerful dance tracks, like Daft Punk's 'Too Long' didn't disappoint either – perfect for working out.
I did find that my enjoyment levels depended on how much background noise I experienced. I didn't notice ambient noise, but when I was in an area with really loud traffic sounds or conversations I found myself distracted from my music and trying to ramp up the volume to compensate. Yes, the whole point of these buds is that you can hear what's going on around you, but it isn't always easy to do both and that's worth considering before you invest in these – or any open-ear design.
The same can be said for noise leakage. I was surprised at how little people around me could hear considering the open-ear design, but they could still hear noise. For most scenarios, a little bit of leakage won't matter. If you want these buds to cater for all day wear, you'll need to consider whether they're going to suit a super quiet office environment.
I had mixed feelings about the fit and comfort levels of the Shokz OpenFit. I spent a lot of time adjusting them at first and had similar niggles every time I reached for them over the fortnight of testing. I had to rotate them and tinker with them to get the fit right and at first didn't realize that because I wear glasses they needed a bit of extra adjustment – there's just not that much space behind my ears to play with.
However, once I did get the fit right, I found them incredibly comfortable. Lots of audio and wearable tech brands say you'll forget you're wearing their gadgets and I've never believed them. But I genuinely couldn't feel that I had these on at times – a major testament to their light and comfortable design and ergonomic fit. Having said that, I did experience some movement at times when I was running and when I did a pretty hardcore HIIT class. With every other type of exercise, though, they stayed firmly in place.
The Shokz OpenFit come with a handy charging case that has a matte finish and USB-C charging. The case is almost double the size of most other cases for true wireless earbuds, weighing 75g with the buds inside.
However, in comparison to the cases that come with other bone conduction headphones, this one is small enough to put in a pocket. This makes sense considering the true wireless design and the fact there's no neckband to accommodate.
You'll get seven hours of battery life from the buds themselves and 28 hours if you have the case with you to charge on the go. In comparison to rivals, this is a decent amount of time. It's slightly better than the Beats Fit Pro, which bring you 6 hours of listening time. But it isn't as good as the Beats PowerBeats Pro at 9 hours or the Shokz Open Run Pro with a more impressive 10 hours of battery life.
Shokz OpenFit review: Scorecard
Swipe to scroll horizontally
| | | |
| --- | --- | --- |
| Category | Comment | Score |
| Value | More expensive than competitors, but not an unfair price for what you get. | 3.5/5 |
| Design | Innovative, flexible and exciting, the design is comfortable and easy to use. | 5/5 |
| Features | Touch controls and custom EQ are great, but no multi-point is a missed opportunity. | 4/5 |
| Performance | Powerful sound and a great fit, albeit with a little sound leakage. | 4/5 |
Shokz OpenFit: Should I buy?
Buy it if...
You want to hear sounds around you
Whether you work out outside or just like to stay aware of your surroundings, the design of the OpenFit is ideal.
You don't like in-ear headphones
If you've never quite got on with earbuds that sit in your ear canals, these are a solid option sitting just outside of them instead.
You don't wear glasses
I got the buds to fit well with my glasses on eventually, but it felt annoying at first so I'd be wary if you're a glasses wearer.
Don't buy it if...
You want immersive sound
The sound on offer here is good considering they're an open-back design, but nothing compared to the best noise-cancelling buds out there.
You like extreme, high-intensity workouts
Comfort levels are high here, but if you like really bouncy or high-intensity workouts we're not convinced they'll stay in place throughout.
You work in a quiet environment
I was impressed by the lack of noise leakage, but if you work in a really quiet office or feel self conscious about your choice in music, look elsewhere.
Also consider
Swipe to scroll horizontally
| | | | |
| --- | --- | --- | --- |
| Component | Shokz OpenFit | Shokz OpenRun Pro | Beats Fit Pro |
| Water resistant | IP54 | IP55 | IPX4 |
| Battery life | 7 hours (earbuds), 28 hours (total) | 10 hours | 6 hours (earbuds, 24 hours (total) |
| Wireless range | 33ft (10m) | 33ft (10m) | 40ft (12m) |
| Weight | 8.3g / Charging case: 57g | 27g | 5.6g / Charging case: 55.1g |
| Frequency response | 50Hz-16kHz | 20Hz-20kHz | 20Hz-20KHz |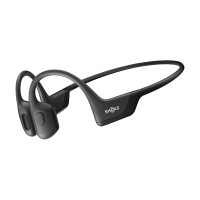 Shokz Open Run Pro
The OpenFit bring you better sound. But if you want your ears clear and no potentially annoying hooks, go for the Run Pro, the best bone-conducting offering from Shokz. The band-style design means you can pop them around your neck when you're not using them. You get multi-point pairing here, too.
Read our full Shokz Open Run Pro review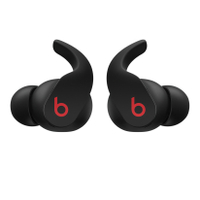 Beats Fit Pro
Not sure if an open-ear design is for you? Take a look at our top pick for the best workout earbuds instead. The Beats Fit Pro are true wireless buds with a secure fit and fantastic ANC. You get surprisingly good noise isolation with the OpenFits, but nothing compared to the immersion on offer from these Beats buds.
Read our full Beats Fit Pro review
How I tested
I wore the Shokz OpenFit earbuds every day for two weeks and had the opportunity to test them in various environments.
I used them while walking around the town and the countryside, running along the beach and rollerblading. I took them to work at several coffee shops and the gym and wore them as I worked at home alone.
I paired them with an iPhone 14 Pro and mostly used Apple Music to test them.
I've tested many different headphones and earbuds over the past 12 years, especially those designed for fitness. I'm particularly interested in devices that prioritize comfort and ease of use.
Becca is a contributor to TechRadar, a freelance journalist and author. She's been writing about consumer tech and popular science for more than ten years, covering all kinds of topics, including why robots have eyes and whether we'll experience the overview effect one day. She's particularly interested in VR/AR, wearables, digital health, space tech and chatting to experts and academics about the future. She's contributed to TechRadar, T3, Wired, New Scientist, The Guardian, Inverse and many more. Her first book, Screen Time, came out in January 2021 with Bonnier Books. She loves science-fiction, brutalist architecture, and spending too much time floating through space in virtual reality.