Denon PerL Pro are earbuds for the discerning listener who wants a unique sonic profile that can also be wonderfully immersive, or not. And here, they excel. That said, while the ANC is effective, the transparency profile can be bettered at the level – and some users may find the units a little big.
Pros
+

Immersive, agile, musical sound

+

Excellent through the bass

+

Lossless audio support
Cons
-

Uncomfortable if you have a smaller concha

-

Case is a little big

-

Transparency mode is basic
Why you can trust TechRadar We spend hours testing every product or service we review, so you can be sure you're buying the best. Find out more about how we test.
If the Denon PerL Pro earbuds look suspiciously familiar, that is because they are. But don't be disheartened! They offer something no other current earbuds can – not even the best noise cancelling earbuds.
First, let's get the business bit out of the way: friendly Australian earphone startup Nura has been secured by much-bigger-brand Denon and now, a product that looks very much like Nura's flagship summer 2022-issue earbuds, the NuraTrue Pro, has been released by Denon under the moniker PerL Pro. There's also a non-suffixed PerL too, which may or may not be closer to Nura's slightly older NuraTrue; we haven't tested this. I think it's a very positive merge for all involved.
You see, Denon spotted that Nura's particular otoacoustic testing is unique in consumer earbuds – and done well, it's very good indeed. Backtracking just a little: the chief issue of earbud designs from a listening perspective is the shape of the ear canal they have to sit in and project into; those echo-chamber-like cavities, twists and arcs within it. These make all of us hear frequencies differently. Denon's tests help fix it, then give you the option to nix noise, add spatial audio, bring in immersion or make ambient sound more prominent. And all of this is excellent.
I should note that there is similar tech out there: Nothing's Ear (2) personalized hearing tests were a hit when I tried them, but these tests require active input; you have to tap out when you can't hear a tone (with all of the associated "Wait, could I hear it?" self-doubt). Denon's is a completely passive experience where all one is required to do is wear them, initiate the test and sit for about 30 seconds in a quiet environment as special sonic tones do their good work.
I had two quite different results across two tests and you know what? Both were a vast improvement on the default sound from the box – and you can save up to four anyway in the excellent Denon Headphones companion app. After the test, listening to a neutral profile versus your freshly-curated optimized one is the aural equivalent of backgrounds coming to focus or colors appearing crisper on an OLED TV, altering the tone or focus slightly so that you feel closer to it. It's heady stuff. And you can amp up the immersion levels to feel that admirable bass clout – which never muddies or bloats across the course of my listening, even with grime and hip-hop heavy playlists.
Add to this Bluetooth 5.3 with Dirac Virtuo support (like the OnePlus Nord Buds 2) with aptX Lossless and aptX Adaptive (to provide a streaming experience similar to listening to a CD) and the PerL Pro are bordering on something an audiophile looking to try wireless audio may consider. To clarify, aptX Lossless is a top-tier codec since it boasts a bitrate of between 1.1Mbps and 1.2Mbps (1,100 and 1,200kbps) while aptX Adaptive's maximum bitrate is 420kbps, the older aptX HD can stream at 576kbps, and Sony's LDAC maxes out at 990kbps.
Also, you're getting a perfectly acceptable eight-hour battery in the buds, with an extra 24 in the case, wireless charging, IPX4 sweat resistance and a total of eight mics for top call-handling.
The thing is, there are a few downsides. At $349 / £299 / AU$549 they aren't cheap, are they? If you're going to go in around the same level as the flagship Sony WF-1000XM5 ($299 / £259 / AU$499) things really ought to be perfect in terms of design, and I do not think they are.
The buds were uncomfortable in my concha (the bowl bit of your outer ear) over a period of time, because the driver housing of the Denon earpiece is quite large – and the top plate is larger still. Each weighs 8.6g and if that doesn't sound like much, note that the older Sony WF-100XM4 weighed 7.3g and Sony tried very hard to shave a lot off that for the XM5, which come in at 5.9g.
Now, a larger earpiece doesn't always mean discomfort (Shure's Aonic Free are huge and comfortable) but here, the lip of the driver housing did tend to rub on my ear uncomfortably, where it rests. I realize that fit is arguably as personal as my hearing itself (Denon's otoacoustic process makes sure they fit well in the ear before starting the testing proper), but it's my job to notice. If you have bijou ears, I'd avoid.
Also, the case is a tad too bulky for a pocket and although the ANC profile is good (creating a hard-to-penetrate bubble in the office) it isn't tweakable any further than on or off – and the ambient toggle is oddly far less effective. After deploying it, I still struggled to hear my other half talking to me from across our very small kitchen.
Do you care, given the sonic prowess – and are you supremely confident in the size of your ears? That's your business and for the right user, these earbuds are stone cold winners. But not for everyone.
Denon PerL Pro review: Price & release date
$349 / £299 / AU$549
Released June 2023
As mentioned briefly above, this pricing is more expensive than Sony's 2023 flagship WF-1000XM5 ($299.99 / £259 / AU$499) and the excellent Technics EAH-AZ80 (which boast triple-device connectivity and some of the best call quality we've ever experienced – and are also $299 / £259 / AU$499), plus of course the five-star Bose QuietComfort Earbuds II, ($299 / £279 / AU$429) which are some the best earbuds for noise cancellation we've ever had the pleasure of testing.
Yes, the Denon PerL Pro offer a uniquely tailored listening experience. It's still tough company to keep.
Denon PerL Pro review: Specs
Swipe to scroll horizontally
| | |
| --- | --- |
| Drivers | 10mm |
| Active noise cancellation | Yes |
| Battery life | 8 hours (buds) 32 hours total (with case) |
| Weight | 8.6g per earbud |
| Connectivity | Bluetooth 5.3, USB-C, Dirac Virtuo, aptX Lossless, aptX Adaptive |
| Frequency range | 20 Hz–40 kHz |
| Waterproofing | IPX4 |
| Other features | Masimo Adaptive Acoustic technology, wireless charging, immersive and spatial audio modes |
Should you buy the Denon PerL Pro?
Swipe to scroll horizontally
| | | |
| --- | --- | --- |
| Features | Unique sonic profiles, hi-res wireless, ANC and more. | 5 / 5 |
| Sound quality | Immersive, agile, crisp and musical across the frequencies. | 5 / 5 |
| Design | Buds are a little heavy and wearying over time. | 3 / 5 |
| Value | A little hot and heavy in a saturated market. | 4 / 5 |
Buy them if...
You want to dip your toes into otoacoustic audio tests
This is the single most compelling reason to buy these buds – and the hearing test results it won't disappoint you.
You need the best wireless codec support
Bluetooth 5.3, Dirac Virtuo for spatial audio, aptX Lossless and aptX Adaptive – aka the top dogs in high resolution Bluetooth audio.
You're all about that bass
Set up your personalized ProEQ profile. Deploy spatial audio beside the toggle. Now, ramp up the immersive slider beneath that. Feel the talented, boot-shaking, low-level clout.
Don't buy them if...
You have a smaller ear and want small earbuds
No dice here sadly. They're big, they're bold, and while to some they may be beautiful, to others they could be a heavy or uncomfortable.
You need top Ambient passthrough/awareness modes
There is a 'social mode' here, but in my tests it just, well, didn't allow me to be that social.
You want head-tracked spatial audio
Don't get me wrong, the spatial audio here is excellent, but it is not head-tracked. For dynamic audio that darts between each ear as you turn your head away from your source device, look to the Samsung Galaxy Buds 2 Pro or LG Tone Free T90Q on Android, or Apple's AirPods Pro 2 with an Apple device, of course.
Denon PerL Pro review: Also consider
Swipe to scroll horizontally
| | Denon PerL Pro | Sony WF-1000XM5 | Bose QuietComfort Earbuds II |
| --- | --- | --- | --- |
| Price | $349 / £249 / AU$549 | $299.99 / £259 / AU$499 | $299 / £279 / AU$429 |
| Drivers | 10mm | 8.4mm | 9.3mm |
| Active noise cancellation | Yes | Yes | Yes |
| Quoted battery life | 8 hours (buds); 32hrs total with case | 8 hours (buds); 24hrs total with case | 6 hours (buds); 3 extra (charging case) |
| Weight | 8.6g per earpiece | 4.2g per earpiece | 6.2g per earpiece |
| Connectivity | Bluetooth 5.3, aptX Lossless, aptX Adaptive | Bluetooth 5.3, LDAC | Bluetooth 5.3 |
| Frequency range | 20Hz - 40kHz | Not specified | Not speciifed |
| Waterproofing | Yes, IPX4 | Yes, IPX4 | Yes, IPX4 |
| Other features | Dirac Virtuo | Sony 360 Reality Audio | CustomTune audio |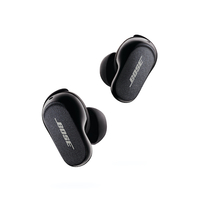 Bose QuietComfort Earbuds II
Far more comfortable than the Denon PerL Pro – although not quite as discreet or comfortable (despite the name) as the Sony WF-1000XM5. However, the Bose are the more vigorous listen against the Sony, and their facility with active noise-cancellation and ambient aware feature modes is some of the best in the business – the ambient mode here knocks spots off Denon's. This is the frequent flyer's way forward. Read our full Bose QuietComfort Earbuds II review.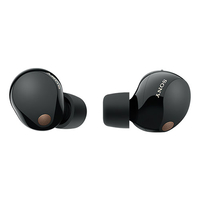 Sony WF-1000XM5
A much smaller earpiece and a case that fits comfortably in your pocket, with all of Sony's flagship tech. That said, we don't think the adaptive noise cancellation in this particular iteration can match that of the Denon PerL Pro – or the Bose option above. Read more on this in our full Sony WF-1000XM5 review.
How I tested the Denon PerL Pro
Tested for two weeks, listened against the Bose QuietComfort Earbuds II, Technics EAH-AZ80 and Sony WF-1000XM5
Used at work (commuting on the train; in the office; walking through London) and on the blustery Dorset seafront
Listened to Tidal Masters, Apple Music Lossless tracks and Spotify on an iPhone 12, Sony Xperia 1 IV and a MacBook Pro
When testing earbuds or headphones, investment is key. And thus, the Denon PerL Pro have been my musical companions for over two weeks – after a thorough 48-hour run-in period.
To better test the comfort levels (and battery life claims), I wore them throughout the working day in a busy office and on the noisy London Underground network. I also wore them in a quieter online yoga class, to check the fit and security.
The Denon PerL Pro accompanied me to work on weekdays (walking brusquely to the station; boarding a train and the London Underground; at the office) and on a particularly blustery day on a secret Dorset beach – a great way to test any wind-interference from mics during calls.
When testing the audio quality across the frequencies, I listened to a plethora playlists (spanning everything from grime to free jazz) on Apple Music and Tidal, but also to podcasts and albums on Spotify – and YouTube tutorials (mostly about drying flowers to make confetti, since you ask) from my MacBook Pro.
I've been testing audio products for five years now. As a dancer, aerialist and musical theater performer in another life, sound quality, fit and the user experience have always taken priority for me personally – but having heard how wonderful ANC can be when done well, I know what to listen for.
First reviewed October 2023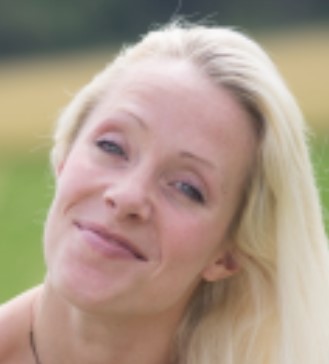 Senior Audio Staff Writer
Becky is a senior staff writer at TechRadar (which she has been assured refers to expertise rather than age) focusing on all things audio. Before joining the team, she spent three years at What Hi-Fi? testing and reviewing everything from wallet-friendly wireless earbuds to huge high-end sound systems. Prior to gaining her MA in Journalism in 2018, Becky freelanced as an arts critic alongside a 22-year career as a professional dancer and aerialist – any love of dance starts with a love of music. Becky has previously contributed to Stuff, FourFourTwo and The Stage. When not writing, she can still be found throwing shapes in a dance studio, these days with varying degrees of success.