I took two hearing tests with the same wireless earbuds: the results differed wildly
Denon PerL Pro wowed me twice – in very unusual ways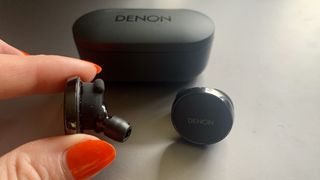 (Image credit: Future)
Last year, I tried NuraTrue Pro's lossless audio earbuds and began to doubt my own hearing – and anyone dipping their toes into earbuds optimized for the specific listener should keep reading. Now, I'm more intrigued (if still confused) than ever – in a good way.
See, the new Denon PerL Pro earbuds (which I covered upon their release, a few months ago) are now with me and their resemblance to the NuraTrue Pro in all but name cannot be ignored – until we get to the extra audio profiling, which was already remarkable to start with.
And we now know that Nura has indeed joined forces with Denon (and Masimo), bringing its sound profiling know-how and design to the new crop of Denon earbuds – navigate to the Nura website and one is quickly nudged to Denon's new buds under the prominent 'learn more' tab – and I think it's a very positive merge.
All about that bass… and treble?
What you're looking at above is two different tests, taken four days apart, but sitting in the same environment.
It's a completely painless and passive process (the new Denon Headphones companion app runs tests, first checking that the units fit properly, then determining the EQ tweaks best suited to your own ears by issuing various frequencies to them as you wait). It then creates an audio profile to suit you and only you.
So why do mine look so different? As you can see, Denon's engineers and partners have also given us some clarification on what we're seeing here, explaining:
"Low frequencies are shown at 12 o'clock, moving clockwise to higher frequencies around the dial. The shape of your profile shows how you hear different frequencies of sound. The further the shape stretches outwards from the center, the more sensitive you are to those frequencies."
Ah, so a big bizarre splodge rather than a nice small circle is good?
But if we take just my left ear – the left-hand marble in the two tests above – the second test suggests my left ear is all about that bass, where the first screams 'this ear is for treble'. In fact both ears across the two tests have not tested the same.
You know what's even stranger? I don't care.
To backtrack a little: upon trying the NuraTrue Pro upon which these Denon earbuds are clearly built (a 'pro' version of the NuraTrue), I lost a fair bit of confidence owing to the visual representation of my hearing it threw up: a circle that had morphed horribly, mushrooming out like your Spotify AI DJ when it talks to you, only worse.
I assumed a perfect circle was the ultimate goal here. Ergo, the work being done to make my overall hearing and music appraisal just-so was quite extensive – and Nura's tests didn't elaborate on the data a great deal, to confirm or deny my fears. It was just… a splodge; a mark of imperfection I had to deal with.
Only, today I know different. And I also know now that no two tests are the same. Thanks to my newest readings, I now get to doubt my prowess when it comes to hearing treble frequencies too! And it seems my left ear, rather than my oddly shaped right ear (as proven by UE's heat-to-fit Fits buds and Sennheiser's custom ear tips) is the most changeable.
Prior to today, reader, I actually had reason to be confident regarding my response to the upper echelons of human hearing and perception. When hired at TechRadar's sister publication, What Hi-Fi? (many years ago now), I passed all the 'tap-out tests', sitting in the listening facility being dealt various frequencies at ever-decreasing volumes until I couldn't hear them any more – when one must 'tap out'. I outlasted my male counterparts at higher frequencies (which is no surprise; women tend to display greater sensitivity to noise exposure here) but also through higher mids – and honestly, I wasn't bad when it came bass perception either.
But these two hearing tests seem to say different. And the thing is, they're both good, in different ways.
In a very unusual way, you've made me whole
I actually listened to the above song (from the musical Nine) on the Denon PerL Pro – and it feels both pertinent and propitious now.
To paraphrase the song's lyrics, in a very unusual way one time I needed these earbuds; in a very unusual way they were my friend. Maybe it lasted a day, maybe it lasted an hour, but somehow I think my need for this kind of audio optimization will never end.
Yes, in a very unusual way it made my listening experience whole.
I don't actually care that this partnership between Denon, Masimo and (quietly) Nura has presented me with two wildly different visuals and audio profiles; you can save up to four anyway – and during my initial tests, both profiles bring certain sonic articles to the fore in an expansive and highly detailed mix. It's the aural equivalent of altering the tone or focus of painting slightly, to highlight certain details in the background.
This isn't a full-scale review (that is coming) but Denon PerL Pro are certainly some of the best true wireless earbuds for tailoring what you actually hear, what you think you hear, and what you want to hear. If you're intrigued by your own hearing and want a set of earbuds that open up new levels of optimization for you, Denon's PerL Pro should be on your list. As long as you're not too precious about those splodges and what they mean, that is…
You might also like
Get daily insight, inspiration and deals in your inbox
Get the hottest deals available in your inbox plus news, reviews, opinion, analysis and more from the TechRadar team.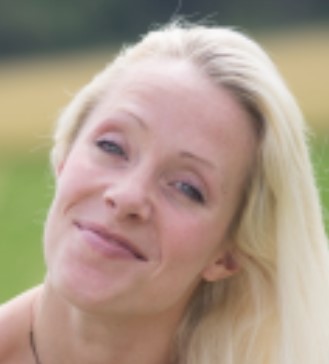 Senior Audio Staff Writer
Becky is a senior staff writer at TechRadar (which she has been assured refers to expertise rather than age) focusing on all things audio. Before joining the team, she spent three years at What Hi-Fi? testing and reviewing everything from wallet-friendly wireless earbuds to huge high-end sound systems. Prior to gaining her MA in Journalism in 2018, Becky freelanced as an arts critic alongside a 22-year career as a professional dancer and aerialist – any love of dance starts with a love of music. Becky has previously contributed to Stuff, FourFourTwo and The Stage. When not writing, she can still be found throwing shapes in a dance studio, these days with varying degrees of success.