I tried Apple's new USB-C EarPods with iPhone 15 and I wanted to love 'em, but…
$20 challenge: bargain lossless audio or basic, bloated sound?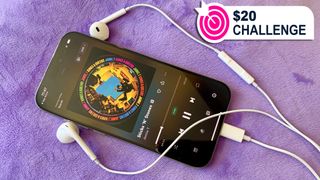 (Image credit: Future)
Sometimes, you just don't want to write what you gotta write. See, not only have I been practically begging Apple for USB-C audio on an iPhone for actual years, I've also championed Apple's cheap – at one point, free – wired Lightning-ported EarPods as better than any AirPods on the market. So this is awkward, to say the least.
Bring a USB audio termination and EarPods together (which, it turns out, has been in the pipeline for a very long time) and I should be laughing all the way to my Apple Music Lossless playlists, right? Wrong.
Not even a timely wired AirPods Pro April Fool joke earlier in the year was enough to deter me from thinking this was a great idea – still I dreamt of feeling Tim Cook's shiny-white USB-C-terminated wires grazing my cheeks softly as I turned my head. And I do so love a bargain! See the super-cheap J-Lab Go Air Pop earbuds, FiiO's new inexpensive USB-C DAC, or IKEA's $12 shower speaker for starters.
However, the unfortunate truth is that having spent a long listening session with the new EarPods, my excitement diminishing as each bloated and dynamically lean track presented itself to my ears, I have to confirm that I do not think Apple's latest $19 EarPods are the right choice if you just splashed out on an iPhone 15.
There, I've said it. Nobody hates being proven wrong more than me.
$20 challenge
This is the latest in a regular series of articles in which we test really cheap gadgets to see if they're worth even the small price you'll pay for them. Read them all here.
I write this with an extra-heavy heavy heart because you see, these EarPods do support lossless audio – which is something no AirPods can currently offer using your iPhone (the AirPods Pro 2 are getting lossless, but only with your Vision Pro headset. Oh, you don't have one of those? Join the club).
So, something that has long been a touchy subject for Apple – the fact that you need wired headphones and a standalone DAC to get at Apple Music's own Hi-Res Lossless output – has been softened here; you're getting lossless access for the princely sum of $19 that connects straight into your new iPhone 15.
Only, it's not good sound. Why? I wish I knew, but having cross-referenced my listening using good-quality wired headphones and my trusted testing playlist, I know that the fault lies with the new EarPods rather than the USB-C connection itself, the iPhone, or the downloaded tracks I'm playing.
I would really like to be able to applaud the Cupertino giant for a) caring about portable, wired, lossless audio rather than forging ahead solely with Bluetooth-based wireless solutions, and b) for continuing to produce affordable listening gear.
But I cannot applaud these EarPods. I'm sorry; they do not sound good.
Opinion: if you're buying an iPhone 15, treat yourself to better wired headphones – and maybe even a DAC
The keen-eyed might have spotted my weekend feature entitled 3 USB-C DACs to turn your iPhone 15 into a bona fide hi-res audio player. So, you might be thinking that by adding a DAC to your iPhone 15 before hooking up to these USB-C-ended in-ears you could solve a problem. But that would be a bad idea – first because that trio of DACs sport regular 3.5mm or 4.4mm headphone jacks at the other end (and simply join your iPhone via a USB-C cable) and secondly because it won't do the trick. If anything, a standalone DAC will simply amplify the issue.
To clarify, DACs are an inexpensive way to level up the audio heading out into your good quality headphones, but these EarPods are not that I'm afraid. The new USB-C EarPods just don't seem capable of faithful sonic representation in my honest – and reticent – opinion.
I've made my point and I don't want to do Apple's wired earbuds down any further, but I am contractually obliged to offer some insight into the sound when writing a $20 challenge feature – so here we go.
Stormzy's Vossi Bop reveals an uncharacteristically muddied bassline that clutters the soundstage, encroaching on the already borderline-crackly lower mids in a confusing mix that seems to lack focus – and anyone who knows this track knows that this simply isn't the case through more talented listening gear.
The keys at the outset of Kamaal Williams' Dogtown sound a touch tinny and vague, partly because they aren't given space to be impactful or three-dimensional in a dynamically lean presentation that sees hand claps take too much of our attention.
There is an argument for $20 Challenge products that says just for bringing music to your ears, the product is good enough. I'm afraid here I'd have to disagree, even for $19 / £16 (around AU$30).
The shiny white driver housings feel reassuringly familiar and the in-line mic is just fine, although it feels a tad too close to my cheek, but the drivers under the hood sound sluggish and wholly unprepared for their task in this iteration. Given their superior termination, it seems such a shame. Perhaps this is Apple's bid to finally make listeners forget about wired audio and look to the company's more expensive array of AirPods once and for all.
Suffice it to say, the new USB-C EarPods will not be gracing our best cheap headphones guide any time soon. And because the sound here is unequal to most products in our best budget wireless earbuds roundup, they're a far cry from inclusion in our best wired headphones buying guide. Again, we wish it weren't so.
You might also like
Sign up for Black Friday email alerts!
Get the hottest deals available in your inbox plus news, reviews, opinion, analysis and more from the TechRadar team.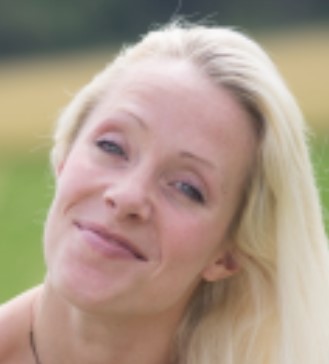 Senior Audio Staff Writer
Becky is a senior staff writer at TechRadar (which she has been assured refers to expertise rather than age) focusing on all things audio. Before joining the team, she spent three years at What Hi-Fi? testing and reviewing everything from wallet-friendly wireless earbuds to huge high-end sound systems. Prior to gaining her MA in Journalism in 2018, Becky freelanced as an arts critic alongside a 22-year career as a professional dancer and aerialist – any love of dance starts with a love of music. Becky has previously contributed to Stuff, FourFourTwo and The Stage. When not writing, she can still be found throwing shapes in a dance studio, these days with varying degrees of success.