Tesco is one of the UK's leading retailers, well known for Marmite and Pot Noodles, but did you also know that it sells games consoles and tellies and that? No? Well it does, and it goes in for in a pretty significant way too as well as Cyber Monday.
In the dirty, offline world, Tesco makes sure that certain key stores are stocked up with extra Black Friday gear for people to rush in at opening time. Great if you want to join the hoi polloi, but those of us who like shopping from home more, there's the website.
Cyber Monday and Black Friday might have been and gone but Tesco's website is still offering discounts, and some of them are still great.
Tesco Mobile: save on cheap phones with the Tesco Mobile Cyber Monday sale
Cyber Monday deals Quick Links:
Here's the thing to remember about Tesco. The retailer sort of has two online stores. Tesco.com is the main entry for the grocery shopping portion. There are often electronic and other items on this store but there is a larger selection on Tesco Direct, and deals might only appear on one or the other. Tesco will also have some deals that are in-store only, so you may see mention of things online that you can't find unless you go to a shop.
Tesco Direct Cyber Monday quicklinks:

The best Tesco Direct Cyber Monday deals 2016:

Tesco Cyber Monday console deals
PS4 Pro: Tesco is the cheapest place to pick up a PS4 Pro right now –
PS4 Slim 1TB: Get a 1TB PS4 Slim with Drive Club, Uncharted 4, and The Last of Us Remastered for just £249.99! Tesco's 1TB Gamer's Pack for just £249.99
PS4 Slim: Get a 500GB PS4 Slim with Lego Star Wars and The Force Awakens Blu-Ray for £229.99
Accessories: Get your hands on an official Xbox One controller for just £34.99 in your choice of black, white, or blue
Tesco Cyber Monday game deals
Dishonored: Get the very recently released Dishonored 2 for just £30 on PS4 and Xbox One
Grand Theft Auto V: It might have been out a while, but it holds its price well. You can get it on Xbox One for just £23 if you move fast
Recore: Get the highly rated Xbox One title Recore for just £16
Dark Souls III: Looking for a challenge? Dark Souls III is only £17 on PS4 and Xbox One
Witcher 3: Makes Skyrim's quests look like a drunk D&D session in a car park. Seriously, if you're into the fantasy RPG genre, you need to play this game. Grab the game of the year version on PS4 and Xbox One for £19.
Lego Star Wars: The Force Awakens is just £15 on Xbox 360
Mafia III: Save £12 on PS4 and Xbox One, making it just £30.
Rainbow Six: Siege: Tesco is comfortably the cheapest around for last year's excellently tense team-based shooter Rainbow Six: Siege at just £16 on PS4 and Xbox One
Just Sing: Fancy a bit of Karaoke? It's over £20 at most stores, but Tesco have it £12 deal on PS4 and Xbox One

Tesco Direct Cyber Monday tech deals
Windows Tablet: This Windows 10 tablet with a 9 inch screen has been discounted from £129 to just £59.
Media Streaming: Tesco has discounted the Amazon Fire TV Stick to just £24.90.
Media Streaming: You can get a Now TV box with either a 4 month cinema pass or a 6 month Entertainment pass for just £19.
Media Streaming: Tesco has discounted the 2015 Chromecast (aka Chromecast 2) by £12 to a very persuasive £18. You'll also get a free month's access to Netflix.
Sound system: This sounds like a good deal – there's £59 off this Philips Bluetooth Hi-Fi Microsystem, making it just £60.
Portable speakers: The dinky Juice Sound Square portable speakers have received a £10 discount this week. Get the blue or pink models for just £15.
Sat Nav: There's £80 off this Garmin World Travel Edition Sat Nav. Never get lost again for only £79.
Blu-ray: There are plenty of recent Blu-ray Blockbuster deals in this 2 for £25 sale.
Laptop: Get this 2-in-1 Acer Aspire in blue for just £169.97. It's also available in purple.
Laptop: Save £60 on this ASUS X540 that's now a very reasonable £259.97.
Desktop PC: Save £200 on this high-spec Lenovo desktop which is now just £499.97.
Gaming PC: There's £100 off this Cube Epic RX Esports ready gaming PC, bringing it down to £599.99.
TV: There's a huge £322 off this Samsung UE55KU6000 55 inch 4K Ultra TV, now just £625.
Headphones: Looking for some wireless headphones? You can get these Skullcandy Hesh 'phones in silver for just £35!
Headphones: Need some wireless headphones for the gym? You might want to take a look at these Monster iSport overear headphones which are £130 down to just £69. Prefer in-ear 'phones? You can get them too for just £49. Tesco is throwing in 500 extra Clubcard points to sweeten the deal.

Tesco Direct Cyber Monday home and beauty deals
Beauty: with 3 heat settings for different curl tightness.
Grooming: This Philips Lumea IPL hair removal device is £50 off, .
Grooming: There's a smooth £70 off this Braun Silk Epil epilator with cooling glove and facial exfoliator,
Grooming: There's an impressive £90 off this Philips Aquatouch shaver,
Pressure washer: There's £30 off this 2-in-1 pressure washers and wet and dry vacuum,
Kitchen: You'll make the best Christmas dinner of your life with this Richmon Dual Fuel Range cooker.
Vacuum clear: A deal that doesn't suck – . That's £120 off!
Vacuum cleaner: There's £80 off this Dyson DC34 handheld vacuum cleaner,
Vacuum cleaner: Tired of lugging the hoover up the stairs or untangling the cable for just a quick clean up? Then grab this
Coffee maker: This Dualit coffee maker that takes NX capsules and ESE pods is £60 cheaper, .
Coffee maker: Get the Tassimo Fidelia coffee machine
Tesco Direct Cyber Monday toys deals
STAR WARS: Get the 78cm Kylo Ren action figure for half price - now £20
STAR WARS: Get a twin pack of Vader and a Stormtrooper for £20
STAR WARS: Get the 78cm Stormtrooper action figure also for half price - now £20
DRONE: Get the ProFlight Seeker 2MP HD camera drone for just £38.97
Peppa Pig: Get Peppa Pig's House Kitchen set for £40
Barbie: Save £19.95 on this full Barbie bike-riding set, down to £30.
Monopoly: Buy Stark Tower or monopolise like Minions. Avengers and Minions special edition Monopoly are now half price at only £12.50.
Star Wars: There's no Risk of a bad deal here. You can get the Star Wars edition of Risk for just £13.99 at Tesco, down from £34.99.
Toys: The Hexbug Aquabot Shark is like having a really cool fish without the responsibility of feeding it and cleaning the tank. Ideal for only £7.49.
Toys: Hulk out this holiday season with this Avengers Hulk role play set. It's £20 off, making it £9.99. It's hard to get mad at a price like that.
Toys: Become a finger boarding pro with this Tony Hawk circuit boards ramp set. It's £20, down to just £9.99.
Toys: Are you ever too old for a new Nerf gun? Never! Save up to 50% on Nerf items in Tesco's sale.
Toys: Looking to get a few toys ticked off someone's Christmas list. Tesco's 3 for the price of 2 toy sale may have what you need.
Film: Tesco seems to the cheapest around for a cheap copy of the soon-to-be-released Finding Dory at just £10 on DVD or £15 for Blu-ray.
Books: Always a popular option for Christmas, get two paperback books for £7.
Bouncy Castle: make a saving on this garden bouncy castle - it's down to £65
Trampoline: Get the Jumpking 7x10ft oval combo trampoline at half price - now £124.50
Take a look at the best Cyber Monday toy deals from everywhere else.

What Tesco did on Black Friday last year:
Last year there were cheap deals on things like the PS4 Star Wars Battlefront pack and the Xbox One Fallout 4 bundle. TVs were reduced too, although not as dramatically as some retailers and you could nab other things - like printers - cheap too. Best deal last year was on a Samsung Quantum Dot TV with an £880 discount - crikey!
Top 5 Tesco Black Friday deals from 2015: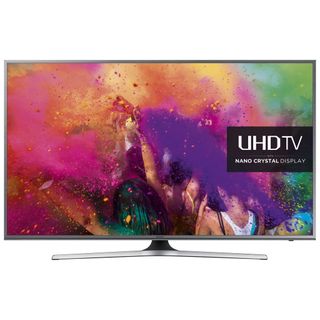 1. Big home cinema TVs
The massive 60-inch LCD TV from Samsung got an equally massive price drop from £2300 to £1420 - a great TV and Quantum Dot TVs are superb for deep blacks and rich colour. Expect more deals like this on Black Friday this year!
2. Sony PS4 bundle deals
PS4 with CoD Black Ops III was £289 on Black Friday last year and you got FIFA 16 free - console bundle deals are always hot in Black Friday week and this year there are new consoles coming, so deals will be even better.
3. Amazon Kindle Paperwhite
Amazon's brilliant Kindle Paperwhite was down to £79.99 at Tesco Direct on Black Friday last year, always a great christmas gift this one, and a great price. Kindles are great for reading especially when you are away from home.
4. Fitbit Charge
The Fitbit Charge is one of the best and simplest fitness trackers out there, last year Tesco dropped to to just £49 a steal, make sure you run away with it fast. This year the Fitbit Charge 2 is selling well so you could expect some decent discounting.
5. Navitech Apple watch dock
Apple Watch owners got £14 off a Navitech Apple Watch charging dock last year on Black Friday, a smashing deal at the time. Apple Watch accessories like straps are prime fodder for price drops during Black Friday.
Tesco Black Friday deals to expect in 2016:
1. As with a lot of retailers, expect a cheap deal on the PS4. The old model has been replaced with the Slim and Pro models, so stock will need to be cleared - bundles offer the best value and snag you a game or two.
2. Expect another round of deals on the Amazon Kindle, the company has updated them again so the old stock needs to go.
3. Last year's insane TV deal is likely to get another outing. Entry-level 4K TVs will cost meer hundreds, with high-end models coming in with massive discounts too.
4. It's reasonable to expect some of Tesco's summer toys for kids will get a massive price drop too - need a trampoline? This is likely the time to buy, and they're great even in the winter. Paddling pools less so.
5. New Apple Watch and iPhone mean there may be reductions on the older models, Tesco has its own mobile network, so deals are quite likely.
How to find the best Tesco Black Friday deals:
We'll take you through all the different Tesco options. If we hear about in-store deals, we'll post them. We'll also be linking you to all the newest and best hardware deals on the Tesco site, so make sure you check back as Black Friday and Cyber Monday approach.